This article will guide you on Tower of Fantasy 5 Best Team Comp Build in 2023. Explain why these teams builds are the best & powerful in the fight. Check out down below:
Check out our Newest V3.2 Top 5 Best Team Comp 2023.
Fenrir + Tian Lang + Cocoritter

Umi + Shiro + Lyra

Alyss + Meryl + Saki Fuwa

Annabella + Huma + Cocoritter

Fenrir + Lin + Nemesis
Fenrir + Tian Lang + Cocoritter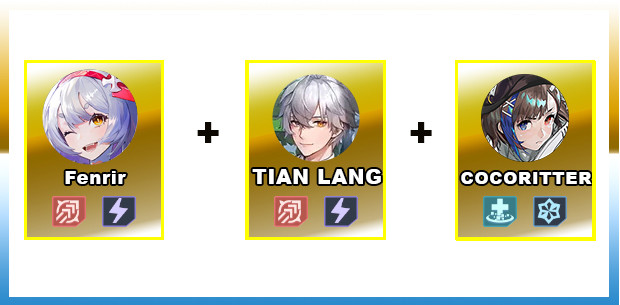 Fenrir 1 or 3 Star is really powerful in the fight her normal attack deals a lot of AOE damage, especially her dodge and attack skill deals a lot of shield break damage. With her, Su-Paw Star Skill can deal 100% true damage to the shield target and gain back 100% healing of the ATK.
Tian Lang 1 star is also one of the best shield breaks and his basic attack overload stack is really powerful you will increase more damage and also heal by 20% of your max hp. Moreover, combo his discharge skill with Fenrir will increase more volt damage & defeat the target easily.
Cocoritter 1 star is enough to team up with Fenrir & Tian Lang. She is one of the good healers in the game that can heal up & gain fast weapon charge to other weapons with her basic attack.
Umi + Shiro + Lyra
This is the best full physical team comp build.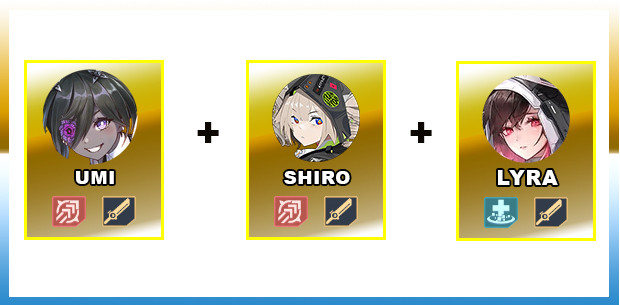 Umi 3 stars is really strong that can break shields, heal, and deal a lot of AOE damage. Especially when her whip meter is fully charged she will gain a Magic show state that can switch between 2 cards, (Spade & Heart) every 2 seconds.

1st Card Combo (Double Spades): Summon a large number of flying cards, forming a hurricane that swarms to the target location, attacking the target up to 12 times and dealing equally to 850% of ATK.
2nd Card Combo (Spades & Heart): Pull out a colony of bats from you hat and enhance yourself. During Magic Trick, physical damage dealt by Mobius is increased by 7.5%, and only 60% of the damage taken will be tallied. The remaining 40% will slowly be deducted from you HP over 10 seconds after Magic Trick ends. The delayed tally effect only applies when Fortitude resonance is not active.
3rd Card Combo (Double Hearts): Immediately recover 10% of Max HP and plant a Corrosion Flower on up to 7 targets within a certain range, which deal damage equal to 260% of ATK every second for 3 seconds.

Shiro 3 stars skill & discharge is really useful in the fight her Skill will create an AOE reflection attack that can destroy the enemy shield in just one click and also give a fast discharge to other weapons.
Lyra 3 stars is one of the Physical support that can deal with both physical and healing while the attack. Lyra is good in all resonances she can deal AOE damage but not much, healing + gaining a shield with her normal attack when she has full HP.
Alyss + Meryl + Saki Fuwa
This a full tank damage dealer team comp in the tower of fantasy.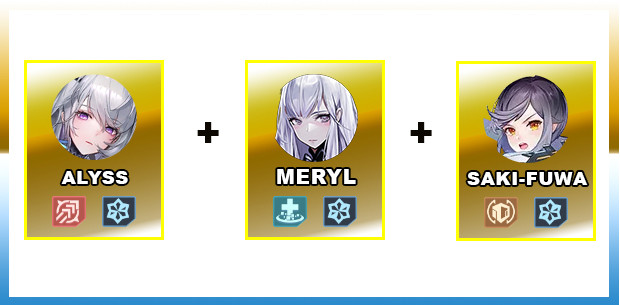 Alyss 1 or 3 stars can deal 857.7% of AOE damage when using Chilling Field Skill for 30 seconds. When switching to another Frost weapon discharge skill in the chilling field, deal hoarfrost damage equal to 125.8% of ATK plus and slow the target for 2 seconds (the slow effect is ineffective against bosses). Moreover, her Latent state dodges hold attack increase speed by 50% plus cc immune, when the latent state end deal 305.1% damage and freeze targets for 2 seconds.
Meryl 3 stars is really powerful and tanky when switching to Meryl gain 10% ice shield of Max HP for 10 seconds even though you switch to another character. Meryl is also a good shield break for the team and deals a lot AOE damage and locks down the enemy can't dodge & jumping inside her skill. inside her discharge skill.
Saki-Fuwa 1 or 3 stars is a really great SUP DPS she can easily dash toward enemy quickly immobilize the target and destroy their shield. Moreover, you can use her Discharge to dodge enemy CC skill you will be invincible when you use her discharge.
This team builds earn 2 weapon resonance effects:

Fortitude Resonance: Increase damage reduction by 25% shatter by 60% and aggro by 800%, in team play further boost damage reduction by 20%.
Frost elemental Resonance: Increase frost ATK by 15% and frost resistance by 25%. Activate by equipping 2 or more frost weapons. This set effect works in the off-hand slot. Cannot stack with effects of the same type.
Annabella + Huma + Cocoritter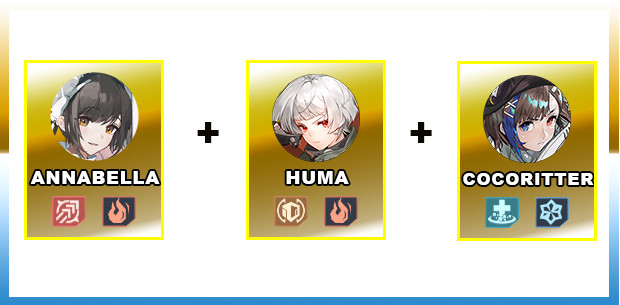 Annabella 1 or 3 stars is a good main DPS if you are the Flame player. She has a high point of shield break with a really high damage deal Critical + Ignite debuff to the target with her Spamming Dodging attack in the red magazine.
Huma 1 or 3 stars is good to team up with Annabella. Huma can gain shield form & Axe form that ignite the targets to give more damage for a few minutes. She also good at breaking the enemy shield too.
Adding Cocoritter in this team will be a good healer that can heal up your team faster with skill & discharge in quick seconds.
This team build earn 2 weapon resonance effects:

Balance resonance increases final damage and damage reduction by 5%, shatter and healing effect by 20% in team play, and increase final damage reduction by 20%.
Elemental Flame resonance: When the weapon is fully charged, the next attack will ignite the target for 8 seconds, causing damage equal to 58.00% of ATK every second. Ignited targets have 50% reduced healing efficacy.
Fenrir + Lin + Nemesis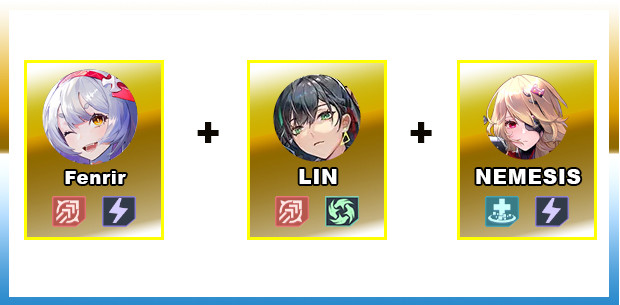 This team comp is so powerful that has all types of roles in your team.
Fenrir 1 or 3 stars does AOE damage, 100% true damage shield break & healing at the same time.
Lin 1 or 3 stars is a special character. She can play so many roles in your team Main & SUP DPS, Buffer, Charger, Sheild Breaker. So Lin is unique and suitable in every team chomp that you want to play.
Nemesis 3 stars give both damage & healing while attacking the target. When attacking the target give other weapons a fast charge to use their discharge skill combo in quick seconds.
F2P Best Team Comp 2023
This is the Best Team Comp recommended build for Free 2 Play players that are also good in the game.
Crow + Samir + Nemesis
Shiro + Huma + Meryl

Tsubasa + Shiro + Cocoritter

Huma + Meryl + Zero
Tsubasa + Meryl + Cocoritter
Shiro + King + Zero
Conclusion
This is just our opinion of the Best Team Comp in Tower of Fantasy and hopes this guide will be useful for both P2W & F2P players in the game.