Find info about Kai'Sa in League of Legends Wild Rift including champion abilities, counters, and skins here.
Kai'Sa Overview
You need 5500 Blue Motes to unlock Kai'Sa.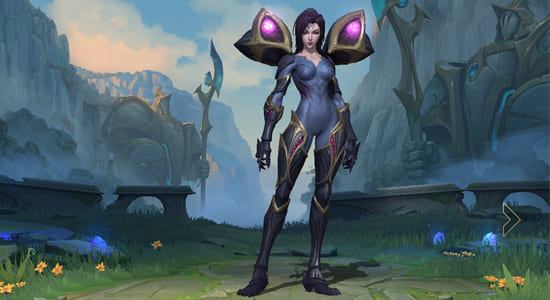 Kai'Sa is in marksman and assassin role of League of Legends Wild Rift. Kai'Sa is a range champion that deal very high damage, good mobility, and long range dash ultimate. Kai'Sa is commonly play in Dragon lane.
Kai'Sa Abilities Info & Ability Order
All about Kai'Sa abilities detail with damage, cooldown, and ability order.
| | |
| --- | --- |
| Abilities | Name |
| Passive | Second Skin |
| 1st skill | Icathian Rain |
| 2nd skill | Void Seeker |
| 3rd skill | Supercharge |
| Ultimate | Killer Instinct |
Second Skin

Living Weapon: Kai'Sa abilities evolve based upon the permanent stats she gains from Items and Levels.
Caustic Wounds: Kai'Sa attacks and allies immobilizing effects stack Plasma for 4 seconds and deal 5 bonus magic damage (5 + 15% magic damage). Plasma detonates at 5 stacks, dealing bonus magic damage equal to 15% (15% + 0.025% magic damage) of their missing Health.
Icathian Rain

Launches 6 missile that split evenly among nearby enemies, each dealing 50 physical damage (50 + 35% bonus + 25% magic damage). Additional hits on champions or monsters deal 25% damage.
Living Weapon: 70 Attack Damage. Fires 12 missiles.
Cooldown: 9s.
Mana: 55.
Void Seeker

Fires a blast that reveals the first enemy hit, adds 2 Plasma stacks, and deals 106 magic damage (30 + 130% attack damage + 70% magic damage).
Living Weapon: 80 Ability Power (current: 0) - Adds 3 stacks and refunds 70% cooldown on champion hits.
Cooldown: 20s.
Mana: 60.
Supercharge

Charges up for 1 seconds, gaining 60% Movement Speed (60% + 100% attack speed). For 4 seconds after charging, gain 45% attack speed.
Living Weapon: 65% Attack Speed (current: 0%) - Grants invisibility during the charge up.
Cooldown: 16s.
Mana: 30.
Killer Instinct

Dash to a location near an enemy champion marked by Plasma, gaining a shield that absorbs 133 damage (75 + 100% attack damage + 75% magic damage) for 2 seconds.
Cooldown: 80s.
Mana: 100.
Ability Order
Here is the recommended skill order for Kai'Sa:
Ability Order ⇒

1

4
6
8
2
12
14
15
3
7
10
11
5
9
13
Kai'Sa Counters - Strong & Weak Against
All about Kai'Sa counters against strong and weak champions.
Champions that Kai'Sa Counter
Kai'Sa can counter champions that has low mobility, and no crowd control skill such as root or stun.
Champions that Counter Kai'Sa
To counter Kai'Sa, champions must have some sort of crowd control abilities, and dash or any escape ability.
Kai'Sa Build Page
Recommended items for Kai'Sa to build:
View more in depth about Kai'Sa build guide down below.
Kai'Sa Skins - Rarity, Price, & How To Get
View all Kai'Sa skins in Wild Rift here featuring skin rarity, price, and how to get it.
Kai'Sa skins coming soon!
Kai'Sa Gameplay in Wild Rift
View Kai'Sa gameplay highlight in Wild Rift here:
Special thanks to Elgin Gaming for allowing us to put his video in our content. Go and subscribe to his youtube channel.
More Champions Guide
Wild Rift Champion list
End of Kai'Sa Guide