Find info about Janna in League of Legends Wild Rift including champion abilities, counters, and skins here.
Janna Overview
You need 5500 blue essences to unlock Janna.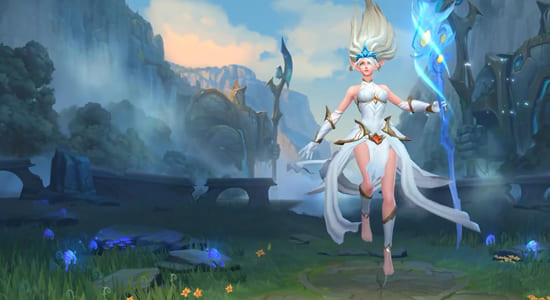 Janna is in support role of League of Legends Wild Rift. This champion has a great ability power and focuses on aiding team with ton of utility skill. Janna play in Dragon lane.
Janna Abilities Info & Ability Order
All about Janna detail with damage, cooldown, and ability order
| | |
| --- | --- |
| Abilities | Name |
| Passive | Tailwind |
| 1st Skill | Howling Gale |
| 2nd Skill | Zephyr |
| 3rd Skill | Eye of The Storm |
| Ultimate | Monsoon |
Janna abilities detail is coming soon!
Ability Order
Here is the recommended skill order for Janna:
Ability Order ⇒
3
10
12
15

1

4
6
11
2
7
8
14
5
9
13
Janna Counters - Strong & Weak Against
All about Janna counters against strong and weak champions.
Champions that Janna counter
Janna counters others by dodge other champion skills.
Champions that counter Janna
To counter Janna tries to interrupt her skill especially her ultimate.
Janna Build Page
Here is a recommended build for Janna:
View Janna Build, Runes, & Summoner Spells
Janna Skins - Rarity, Price, & How To Get
Janna skins is Coming soon!
Janna Gameplay in Wild Rift
View Janna gameplay highlight in League of Legends Wild Rift here:
Special thanks to Elgin Gaming for allowing us to put his video in our content. Go and subscribe to his youtube channel.
More Champion Guide
Wild Rift Champion list
End of Janna Guide