Find info about Vi in League of Legends Wild Rift including champion abilities, counters, and skins here.
Vi Overview
You need 5500 Blue Motes to unlock Vi.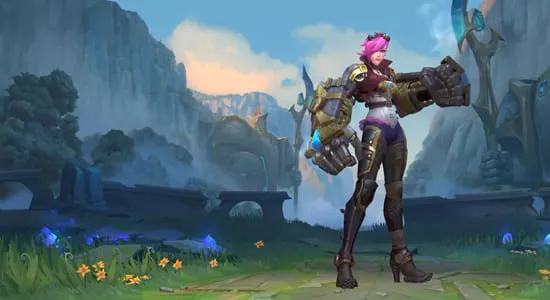 Vi is in fighter role of League of Legends Wild Rift. Vi is a melee diver champion that has high armor penetration, dash, and knock up ultimate. Vi is commonly play in Jungle.
Vi Abilities Info & Ability Order
All about Vi abilities detail with damage, cooldown, and ability order.
| | |
| --- | --- |
| Abilities | Name |
| Passive | Denting Blow |
| 1st skill | Vault Breaker |
| 2nd skill | Blast Shield |
| 3rd skill | Excessive Force |
| Ultimate | Assault and Battery |
Denting Blow

Every 3rd attack on the same enemy deals 4.2% (4.2% + 0.03% bonus attack damage) of their max Health as bonus physical damage, reduces their Armor by 20%, and grants Vi 27% attack speed for 4 seconds.
Vault Breaker

Hold: Charges up to a powerful punch, slowing Movement Speed by 15% while increasing the punch's damage and dash distance.
Cast: Dashes forward dealing 55 to 110 physical damage (55 + 80% attack damage to 110+ 160% attack damage) and applying Denting Blows to all enemies hit. Colliding with an enemy champions stops the punch and knocks them back.
Cooldown: 12s.
Mana: 50.
Blast Shield

Passive: Hitting an enemy with an attack or ability grants a stack of Blast Shield, up to 5 stacks.
Active: Generates a shield that absorbs 60 damage for 3 seconds. Each stack consumed adds 10(1% max health) to the shield. At max stacks also grants a burst of 47% Movement speed.
Cooldown: 12s.
Mana: 30.
Excessive Force

Empowers Vi's next attack to deal 19 bonus physical damage (10+ 15% attack damage + 70% magic damage) to the target and enemies behind it.
Cooldown: 1 seconds.
Mana: 20.
Assault and Battery

Chases down an enemy champion, knocking them up for 1.25 seconds and dealing 150 physical damage (150 + 140% attack damage).
Cooldown: 85s.
Mana: 100.
Ability Order
Here is the recommended skill order for Vi:
Ability Order ⇒
3
4
6
7

1

12
14
15
2
8
10
11
5
9
13
Vi Counters - Strong & Weak Against
All about Vi counters against strong and weak champions.
Champions that Vi Counter
Vi can counter champions that has low armor, and low attack speed.
Champions that counter Vi
Vi is weak against champions that has high attack damage, and ability to doge the dash.
Vi Build Page
Recommended items for Vi to build:
View more info about Vi Build Guide down below.
Vi Skins - Rarity, Price, & How To Get
View all Vi skins in Wild Rift here featuring skin rarity price, and how to get it.
Demon Vi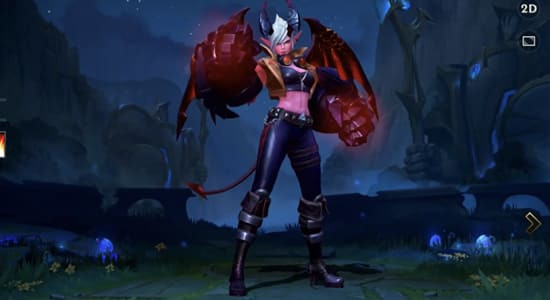 Name: Demon Vi
Rarity: Epic
Price: 990 Wild Cores
How to get: Buy in Store.
Debonair Vi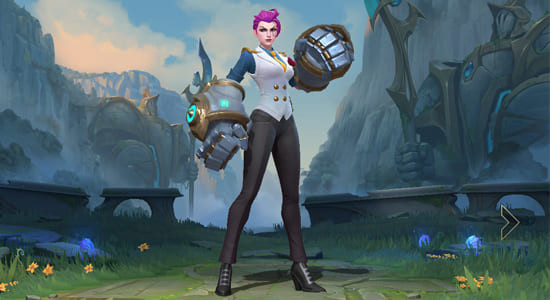 Name: Debonair Vi
Rarity: Rare.
Price: 525 Wild Cores.
How to get Debonair Vi: Buy in Store.
Vi Gameplay in Wild Rift
View Vi gameplay highlight in League of Legends Wild Rift here:
Special thanks to Elgin Gaming for allowing us to put his video in our content. Go and subscribe to his youtube channel.
More Champions Guide
Wild Rift Champion list
End of Vi Guide