Find info about Jinx in League of Legends Wild Rift including champion abilities, counters, and skins here.
Jinx Overview
You need 5500 Blue Motes to unlock Jinx.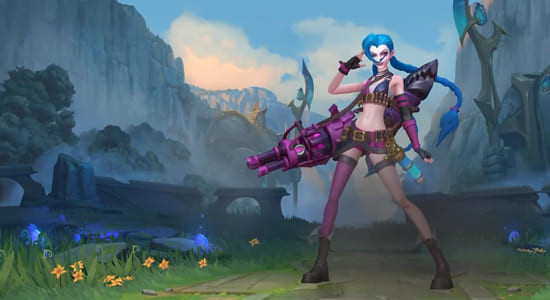 Jinx is in marksman role of League of Legends Wild Rift. Jinx is a range champion that has 2 types of basic attack, trap ability, and rocket target projectile ultimate that deal high damage. Jinx is commonly play in Dragon lane.
Jinx Abilities Info & Ability Order
All about Jinx abilities detail with damage, cooldown, and ability order.
| | |
| --- | --- |
| Abilities | Name |
| Passive | Get Excited |
| 1st skill | Switcheroo |
| 2nd skill | Zap |
| 3rd skill | Flame Chompers |
| Ultimate | Super Mega Death Rocket |
Get Excited

Scoring a takedown on a champion or structure that Jinx has damaged within the last 3 seconds grants her 150%, decaying Movement Speed and 15% Total Attack Speed for 6 seconds.
Switcheroo

Swaps weapon -
Fisbones The Rocket launcher: Attacks cost Mana but gain 75 range and explode to deal 110% damage to the target and enemies around it.
Pow-Pow, the Minigun: Attacks grant bonus Attack Speed for 3 seconds. This effect stacks up to 3 times for a total bonus of 30%.
Cooldown: 1s.
Mana: 30.
Zap

Fires a shock blasts that deals 103 physical damage (10 + 160% attack damage) to the first enemy hit, granting vision of it and slowing it by 30% for 2 seconds.
Cooldown: 8s.
Mana: 50.
Flame Chompers

Tosses out three chompers that arm after a brief delay. Chompers explode on contact with enemy champions, interrupting their dashes and rooting them for 1.3 seconds. Enemies hit by the explosion take 70 magic damage (70 + 100% magic damage).
Super Mega Death Rocket

Fires a mega-rocket that gains damage and speed over the first second it travels. The rocket explodes on the first enemy champion hit, dealing 25 to 250 physical damage (25 +15% bonus attack damage to 250 + 150% bonus attack damage) plus 25% of their missing health. Nearby enemies take 80% damage.
Ability Order
Here is the recommended skill order for Jinx:
Ability Order ⇒

1

4
6
7
2
8
10
11
3
12
14
15
5
9
13
Jinx Counters - Strong & Weak Against
All about Jinx counter against strong and weak champions.
Champions that Jinx Counter
Jinx can counter champions that has low attack speed and low mobility.
Champions that counter Jinx
Jinx is weak agaisnt champions that has high burst damage, and dive ability like dash or blink.
Jinx Build Page
Recommended items for Jinx to build:
View more info about Jinx build guide down below.
Jinx Skins - Rarity, Price, & How To Get
View all Jinx skins in Wild Rift here featuring skin rarity, price, and how to get it.
Zombie Slayer Jinx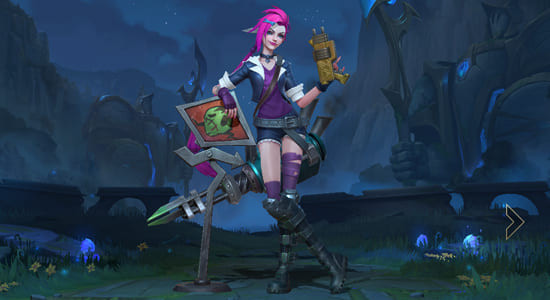 Name: Zombie Slayer
Rarity: Epic
Price: 990 Wild Cores.
How to get Zombie Slayer Jinx: Buy in Store.
Crime City Jinx Skin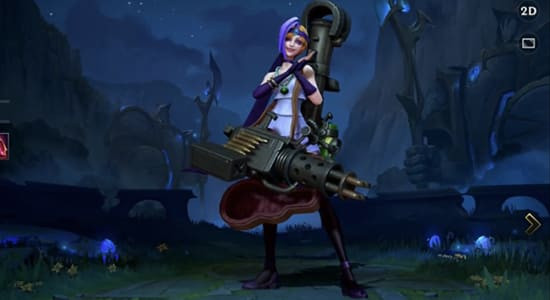 Skin name: Crime City Jinx
Rarity: Rare.
Price: 725 Wild Cores.
How to get Crime City Jinx: Buy in Store.
Jinx Gameplay in Wild Rift
View Jinx gameplay highlight in League of Legends Wild Rift here:
Special thanks to Elgin Gaming for allowing us to put his video in our content. Go and subscribe to his youtube channel.
More Champions Guide
Wild Rift Champion list
End of Jinx Guide