Find info about Braum in League of Legends Wild Rift including champion abilities, counters, and skins here.
Braum Overview
You need 5500 blue essences to unlock Braum.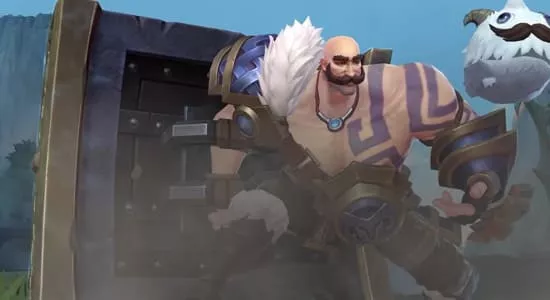 Braum is a tank and support roles in League of Legends Wild Rift. This champion has an incredible defend shield, stunning and knock up ultimate. Braum is commonly play in Baron lane.
Braum Abilities Info & Ability Order
All about Braum detail with damage, cool down, and ability order.
| | |
| --- | --- |
| Abilities | Name |
| Passive | Concussive Blows |
| 1st Skill | Winter's Bite |
| 2nd Skill | Stand Behind Me |
| 3rd Skill | Unbreakable |
| Ultimate | Glacial Fissure |
Concussive Blows

Braum's attacks apply Concussive Blows for 4 seconds. Once the first stack is applied, allied champion's attack also stack Concussive Blows.
Upon reaching 4 stacks, the enemy is stunned for 1.24 seconds and takes 32 magic damage.
Enemies cannot receive stacks for 8 seconds after being stunned,but take an additional 7 magic damage from Braum's attacks.
Winter's Bite

Launches ice that deals 91 magic damage (60+5% HP) and slows the enemy hit by 70% for 2 seconds.
Applies a stack of Concussive Blows.
Cooldown: 10s
Mana Cost: 55
Stand Behind Me

Leaps to an ally, Braum and the ally gain 10 Armor (10+10% Bonus Shield) and 10 Magic Resist (10+10 Bonus Magic resist ) for 3 seconds on arrival.
Unbreakable

Raises his shield, intercepting projectiles for 5 seconds. Braum negates the first instance of damage from which ever direction he face and take 28% reduced damage afterwards.
Braum gains 10 % Movement Speed while his shield is raised.
Cooldown: 16s
Mana Cost: 35
Glacial Fissure

Slam the ground and opens a fissure, dealing 150 magic damage (150+60% Magic Damage) and knocking up enemies for 1 seconds. The fissure slows enemies by 40% and lasts for 4 seconds.
After the first enemy champion hit, subsequent enemies are knocked up for 0.25 seconds.
Cooldown: 90s
Mana Cost: 100
Abilities Order
Here is the recommended skill order for Braum :
Ability Order ⇒

1

4
6
10
3
11
12
15
2
7
8
14
5
9
13
Braum Counters - Strong & Weak Against
All about Braum counters against strong and weak champions.
Champions that Braum counter
Braum Unbreakable skill is very useful to block any damage or stunt with these champion.
Champions that counter Braum
To counter this champion try to poke, stunning, and don't let him earning stack.
Braum Build Page
Here is a recommended build for Braum.
View Braum Build, Runes, & Summoner Spells
Braum Skins - Rarity, Price, & How to get
View all Braum skin in Wild Rift here featuring rarity, price, and how to get.
Dragon Slayer Braum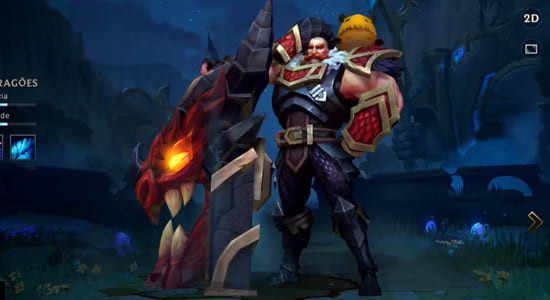 Name: Dragon Slayer Braum
Rarity: Rare
Price: 725 Wild Core
How to get Dragon Slayer Braum: In the store
Crime City Braum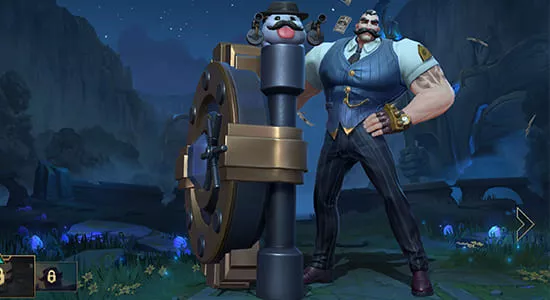 Skin Name: Crime City Braum
Rarity: Epic
Price: 990 Wild Core
How to Get Crime City Braum: In the store
Braum Gameplay in Wild Rift
Special thanks to Elgin Gaming for allowing us to put his video in our content. Go and subscribe to his youtube channel.
More Champion Guide
Wild Rift Champion list
End of Braum Guide