Find info about Ashe in League of Legends Wild Rift including champion abilities, counters, and skins here.
Ashe Overview
You need 5500 Blue Motes to unlock Ashe.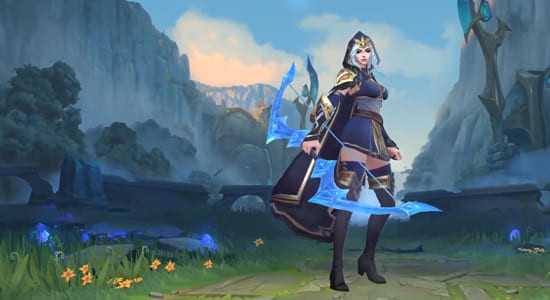 Ashe is in marksman and support role of League of Legends Wild Rift. Ashe is a range champion that deal physical damage with slow arrow, fast attack speed ability, and stun ultimate. Ashe is commonly play in Dragon lane.
Ashe Abilities Info & Ability Order
All about Ashe abilities detail with damage, cooldown, and ability order.
| | |
| --- | --- |
| Abilities | Name |
| Passive | Frost Shot |
| 1st skill | Ranger's Focus |
| 2nd skill | Volley |
| 3rd skill | Hawkshot |
| Ultimate | Enchanted Crystal Arrow |
Frost Shot

Attacks and damaging abilities slow target hit by 15% for 2 seconds. Attacks against enemies slowed by Frost Shot deal 210% bonus damage (10% + 100% crit chance).
Ashe's critical strikes do not deal extra damage. Instead, they increase Frost Shot's slow to 30%, decaying over time.
Ranger's Focus

Passive: Store 2 Focus while Ranger's Focus is not active. Attacks grant an additional stack of Focus (up to 6). Stacks fall off one at a time.
Active: For the next 6 seconds, attacks consume a stack of focus to fire with +25% Attack Speed and barrage the target with a flurry of arrows for 115% damage.
Cooldown: 8s.
Mana: 50.
Volley

Fires 5 arrows in a cone, dealing 78 physical damage (20 + 100% attack damage).
Cooldown: 14s.
Mana: 50.
Hawkshot

Fires a hawk spirit that can travel infinitely far and briefly reveals units it flies over.
Re-cast: Explodes the hawk, granting vision of the area around it for 5 seconds. Unit caught in the initial explosive are revealed for 3 seconds.
Cooldown: 45s.
Enchanted Crystal Arrow

Launches a crystal arrow of ice that stuns the first champion hit and deals 200 magic damage (200 + 100% magic damage). The stun lasts between 1.5 to 3.5 seconds, increasing with the distance of the arrow's fight.
Re-cast: Hold and drag to steer the arrow's flight path. The arrow can only deviate from its original launch angle by a fixed amount. Tap the cancel button to stop steering.
Cooldown: 65s.
Mana: 100.
Ability Order
Here is the recommended skill order for Ashe:
Ability Order ⇒
2
8
10
11

1

4
6
7
3
12
14
15
5
9
13
Ashe Counters - Strong & Weak Against
All about Ashe counters against strong and weak champions.
Champions that Ashe Counter
Ashe can counter champions that has short attack range and low mobility.
Champions that counter Ashe
To counter Ashe, champions must have skill that can get close to her when fighting.
Ashe Build Page
Recommended items for Ashe to build:
View more in depth about Ashe build guide down below.
Ashe Skins - Rarity, Price, & How To Get
View all Ashe skins in Wild Rift here featuring skin rarity, price, and how to get it.
Marauder Ashe
Name: Marauder Ashe
Rarity: Rare.
Price: 525 Wild Cores.
How to get Marauder Ashe: Buy in Store.
Freljord Ashe
Name: Freljord Ashe
Rarity: Rare.
Price: 525 Wild Cores.
How to get Freljord Ashe: Buy in Store.
Ashe Gameplay in Wild Rift
View Ashe gameplay highlight in League of Legends Wild RIft here:
Special thanks to Elgin Gaming for allowing us to put his video in our content. Go and subscribe to his youtube channel.
More Champions Guide
Wild Rift Champion list
End of Ashe Guide