Find info about Seraphine in League of Legends Wild Rift including champion abilities, counters, and skins here.
Seraphine Overview
You need 5500 Blue Motes to Unlock Seraphine.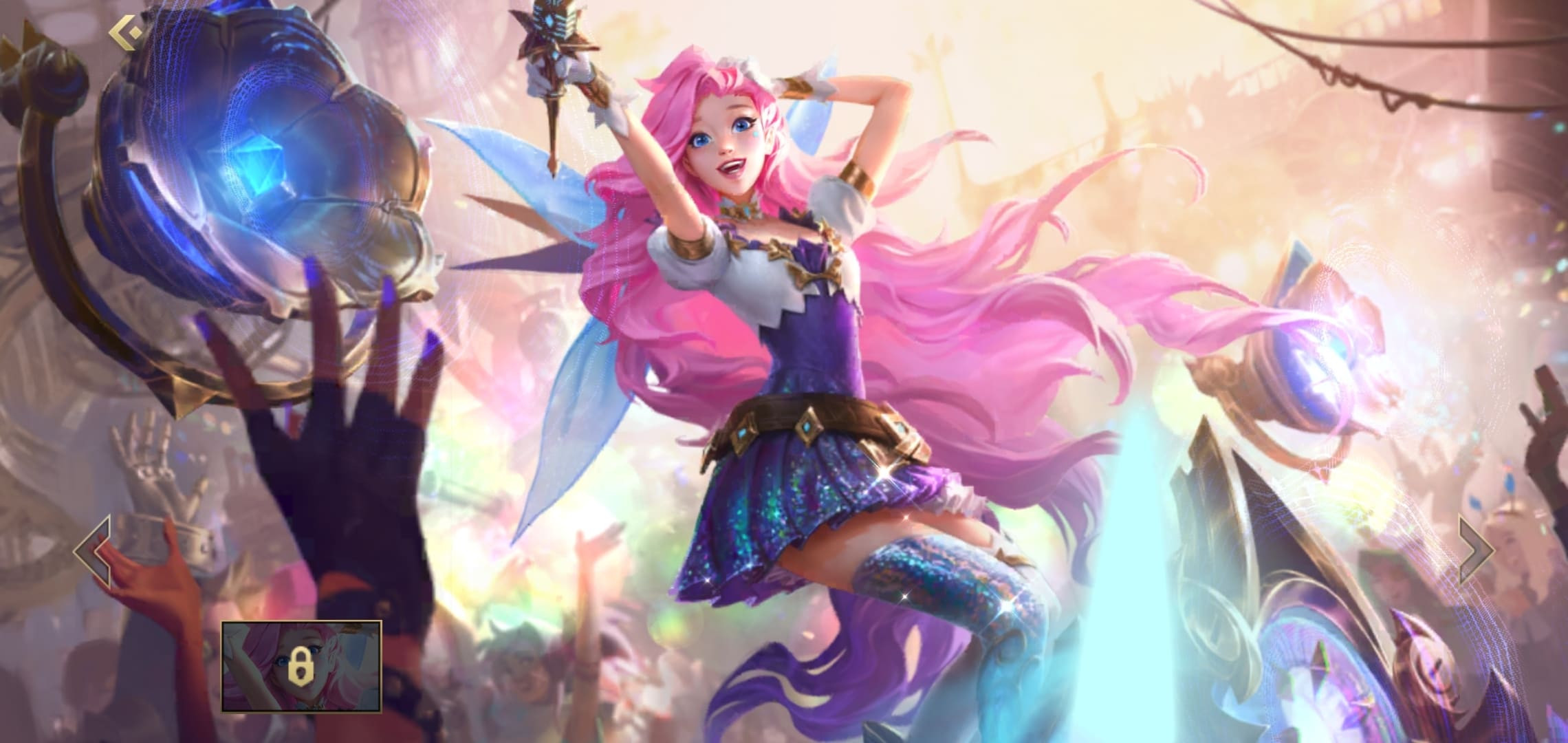 Seraphine is in Support and Mage roles in League of Legends Wild Rift. This champion provide defense to the team and output magic damage. Seraphine plays in Dragon Lane.
Seraphine Abilities Info & Ability Order
All about Seraphine Abilities detail damage, cooldown, and ability order.
| | |
| --- | --- |
| Abilities | Name |
| Passive | Stage Presence |
| 1st Skill | High Note |
| 2nd Skill | Surround Sound |
| 3rd Skill | Beat Drop |
| Ultimate | Encore |
Stage Presence

Echo: Every third basic ability cast will echo, casting it again.
Harmony: Casting an ability grants a Note to nearby allies for 5 seconds. For each Note, Seraphine's next attack gains 0.3 attack gains 0.3 Attack Range and deals an additional 4 magic damage (4+4% magic damage)
High Note

Deals 55 magic damage (55 + 50% magic damage) in target area, increased by 0%-50% with the enemies missing health.
Reaches maximum damage when the target is below 25% health.
Cooldown: 11s
Mana Cost: 60
Surround Sound

Shields all nearby ally champions for 60 damage (60+40% Magic Damage) for 2.5 seconds and grant them 20 % movement speed for 2.5 seconds.
If Seraphine is already shielded, nearby allies are healed for 5% of their missing Health (5+ 0% magic damage), Increased by 50% for each ally.
Cooldown: 23s
Mana Cost: 40
Beat Drop

Deals 60 magic damage (60+50% magic damage) to enemies and slows them by 99% for 1 second.
If the enemy is already slowed. they are rooted instead, if they are rooted they stunned.
Cooldown: 12s
Mana Cost: 60
Encore

Deals 150 magic damage (150 + 70% magic damage) to enemies and charms and slows them by 40% for 1 second.
Spell extends when it touches an ally or enemy champion.
Ability Order
Here is the recommended skill order for Seraphine
Ability Order
1
4
6
11
3
8
10
14
2
7
12
15
5
9
13
Seraphine Counters - Strong & Weak Against
All about Seraphine Counter Against Strong and Week Champions.
Champions that Seraphine Counter
| | |
| --- | --- |
| | Miss Fortune |
Seraphine is extremely squishy at earlier levels, Set her as the first priority target and kill her instantly.
Champions that Counter Seraphine
Seraphine use her ultimate to deal damage and slow down these champions.
Seraphine Build Page
here is a recommended build for Seraphine
View Seraphine Build Guide, Runes, & Summoner Spells
Seraphine Skins - Rarity, Price, & How to Get
Idol Seraphine Skin
Default version skin of Seraphine in League of Legend Wild Rift.
Seraphine Gameplay in Wild Rift
Special thanks to Elgin Gaming for allowing us to put his video in our content. Go and subscribe to his youtube channel.
More Champion Guide
Wild Rift Champion list
End of Seraphine Guide