Find info about Draven in League of Legends Wild Rift including champion abilities, counters, and skins here.
Draven Overview
You need 5500 Blue Motes to unlock Draven.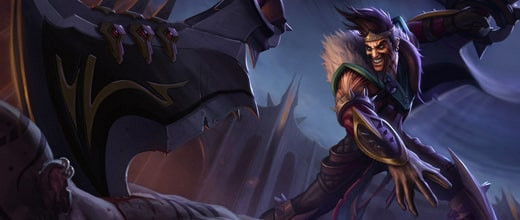 Draven is in marksman role of League of Legends Wild Rift. Draven is a range champion that deal high physical damage, good mobility, but hard to master. Draven is commonly play in Dragon lane.
Draven Abilities Info & Ability Order
All about Draven abilities detail with damage, cooldown, and ability order.
| | |
| --- | --- |
| Abilities | Name |
| Passive | League of Draven |
| 1st skill | Spinning Axe |
| 2nd skill | Blood Rush |
| 3rd skill | Stand Aside |
| Ultimate | Whirling Death |
League of Draven

Killing a unit or catching a Spinning Axe grant a stack of Adoration.
Killing champions grant 50 bonus gold, plus 4 per stack of Adoration.
Spinning Axe

Gains a Spinning Axe, causing his next attack within 6 seconds to deal additional 55 physical damage (55 + 100% bonus attack damage).
The Spinning Axe bounces off the target, allowing Draven to catch and regain it.
Cooldown: 10s.
Mana: 45.
Blood Rush

Gains 20% Attack Speed for 3 seconds and 40% decaying Movement Speed for 1.5 seconds.
Catching a Spinning Axe refreshes Blood Rush's cooldown.
Cooldown: 12s.
Mana: 40.
Stand Aside

Throws his axes, dealing 75 physical damage (75 + 50% bonus attack damage) and knock enemies aside, slowing them by 25% for 2 seconds.
Cooldown: 18s.
Mana: 70.
Whirling Death

Hurls two massive axes, dealing 200 physical damage (200 + 100% bonus attack damage). The axes returns to Draven when they reach the edge of the map, hit a champion or upon reactivation.
Cooldown: 80s.
Mana: 100.
Ability Order
Here is the recommended skill order for Draven:
Ability Order ⇒


1

4
6
8
2
7
10
11
3
12
14
15
5
9
13
Draven Counters - Strong & Weak Against
All about Draven counters against strong and weak champions.
Champions that Draven Counter
Draven can counter champions that has low mobility, and slow attach speed.
Champions that Counter Draven
To counter Draven, champions must have crowd control skill such as stun, root, or dash abilities.
Draven Build Page
Recommended items for Draven to build:
View more in depth about Draven build guide down below.
Draven Skins - Rarity, Price, & How To Get
View all Draven skins in Wild Rift here featuring skin rarity, price, and how to get it.
Draven Gameplay in Wild Rift
View Draven gameplay highlight in Wild Rift here:
Special thanks to Elgin Gaming for allowing us to put his video in our content. Go and subscribe to his youtube channel.
More Champions Guide
Wild Rift Champion list
End of Draven Guide