Find info about Evelynn in League of Legends Wild Rift including champion abilities, counters, and skins here.
Evelynn Overview
You need 5500 Blue Motes to unlock Evelynn.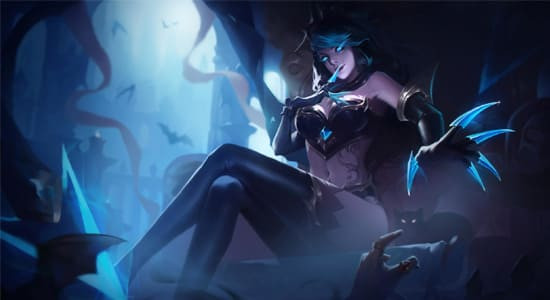 Evelynn is in Assassin role of League of Legends Wild Rift. Evelynn has abilities to deals extra magic damage to her enemy, charming, and execute ultimate. Evelynn Commonly plays in Jungle Lane.
Evelynn Abilities Info & Ability Order
All about Evelynn abilities detail with damage, cooldown. and ability order.
| | |
| --- | --- |
| Abilities | Name |
| Passive | Demon Shade |
| 1st skill | Hate Spike |
| 2nd skill | Allure |
| 3rd skill | Whiplash |
| Ultimate | Last Caress |
Demon Shade

Enters Demon Shade after not attacking or casting for 4 seconds. Taking damage from enemy champions or turrets puts Demon Shade on a 1.5 seconds cooldown.
In Demon Shade, Evelynn regenerates 17 health (17+10% magic damage) every second when she is below 320 health. after level 5, demon shade grants her Camouflage.
Hate Spike

Unleashes two lines of spikes, dealing 45 magic damage (45+40% magic damage) each to all enemies struck. can re-cast within 4 seconds.
Cooldown: 4s.
Mana: 25.
Allure

Curses target champion or monster for 5 seconds. Evelynn's next attack or ability will expunge the curse and slow them by 65% for 1.25s.
If the curse lasts at least 2.5 seconds, expunging it charms the target for 1.25s. if the target is a champion, shreds their magic resist by 20% for 4s.if the target is a monster, deals additional 300 magic damage (300+60% magic damage).
Cooldown: 14s.
Mana: 70.
Whiplash

Whips a target with lashers, applying on hit effects and dealing magic damage equal to 55 plus 3% (3%+0.015% ability) of their max health. then, gain 30% movement speed for 2 seconds.
Entering Demon Shade enhances the next cast to pull Evelynn to her target, dealing increased magic damage equal to 75 plus 5% (5%+0.02% magic damage) of their max health to all enemies in the way.
Cooldown: 8s.
Mana: 45.
Last Caress

Evelynn briefly goes untargetable and decimates the area in front of her before warping backwards a long distance. deals 120 magic damage (120+75% magic damage), increased to 250% to enemies below 35% Health.
Cooldown: 100s.
Mana: 100.
Ability Order
Here is the recommended skill order for Evelynn:
Ability Order ⇒
1
4
6
10
3
8
12
15
2
7
11
14
5
9
13
Evelynn Counters - Strong & Weak Against
All about Evelynn counters against strong and weak champions.
Champions That Evelynn Counter
| | |
| --- | --- |
| Graves | Shyvana |
Evelynn can counter champion that has lower defensive ability and low mobility.
Champions that Counter Evelynn
| | |
| --- | --- |
| Amumu | Xin Zhao |
Evelynn is weak against Champion that has high attack speed, high mobility, & stun.
Evelynn Build Page
Recommended items for Evelynn to build:
View more in depth about Evelynn build guide down below.
Evelynn Skins - Rarity, Price, & How To Get
View all Evelynn skins in Wild Rift here featuring skin rarity, price, and how to get it.
Agony's Embrace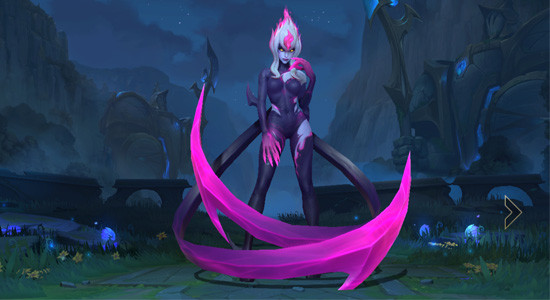 Default version skin of Evelynn in League of Legends Wild Rift.
Evelynn Gameplay in Wild Rift
View Evelynn gameplay highlight in Wild Rift here:
Special thanks to Elgin Gaming for allowing us to put his video in our content. Go and subscribe to his youtube channel.
More Champions Guide
Wild Rift Champions List
End of Evelynn Guide