Welcome to Diablo Immortal Wiki & Guides. Find every classes weapons, items range from heads, chests, to gems and legendary gems, class build, and more here.
Class & Traits
Weapons List
Click on Class name to find all legendary main hand and off hand weapons of each class.
Items List
In Diablo Immortal Items are Heads, Chest, Shoulders, and Legs, these items applied boost to class skills and attributes. Here are all classes legendary items list:
Head List
Chest List
Shoulder List
Legs List
Gems List
Normal gems give 1 extra attribute to secondary items whereas Legendary gems increase base attributes on primary items.
Normal Gems List
Legendary Gems List
Click on gem name to find gem stats and attribute in-depth detail.
Game Information
Diablo Immortal is a mobile game of Diablo franchise that announced in Blizzcon 2018, The popular ARPG (Action role-playing game) is being develop by Blizzard Entertainment and NetEase games.
Currently Diablo Immortal is in close beta state started since October 28 available for Canada, Australia, South Korea, and Japan.
This is not a sponsored or being told to write but What you need to know is that Diablo Immortal will raise the standard of ARPG mobile game to whole higher level.
The current state of the Diablo Immortal let us to dive into major chunk of the game allowing us to reach level 55, Paragon, PVP combat, and fully function leaderboard.
The progress of the game is constant, quest after quest to become the Immortal then join the PVP after you set to complete the game story.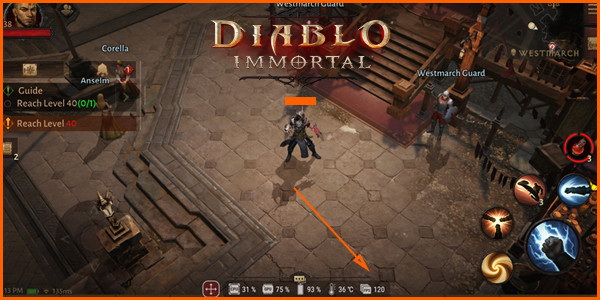 The gameplay experience feel smooth with responsive joystick and controller support, what even more surprise is that the game support up to 120Hz /Fps.
Even the global release of Diablo Immortal is not yet announced, as we tested the current phase of the game we can safely tell you that the game is ready to go with only some bugs that need to fix and optimized and proper sever to welcome all the Diablo players. Trust me you won't be disappointed.
| | |
| --- | --- |
| Release Date: | To be announced |
| Platforms: | iOS and Android |
| Price: | Free (In-game purchase) |
| Genre: | Action role-playing, Monster Slaying |
| Social Media: | |
End of Diablo Immortal Guide.