This article will guide you on Blood Strike Vector Best Attachments Loadout. Know how to combine powerful attachments to make Vector stronger inside the game. Check out down below:
Overview
Vector is a gun that has the most Fire Rate among the other Submachine Gun in Blood Strike and you can unlock this gun at Striker Level 1. Choosing the right attachments for Vector is important to make it stronger, but in order to unlock all the attachments you will need to level up Vector Level first.
Vector Stats Without Attachments
Damage
35
Fire Rate
65
Mobility
47
Range
24
Recoil Control
36
Accuracy
44
Vector Best Attachments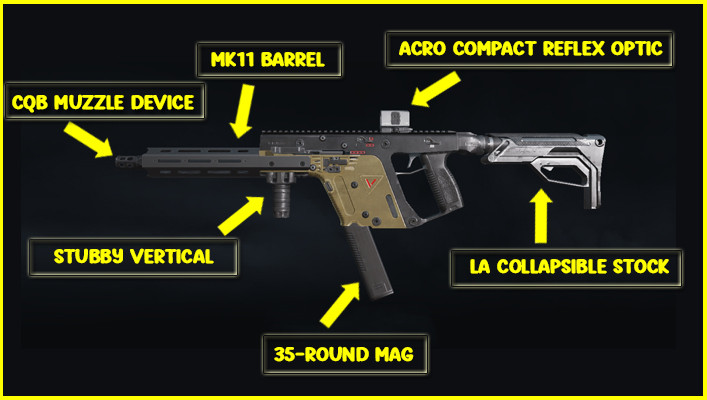 MUZZLE:

CQB Muzzle Device

BARREL:

MK11 Barrel

UNDERBARREL:

Stubby Vertical

OPTIC:

ACRO Compact Reflex Optic

STOCK:

LA Collapsible Stock

MAGAZINE:

35-round Mag
Vector Stats With Attachments
Damage
35
Fire Rate
55
Mobility
47
Range
34
Recoil Control
41
Accuracy
55
CQB Muzzle Device
CQB Muzzle Device is a really great Muzzle for Vector it increases Hip Fire Accuracy & Sprint to Fire Speed. Vector will become more powerful when you rush the enemies in a close-range fight you can just sprint & shoot to destroy your enemy.
You can Unlock this Muzzle at Weapon Level 38.
MK11 Barrel
MK11 Barrel is the only Barrel that fits very well Vector, it gives a huge Fire Range, Bullet Velocity, and Recoil Control to your gun while the other 3 Barrel attachments won't add these stats to your Vector.
You can Unlock this Barrel at Weapon Level 30.
Stubby Vertical
Stubby Vertical fits really well with Vector it can stabilize your recoil while sprinting & shoot. Moreover, it is easy to unlock this Underbarrel.
You can Unlock this Underbarrel at Weapon Level 4.
ACRO Compact Reflex Optic
We don't need a bigger Scope for Vector in this case. So ACRO Compact Reflex Optic would be the best Optic for Vector.
You can Unlock this Optic at Weapon Level 2.
LA Collapsible Stock
LA Collapsible is the best Stock to build with Vector. It won't make your gun heavy and you can run faster while holding this gun. Moreover, this stock also gives you a Fast ADS Speed.
You can Unlock this Stock at Weapon Level 5.
35-Round Mag
While Vector has a really great Fire Rate & Fire Accuracy stats but the ammo capacity is a little bit low, so using a 35-round magazine is the best choice to build with Vector and won't affect your movement speed.
Note: If you want a bigger Ammo Capacity you can use a 50-round Drum but this Mag will need more time to unlock it.
You can Unlock this Magazine at Weapon Level 3.
Conclusion
Vector without any attachments is already good with great damage & fast fire rate. So with the best attachment guide above focuses on boosting more Fire Accuracy, Recoil Control, and Fire Range for Vector and making it even stronger in the close-range fight.