This article will guide you on Blood Strike MP155 Best Attachments Loadout. Know how to combine powerful attachments to make MP155 stronger inside the game. Check out down below:
Overview
MP155 is a single-fire shotgun that can deal great damage in close-range and you can unlock this gun at Striker Level 9. Choosing the right attachments is important to make your weapon stronger and to get all the attachments you will need to unlock MP155 Level first.
MP155 Stats Without Attachments
Damage
46
Fire Rate
14
Mobility
38
Range
21
Recoil Control
13
Accuracy
26
MP155 Best Attachments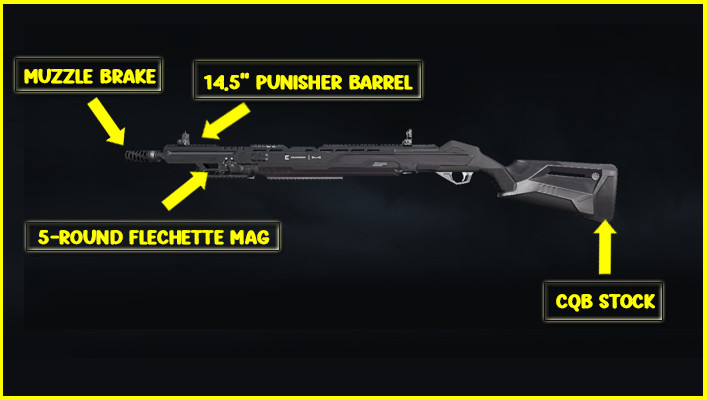 MUZZLE:

Muzzle Brake

BARREL:

14.5'' Punisher Barrel

STOCK:

CQB Stock

MAGAZINE:

5-round Flechette Mag
MP155 Stats With Attachments
Damage
53
Fire Rate
14
Mobility

41

Range
24
Recoil Control
14
Accuracy

30
Muzzle Brake
Muzzle Brake is the only muzzle attachment that won't decrease the performance of your gun when you apply it with MP155. Moreover, it also increases more Recoil control to your gun.
You can Unlock this Muzzle at Weapon Level 6.
14.5" Punisher Barrel
14.5'' Punisher Barrel will stable MP155 fire accuracy & recoil control stats and make this shotgun even stronger in the defense situation.
You can Unlock this Barrel at Weapon Level 50.
CQB Stock
This Stock is great to use with MP155 it increases more Hip Fire Accuracy, ADS Speed & and movement speed while holding the weapon.
You can Unlock this Stock at Weapon Level 44.
5-Round Flechette Mag
This is the only Magazine that will boost more damage to your MP155 but it will decrease your ammo capacity from 8 to 5 ammo.
You can Unlock this Magazine at Weapon Level 39.
Conclusion
MP155 is the highest damage output shotgun in Blood Strike. With the best attachments above will make MP155 even stronger in defense situations.