This article will guide you on Blood Strike Kala Best Attachments Loadout. Know how to combine powerful attachments to make Kala stronger inside the game. Check out down below:
Overview
Kala is the only Long-range Sniper Rifle in Blood Strike and you can unlock this gun at Striker Level 13. Choosing the right attachments is important to make your weapon stronger and to get all the attachments you will need to unlock Kala Level First.
Kala Stats Without Attachments
Damage
71
Fire Rate
12
Mobility
24
Range
86
Recoil Control
68
Accuracy
76
Kala Best Attachments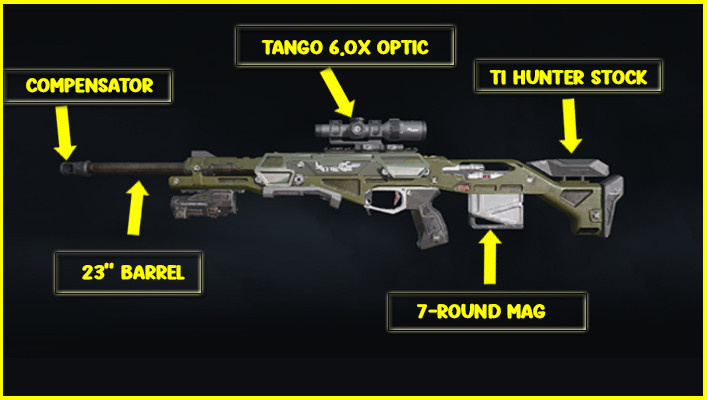 MUZZLE:

Compensator

BARREL:

23'' Barrel

OPTIC:

Tango 6.0x Optic

STOCK:

TI Hunter Stock

MAGAZINE:

7-round Mag
Kala Stats With Attachments
Damage
71
Fire Rate
14
Mobility

19

Range
101
Recoil Control
99
Accuracy
76
Compensator
Compensator is the only Muzzle that has a lot of Recoil Control stats if we compare it to other Muzzles also after applying it on Kala it won't decrease the fire range of your gun.
You can Unlock this Muzzle at Weapon Level 34.
23'' Barrel
We recommend you to use 23" Barrel because it is easier to unlock than the 26" Extended Barrel & 26" Extended Heavy Barrel and the recoil control & fire range stats that 23" Extended Barrel has it good enough to make Kala stronger.
You can Unlock this Barrel at Weapon Level 10.
Tango 6.0x Optic
You can use the default 8.0x optic for Kala. But, if you want a smaller optic that won't block your vision when scoping Tango 6.0x Optic is the best choice for Kala.
You can Unlock this Optic at Weapon Level 46.
TI Hunter Stock
TI Hunter is the best Stock that you should build it on Kala it boosts huge Horizontal & Vertical Recoil Control stats to your gun.
You can Unlock this Stock at Weapon Level 26.
7-Round Mag
While Kala is a good weapon to kill enemies in the long but it annoys you with the less ammo capacity that this weapon has. You can use a 7-round mag that gives Kala more ammo capacity.
You can Unlock this Magazine at Weapon Level 20.
Conclusion
Kala is one of the best weapons that can easily kill enemies in a long-range fight. And with the best attachments built above will make Kala even stronger inside the game.