This article will guide you on Blood Strike P90 Best Attachments Loadout. Know how to combine powerful attachments to make P90 inside the game. Check out down below:
Overview
P90 is a Submachine Gun that has the highest Ammo Capacity in Blood Strike and you can unlock this gun by buying STRIKE PASS & Unlock to Level 5. Choosing the right attachments for P90 is important to make it stronger, but in order to unlock all the attachments you will need to Unlock all levels of P90 first.
P90 Stats Without Attachments
Damage
21
Fire Rate
50
Mobility
42
Range
24
Recoil Control
22
Accuracy
32
P90 Best Attachments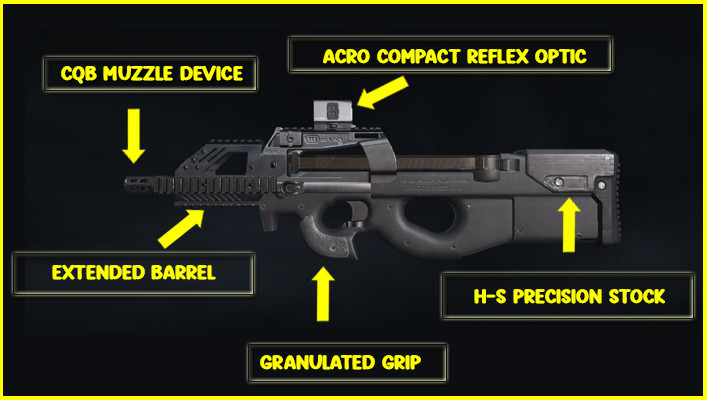 MUZZLE: CQB Muzzle Device
BARREL: Extended Barrel
UNDERBARREL: Granulated Grip
OPTIC: ACRO Compact Reflex Optic
STOCK: H-S Precision Stock
P90 Stats With Attachments
Damage
21
Fire Rate
50
Mobility
43
Range
34
Recoil Control
25
Accuracy
40
CQB Muzzle Device
As we know P90 is great to use in Rush situations. So using the CQB Muzzle Device is really good with P90 that boost Hip Fire Accuracy & Sprint-to-fire-speed and make your P90 even stronger.
You can Unlock this Muzzle at Weapon Level 16.
Extended Barrel
Extended Barrel boosts great weapon stats to P90. It gives a huge Fire Range stat, Fire Accuracy stat, and also boost a bit of recoil control to P90/
You can Unlock this Barrel at Weapon Level 50.
Granulated Grip
Granulated is the only Underbarrel that boosts recoil control to P90 and won't decrease other stats of your gun. Moreover, it is easy to unlock this attachment.
You can Unlock this Underbarrel at Weapon Level 4.
ACRO Compact Reflex Optic
For Scope, we don't need a bigger X to build with P90. You can only use ACRO Compact Reflex Optic which give you good sight while scoping and won't block your vision at close-range.
You can Unlock this Optic at Weapon Level 2.
H-S Precision Stock
H-S Precision Stock is best to build with P90 it boosts your ADS speed and makes your gun lighter and won't decrease your movement speed.
You can Unlock this Stock at Weapon Level 5.
Conclusion
P90 is known as one of the most deadly gun to use in the rush situation. With the attachments build above will boost more Mobility & Fire Accuracy Stats and make P90 even stronger and easily destroy the enemy in the close-range fight.