Find Kaveh Build, Weapons, and Artifacts that are suitable for Kaveh here.
Kaveh Stats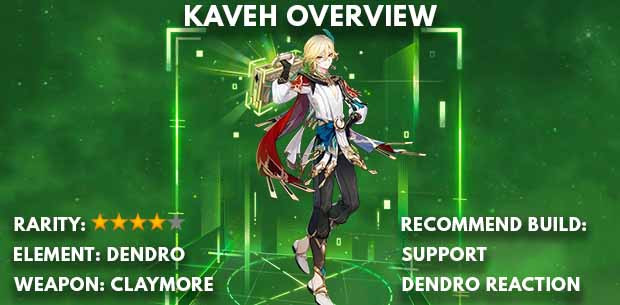 Best Constellation & Talent Priority For Kaveh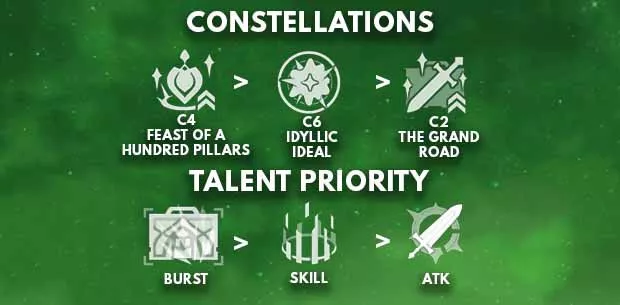 Constellations

C4-Feast of Hundred Pillars: Deal more DMG when triggers with Bloom reaction.
C6-Idyllic Ideal: Increase Dendro AOE DMG.
C2-The Grand Road: Normal ATK SPD increase during Paint Dome.

Talent Priority


1. Burst: Increase his AOE DMG and Dendro Core Rupture.
2. Skill: Increase AoE Dendro DMG
3. Normal ATK: Lastly, This will be the last skill that we need to upgrade since he is a supporter.
Best Weapons For Kaveh
Best 3 Stars Claymore Weapons
For newbies, you can't find 4 5 stars weapons at low AR. If you just got Kaveh as your first 4 stars character and plan to use her as a healer you can also use these 3 stars weapons to maximize Kaveh's healing abilities. Since Kaveh is Elemental supporter, we will focus on Claymore which provides an EM with a reaction bonus in passive if you want to maximize his EM skill.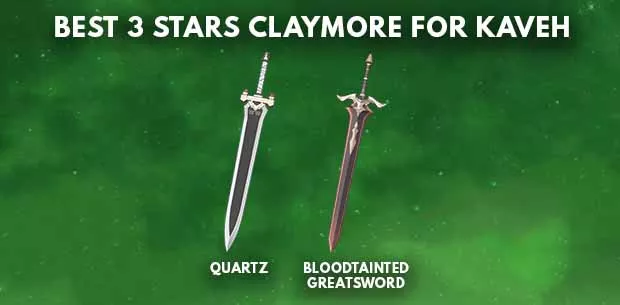 1. Quartz

This Claymore will give you the

EM

that you want in the early game and

ATK

also increases if you cause Burning or Burgeon.

2. Bloodtainted Greatsword

The highest

EM

3 stars claymore, so if you want more EM you can go with this Claymore.
Best 4 Stars Claymore Weapons
When you get higher AR you will start getting 4 stars weapons. They are P2P or Craft weapons or Battle Pass to use if you don't have primogem to do wishes. Here are a few weapons that are suitable for Kaveh's play style. Here we are looking for EM and also with EM boost passive or EM reaction.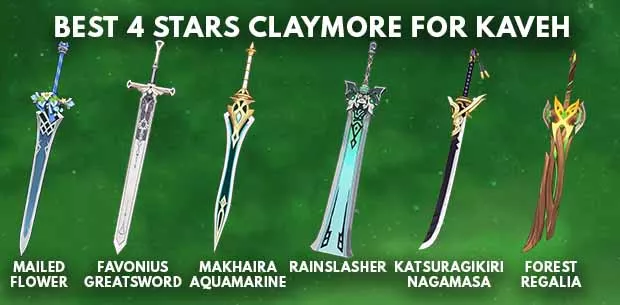 1. Mailed Flower(Best For Bloom)

With

EM

as sub stats and increase

ATK

and

EM

when Elemental Skill hit this will be perfect for Kaveh Bloom team build.

2. Makhaira Aquamarine(Support)

Give a decent amount of Sub stats, with a huge amount of

EM

as a bonus, and also buff a nearby party member.

3. Rainslasher(Reaction)


This claymore will be great for reaction build with Hydro character.

4. Forest Regalia


Even if this weapon comes with ER as Sub stats, this can be a great weapon for supporting with EM increase in passive.

5. Favonius Greatsword

Provide ER and some energy.

6. Katsuragikiri Nagamasa

Provide ER and increase Elemental Skill DMG with some energy regenerate.
Best 5 Stars Claymore Weapons
The only way to get a 5-star weapon for Kaveh is by wishing. It will randomly drop when you are doing wish if you are a lucky one. Unfortunately, there are not many 5 stars claymore that suit him yet since we looking for EM sub stats.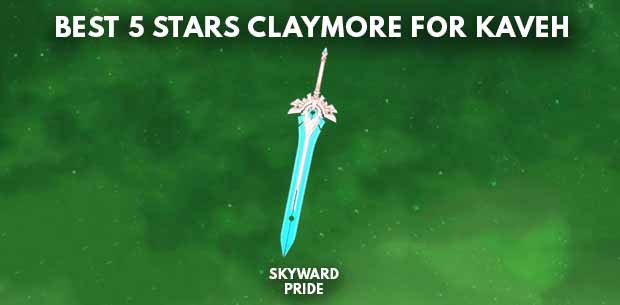 1. Skyward Pride

Provide ER% and Increase DMG after using Elemental burst.
Find out all Claymore Weapon Details.
Best Artifacts For Kaveh
Here is the best artifacts list for Kaveh from best to good.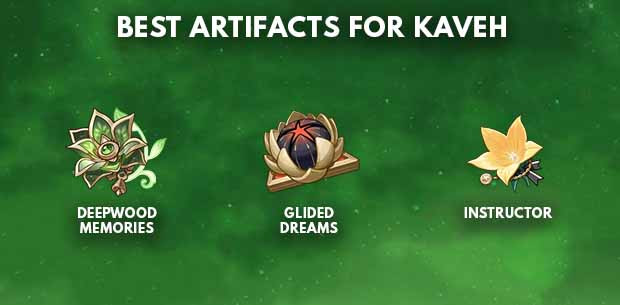 Deepwood Memories

2 Pieces: Dendro DMG Bonus +15%
4 Pieces: After Elemental Skills or Bursts hit opponents, the targets Dendro RES will be decreased by 30% for 8s. This effect can be triggered even if the equipping character is not on the field.

Glided Dreams

2 Pieces: Elemental Mastery +80.
4 Pieces: After Elemental Skills or Burst hit opponents, the targets Dendro RES will be decreased by 30% for 8s. This effect can be triggered even if the equipping character is not on the field.

Instructor

2 Pieces: Increases Elemental Mastery by 80.
4 Pieces: Upon triggering an Elemental Reaction, increases all members's party Elemental Mastery by 120 for 8s.
Find out more Artifacts details.
Best Build For Kaveh
Best Kaveh Support/Reaction Build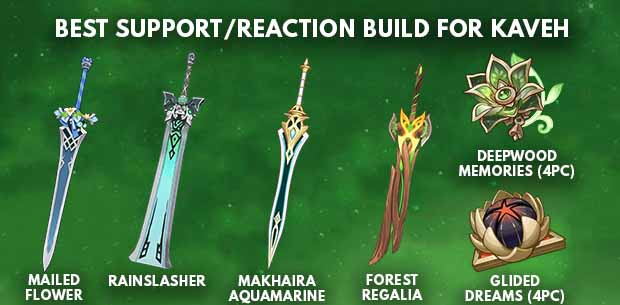 For Kaveh Bloom build Weapon, we focus on Kaveh's EM to get higher DMG so we should prioritize weapon that has high EM with some EM boost passive like Mailed Flower with Glided Dream to Boost EM and ATK.
For Kaveh Support, Deepwood Memories will provide some Dendro DMG, you can use Makhaira Aquamarine or Forest Regalia to get some EM.
Best Kaveh Support/Reaction Build Stats
For best support/reaction artifacts stats are EM and ER as sub stats because we need to get more healing abilities faster.
Best Team Build For Kaveh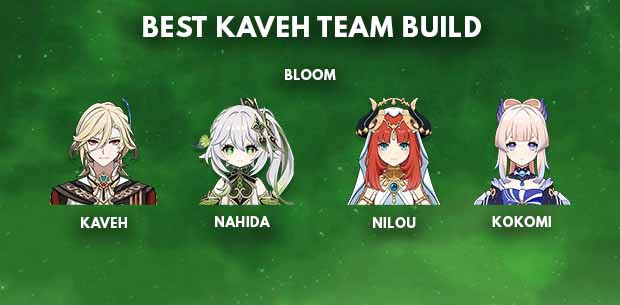 Kaveh Bloom
Kokomi

Apply more hydro damage to trigger with dendro

Nilou

Provide additional hydro damage burst AoE.

Nahida


Provide continuous Dendro that triggers with Nilou to create Bloom and also buff Kaveh with her passive.
End of Kaveh Build Guide