Find Furina Build, Weapons, and Artifacts that are suitable for Furina here.
Furina Stats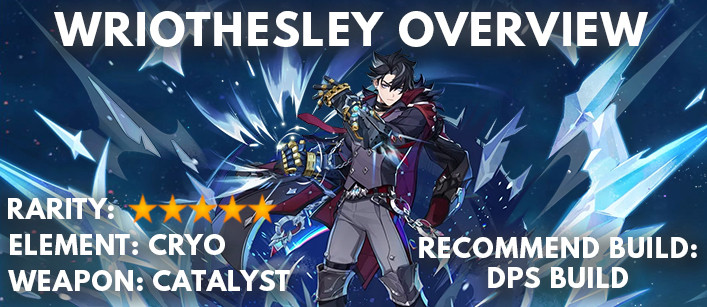 Rarity: 5 Stars
Element: Hydro
Weapon: Sword
How to get: Wishes
Best Constellation & Talent Priority For Furina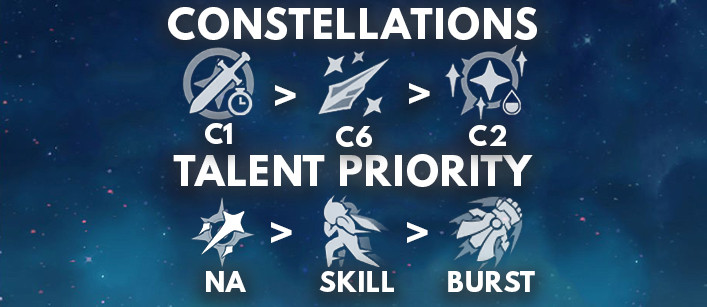 Constellations

C2- Let Us Raise the Chalice of Love!: While Let the People Rejoice lasts, Furina gains Fanfare faster.
C1- Like a Recalcitrant Bird, Love is Deaf to Pleading: Increase the limit of Fanfare.
C6- A Woman Adapts Like Duckweed in Water: Restore HP and energy.

Talent Priority


Skill: Summon Salon member to deal AoE Hydro DMG, Healing, and increase ATK on attacked nearby character.
Burst: Creating a stage on foam that deals with AoE Hydro DMG and increases DMG dealt and incoming Healing Bonus based on the amount of Fanfare.
NA/CA: most of her healing and dealing DMG output from her EM SKill or Burst.
Best Weapons For Furina
Best 3 Stars Sword Weapons
For newbies, you can't find 4, 5 stars weapons at low AR. If you just got Furina as your first 5-star character and plan to use her as a Sub-DPS you can also use these 3-star weapons to maximize her abilities.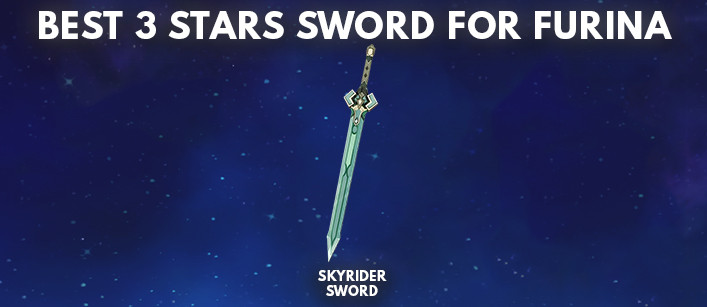 1. Skyrider

Using an Elemental Burst grants a 12% increase in ATK and Movement SPD for 15s.
Best 4 Stars Sword Weapons
When you get higher AR you will start getting 4-star weapons. They are P2P or Craft weapons or Battle Pass to use if you don't have Primogem to do wishes. Here are a few weapons that are suitable for Furina's play style. Here we are looking for HP/ER and also with effect to buff EM Skill/Buff will be a big plus.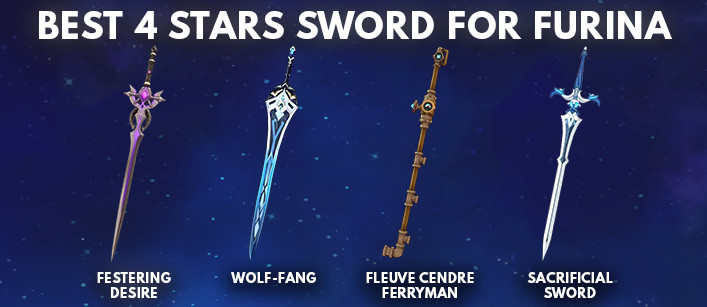 Wolf-Fang

Increase DMG dealt by EM Skill/Burst and when it's hit, increase CRIT Rate.

Festering Desire

Have ER as Sub stats so you can cast her skill often.
Increases EM Skill DMG and Elemental Skill CRIT Rate.

Fleuve Cendreferryman


Have ER as Sub stats so you can cast her skill often.
Increases EM Skill CRIT Rate and ER after cast EM Skill.

Sacrificial Sword

Have ER as Sub stats so you can cast her skill often.
If enemies get hit, her skill has 40% chance to end its own CD.
Best 5 Stars Sword Weapons
The only way to get a 5-star weapon for Furina is by wishing. It will randomly drop when you are doing a wish if you are a lucky one. Here are some 5 star swords that are great for her including his signature bow.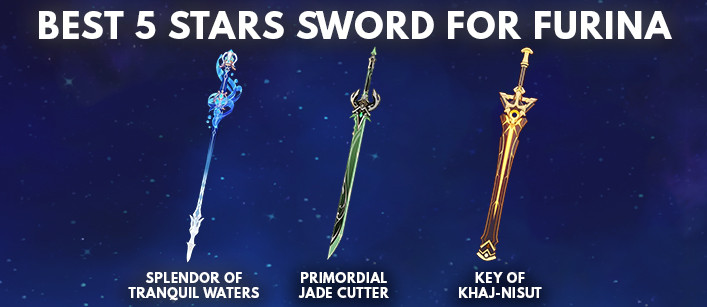 Splendor of Tranquil Waters


This is Furina's signature bow that fits her the most. The Sword increases EM Skill DMG and Max HP when HP changes.

Primordial Jadecutter

Provide HP increase and additionally, provide an ATK bonus based on HP.
Find out all Swords Weapon Details.
Best Artifacts For Furina
Here is the best artifacts list for Furina from best to good.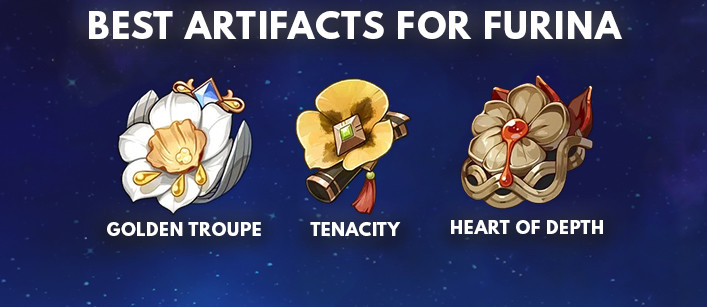 Golden Troupe

2 Pieces: Increases Elemental Skill DMG by 20%
4 Pieces: Increases Elemental Skill DMG by 25%. Additionally, when not on the field, Elemental Skill DMG will be further increased by 25%. This effect will be cleared 2s after taking the field.

Tenacity

2 Pieces: HP +20%
4 Pieces: When an Elemental Skill hits an opponent, ATK is increased by 9% for 7s. This effect stacks up to 2 times and can be triggered once every 0.3s. Once 2 stacks are reached, the 2 set is increased by 100%.

Hearth of Depth

2 Pieces: Hydro DMG Bonus +15%
4 Pieces: After using Elemental Skill, increases Normal Attack and Charged Attack DMG by 30% for 15s.
Find out more Artifacts details.
Best Build For Furina
Based on her kit, using her as a Sub-DPS will be more beneficial for the team.
Best Furina Sub-DPS Build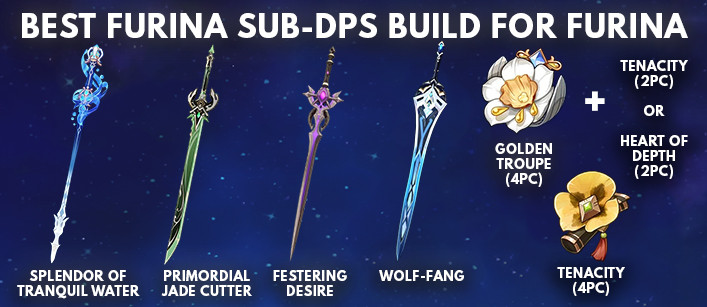 For Furina's Sub-DPS Build Weapon, we focus on Furina's CRIT DMG/Rate as well as HP Changes in weapon effect. Golden Troupe will be the best for her since this Sword will provide DMG increase when HP changes and increase her own Max HP. Primordial Jadecutter will be second best and Festering Desire and Wolf Fang will be great 4-star DPS Sword since they also provide some ER boost and CRIT Rate.
For Furina's Sub-DPS Artifact, 4PC of Golden Troupe will be the best one for him to increase Elemental DMG, and when the character is not on the field EM Skill DMG will further increase. You also can use 4 PCTenacity if you want to increase HP and boost team ATK.
Best Furina Sub-DPS Build Stats
Main Stats
HP
ATK
ATK%
Hydro DMG/HP%
CRIT DMG/Rate
Sub Stats
HP%
CRIT Rate/DMG
ER
Best Furina Team Build
Coming Soon.
End of Furina Build Guide.