Find Genshin Impact Claymores weapon list here featuring Characters that use claymores, and more information.
Table of Contents
Claymores Overview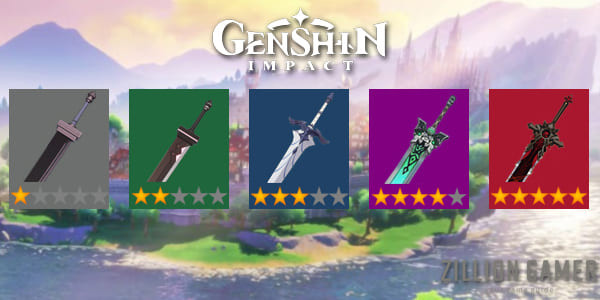 Claymores is one of the five weapons in Genshin Impact that is use for close range attack with slow wielding but deals huge damage per swing if hit. There is also a bonus damage when using Claymores to break Geo objects, monster's shield and more.
There are 2 attacks types for Claymores such as Normal attacks and Charged attacks.
Normal Attacks
Claymore normal attack is consists of 4 to 5 slow yet powerful and wide area hit melee attacks.
Charged Attacks
Use Claymore charged attacks to have small windup before performing a furious chain attacks that already drains stamina. The attacks will be more powerful once the characters stamina reaches the max duration or run out of stamina.
Claymores List
There are currently 24 Claymores in Genshin Impact such as:
Characters that Use Claymores
Currently there are 5 characters that use Claymores such as:
| | |
| --- | --- |
| Name | Element |
| Diluc | Pyro |
| Beidou | Electro |
| Chongyun | Cryo |
| Noelle | Geo |
| Razor | Electro |
Related Weapons List
Related Tier List