Krig 6 is a powerful assault rifle that released in Call of Duty Mobile Season 9: Zombies Are Back. Create Krig 6 loadout properly to outclass other weapons and possibly become the next weapon meta in COD Mobile.
This article covers an in-depth guide from how to unlock Krig 6, recommend the best attachments, perks, and secondary for Krig 6.
How to Unlock Krig 6 Assault Rifle in COD Mobile
When the new update is officially out for global, you can unlock the base version of Krig 6 by reaching tier 21 in Season 9: Zombies Are Back Battle pass.
To unlock the Krig 6 fast you can complete Daily missions, Seasonal quests, and Featured events for the Battle Pass XP card and that can increase the tier progress.
Now that you've unlocked the Krig 6 you can use your Weapon XP card for upgrading the weapon level to unlock all gunsmith attachments and start making your Krig 6 loadout.
Best Krig 6 Loadout in COD Mobile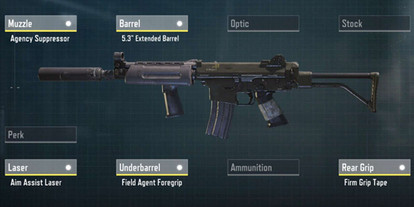 Muzzle: Agency Suppressor
Barrel: 5.3" Extend Barrel
Laser: Aim Assist Laser
Underbarrel: Field Agent Foregrip
Rear Grip: Firm Grip Tape
Equip Agency Suppressor muzzle on Krig 6 to silenced weapon when firing and reduce vertical recoil which can make the enemy hard to pinpoint your position.
We recommend the 5.3" Extended Barrel on Krig 6 because the 50% Bullet speed increase can make your bullet reach the target very fast.
Laser wise we suggest the Aim Assist Laser because it's the only laser that improve Krig 6 ADS Bullet Spread and that is what the gun lack.
For the Underbarrel we use Field Agent Foregrip which reduce the Krig 6 Horizontal recoil up to 40%. This is the best grip for Krig 6 since it has high Horizontal recoil.
Lastly we equip Firm Grip Tape to improve Krig 6 strength and mobility, you can switch to Sturdy Grip Tape if you want the high hit flinch reduce but we think that 20% is already enough for the weapon.
Overall, this build focus on improving Krig 6 recoil, ADS bullet spread, bullet speed, and silenced the weapon when firing which make the gun easier to use.
Best Perk for COD Mobile Krig 6

Red perk: Lightweight
Green perk: Quick Fix
Blue perk: Hardline
Lightweight improve your movement speed which help you rotate around the map faster to where the enemy won't expect you at.
Quick Fix increase your surviving chance when winning gunfight against enemy and can help you get multiple kills even at low heath. You can switch to other perk like Ghost or Vulture.
Hardline help you reach your scorestreak faster especially if you are on a good killstreaks, you will be able to spam UAV, Swarm...
Best Secondary to use with Krig 6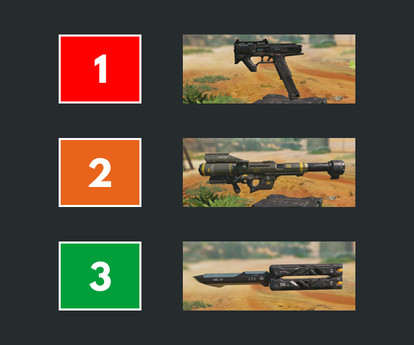 Use L-CAR 9 as your secondary with Krig 6 to have other full-auto gun back up for when you run out of ammo on your Krig 6.
Swap the L-CAR 9 to FHJ-18 or SMRS launcher if you want to destruct enemy scorestreak like UAV, Counter UAV, and more.
If you want to move around the map faster when using Krig 6 you can also equip any melee and switch to it when you are outside of the combat.
Conclusion
Overall, the Krig 6 is a good assault rifle to use for close to medium range with great damage, mobility, and accuracy. With the best loadout Krig 6 can outclass most of the current meta weapons.