Find Yaoyao Build, Weapons, and Artifacts that are suitable for Yaoyao here.
Yaoyao Stats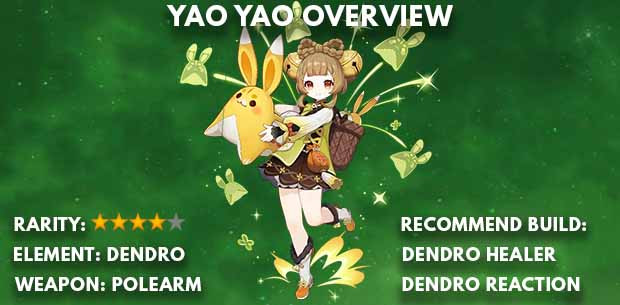 How to get Yaoyao

Wishes
Free in Lantern Rite Festival Mini-games
Best Constellation & Talent Priority For Yaoyao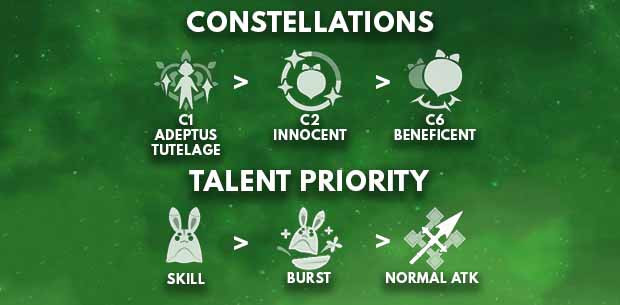 Constellations

C1- Adeptus Tulelage: This is really useful for Dendro reaction build since active characters within their AoE will gain a 15% Dendro DMG Bonus for 8s and restore 15 Stamina. Stamina Res can only be triggered every 5s.
C2- Innocent: Restored 3 Energy if White Jade Radish explosions hit opponents while affected by the Adeptal Legacy state caused by Moonjade Descent.
C6- Beneficent: Will have larger AoE on White Jade Radish and Deal AoE Dendro DMG base on 75% of Yaoyao's ATK and Restores HP for the active character based on 7.5% of Yaoyao ATK Max HP. Throwing Mode can throw out a Maximum of 2 Mega Radishes.

Talent Priority


1. Skill: First, you can increase White Jade Radish DMG and Healing better which is great for Healer Yaoyao
2. Burst: Second, you can upgrade this skill to get better Adeptal Legacy DMG and Healing.
3. Normal ATK: Lastly, This will be the last skill that we need to upgrade since she is a healer.
Best Weapons For Yaoyao
Best 3 Stars Polearm Weapons
For newbies, you can't find 4 5 stars weapons at low AR. If you just got Yaoyao as your first 4 stars character and plan to use her as a healer you can also use these 3 stars weapons to maximize Yaoyao's healing abilities. Since Yaoyao is healing based on her HP Base, we will focus on Polearm which provides an HP or ATK% if you want to deal with some DMG at low AR.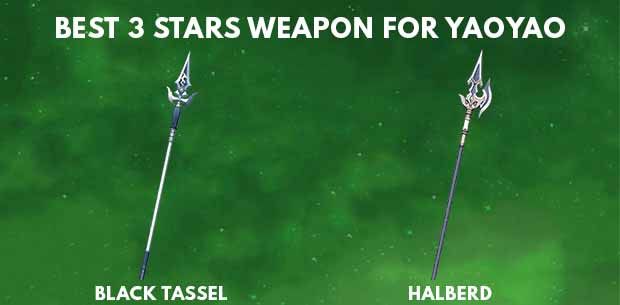 1. Black Tassel(Best Healer Polearm)

This is the best polearm that provides

HP%

as a Sub Stats which is really great boost for her healing abilities and Increases DMG against Slimes by

40%

2. Halberd


Give

ATK %

sub-stats and an additional

160% ATK

as DMG in Normal ATK. This will be a great choice if you want to deal with some DMG in an early game or low AR.
Best 4 Stars Polearm Weapons
When you get higher AR you will start getting 4 stars weapons. They are P2P or Craft weapons or Battle Pass to use if you don't have primogem to do wishes. Here are a few weapons that are suitable for Yaoyao's play style. Here we are looking for Energy Recharge for Healer and Elemental Mastery for elemental reaction in these weapons.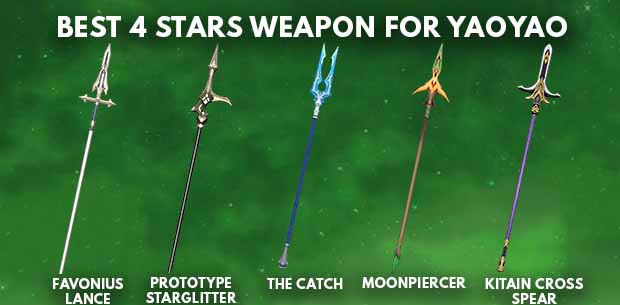 1. Favonius Lance(Best Healer Polearm)

This is the best healer weapon for Yaoyao that provide

ER

as sub-stats and have a

60%

chance to regenerate

6

Energy which occurs once every

12s

so you can healing abilities more.

2. Prototype Starglitter

With a huge amount of

ER%

as Sub-stats this is a good weapon if you are looking for ER% for uptime abilities.

3. The Catch


This polearm also comes with high

ER%

and Increased Elemental Burst DMG by

16%

and Elemental Burst CRIT Rate by

6%

.

4. Moonpiecer(Best Dendro Reaction Polearm)


Best for Dendro Reaction with

EM

Sub Stats and

ATK 16%

for 12s after picked up the Leaf by triggering Burning, Quicken, Aggravate, Spread, Bloom, Hyperbloom, or Burgeon. This effect can still be triggered if the character is not on field.

5. Kitain Cross Spear

This is also a great weapon for Dendro reaction build since it has an

EM

sub stats and Increase Elemental Skill DMG by

6%

with Energy Recharge and can be triggered when the character is not on the field.
Best 5 Stars Polearm Weapons
The only way to get a 5-star weapon for Yaoyao is by wishing. It will randomly drop when you are doing wish if you are a lucky one. There are some 5-star weapons that also fit her if you lost pity on her signature weapons. So we pick these weapon base on ER,HP and High Base ATK.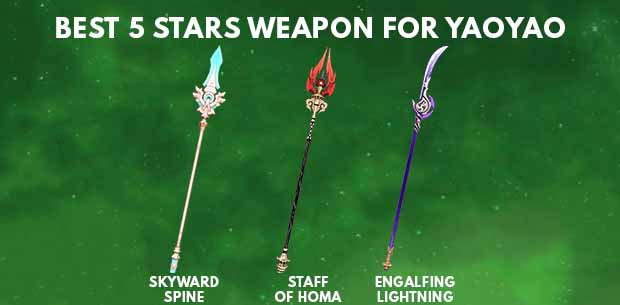 1. Staff of Homa

With

HP increased by 20%

in passive, this is the best 5 stars so far for a healer build. Additionally, provides an ATK Bonus base on 0.8%-1% base on wielder's Max HP.

2. Engulfing Lightning

The highest polearm

ER%

with ATK increased by 28% of Energy Recharge over the base 100%. You can gain a maximum bonus of 80% ATK. Gain 30% ER for 12s after using an Elemental Burst.

3. Skyward Spine

ER%

sub-stats and Increases CRIT Rate by 8% and increases Normal ATK SPD by 12%. This is a good weapon to use if you want some DMG with dendro reaction build.
Best Artifacts For Yaoyao
Here is the best artifacts list for Yaoyao from best to good.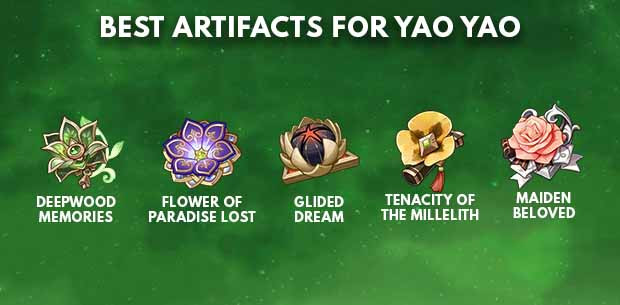 Deepwood Memories

2 Piece: Dendro DMG Bonus +15%
4 Piece: Increases Swirl DMG by 60%. Decreases opponent's Elemental RES to the element infused in the Swirl by 40% for 10s.

Glided Dreams

2 Pieces: Energy Recharge +20%
4 Pieces: Increases Elemental Burst DMG by 25% of Energy Recharge. A maximum of 75% bonus DMG can be obtained in this way.

Flower of Paradise Lost

2 Pieces: Increase Elemental Mastery by 80.
4 Pieces: The equipping character's Bloom, Hyperbloom, and Burgeon reaction DMG are increased by 40%. Additionally, after the equipping character triggers Bloom, Hyperbloom, or Burgeon, they will gain another 25% bonus to the effect mentioned prior. Each stack of this lasts 10s. Max 4 stacks simultaneously. This effect can only be triggered once per second. The character who equips this can still trigger its effects when not on the field.

Tenacity of The Millelith

2 Pieces: HP +20%
4 Pieces: When an Elemental Skill hits an opponent, ATK is increased by 9% for 7s. This effect stacks up to 2 times and can be triggered once every 0.3s. Once 2 stacks are reached, the 2 set is increased by 100%.

Maiden Beloved


2 Pieces: Character Healing Effectiveness
4 Pieces: Using an Elemental Skill or Burst increases healing received by all party members by 20% for 10s.
Best Build For Yaoyao
Best Yaoyao Healer Build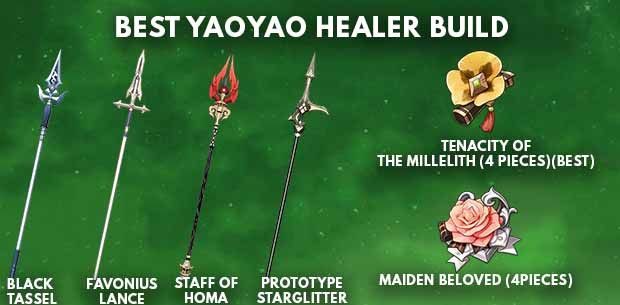 For Yaoyao Healer build Weapon, we focus on Yaoyao's Elemental skill to get higher up time and get more healing and faster so we should prioritize weapon that has high ER and HP%.
For Yaoyao Artifacts, Tenacity of The Millelith provides 20% HP on 2 pieces and Increases ATK and Shield Strength for party members which are overall the best for Healer Support Yaoyao. You can also use Maiden Beloved to boost healing if you lack healing bonus.
Best Yaoyao Healer Build Stats
For best healer artifacts stats are HP% and Healing Bonus because we need to get more healing abilities faster.
Main Stats

HP
ATK
HP%
HP%
Healing Bonus/HP%

Sub Stats


Elemental Mastery
Energy Recharge
HP%
CRIT DMG/Rate
Best Yaoyao Dendro Reaction Build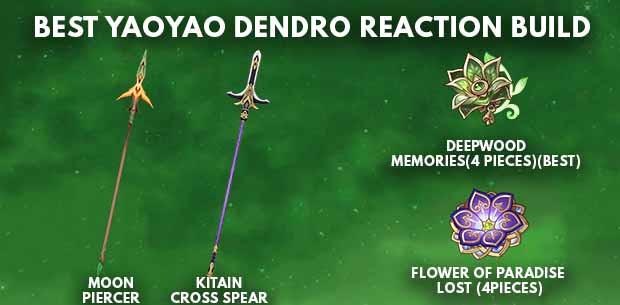 For Yaoyao Dendro reaction weapons, we focus on EM to output Dendro DMG so we should prioritize a weapon that has a lot of EM and get some energy when using a skill is a big plus.
For Yaoyao Dendro artifacts, Deepwood Memories is a great artifact to boost Dendro DMG bonus and Dendro RES which is very useful for Dendro members. Flower of Paradise will be the best artifact with 80 EM on 2 pieces and If you want to create Bloom, Hyperbloom, and Burgeon, Flower of Paradise will be the best artifact with DMG increased by 40%.
Best Yaoyao Dendro Reaction Build Stats
For best Dendro reaction artifacts stats are Dendro DMG Bonus, HP%, and EM because we need to output her Dendro DMG with her elemental skill and uptime her elemental skill with additional healing.
Main Stats

HP
ATK
EM
Dendro DMG Bonus/EM
EM

Sub Stats


Elemental Mastery
Energy Recharge
ATK%
HP%
Best Team Build For Yaoyao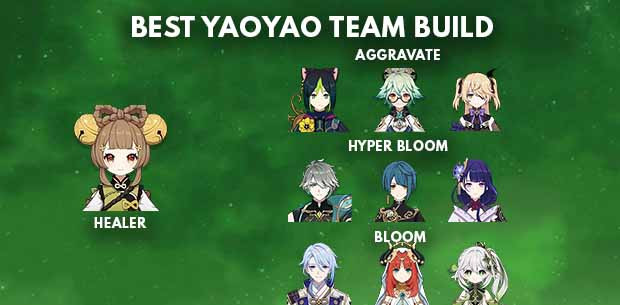 Aggravate Team
Tighnari

The main DPS in the team that triggered by the reaction between Yaoyao and Tighnari

Sucrose

Provide DMG buff with AOE skill, and can be an energy battery for the team

Fischl

Provide continuous Electro that triggers with Yaoyao to create Aggravate.
Hyperbloom
Alhaitham

The main Dendro DPS in the team that deals AoE Dendro DMG triggered Xingqiu Hydro element to create Blooming cores.

Xingqiu

Xingqiu's Elemental Skill can produce Hydro element for enemies to react with Dendro from Alhaitam.

Baal

Using Baal as Sub DPS to output Electro Charged with Dendro core to trigger Hyperbloom.
Bloom
Ayato

Ayato is the Main DPS in the team to applies hydro elemental to react with Dendro from Yaoyao and Nahida to trigger bloom.

Nilou

Using Nilou as Sub DPS to provide Hydro after Ayato and Nahida to triggered Blooming.

Nahida

Use Nahida Elemental skill after the Ayato hydro skill.
End of Yaoyao Build Guide