Tower of Fantasy DPS Tier List 2023 (Character & Weapon). Explain on which DPS character should be at the top of the tier and their performance in the fight. Check out.
Check out our New V3.4 DPS Character Tier List.
Tier S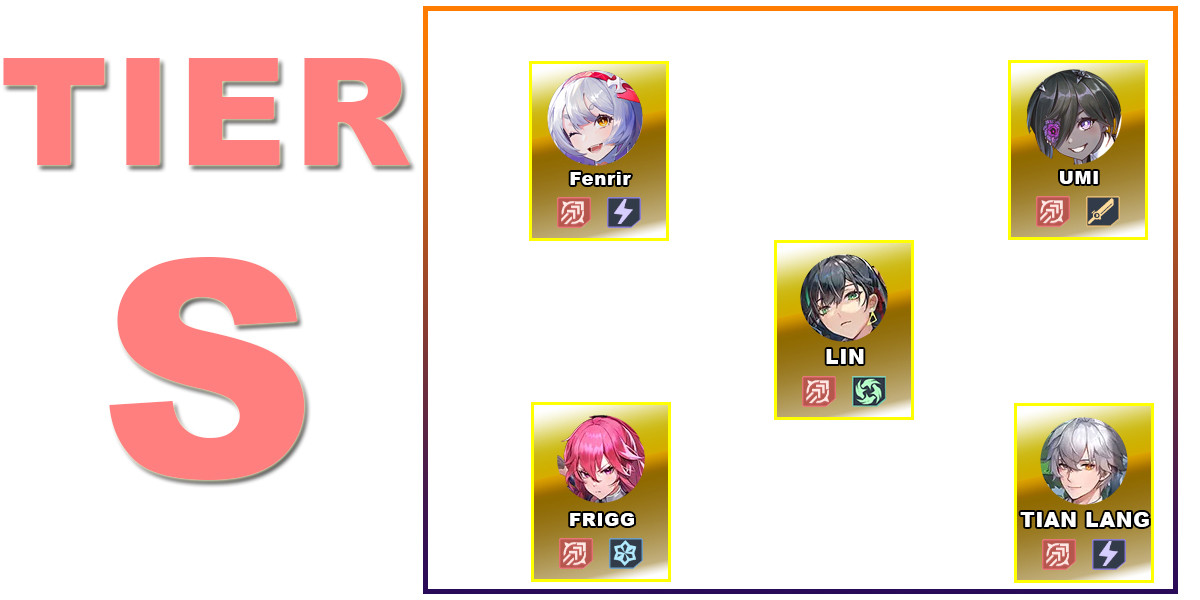 Fenrir1 or 3 Star is really powerful in the fight her normal attack deals a lot of AOE damage, especially her dodge and attack skill deals a lot of shield break damage. With her, Su-Paw Star Skill can deal 100% true damage to the shield target and gain back 100% healing of the ATK.

Weapon: Gleipnir
Role: DPS
Element: Volt

Umi 3 stars is really strong that can break shields, heal, and deal a lot of AOE damage. Especially when her whip meter is fully charged she will gain a Magic show state that can switch between 2 cards, (Spade & Heart) every 2 seconds.
1st Card Combo (Double Spades): Summon a large number of flying cards, forming a hurricane that swarms to the target location, attacking the target up to 12 times and dealing equally to 850% of ATK.
2nd Card Combo (Spades & Heart): Pull out a colony of bats from you hat and enhance yourself. During Magic Trick, physical damage dealt by Mobius is increased by 7.5%, and only 60% of the damage taken will be tallied. The remaining 40% will slowly be deducted from you HP over 10 seconds after Magic Trick ends. The delayed tally effect only applies when Fortitude resonance is not active.
3rd Card Combo (Double Hearts): Immediately recover 10% of Max HP and plant a Corrosion Flower on up to 7 targets within a certain range, which deal damage equal to 260% of ATK every second for 3 seconds.

Weapon: Mobius
Role: DPS
Element: Grievous

Lin is a special character. She can play so many roles in your team Main & SUP DPS, Buffer, Charger, Sheild Breaker. So Lin is unique and suitable in every team chomp that you want to play.


Weapon: Shadoweave
Role: DPS
Element: Altered Damage

Tian Lang is one of the best Shield breakers in the volt type and also he has higher damage of weapon skill & discharge in the game. Tian Lang 1 star basic attack overload stack is really powerful you will increase more damage and also heal by 20% of your max hp.

Weapon: Thunderbreaker
Role: DPS
Element: Volt

Frigg is really great to use as a Main DPS the best part of Frigg is her weapon skill that deal very high attack damage and when you are inside the area you will have an unlimited sprint with no energy reduced and also grant fast charge for other weapons when she hit the enemy.

Weapon: Balmung
Role: DPS
Element: Ice Shell
Tier A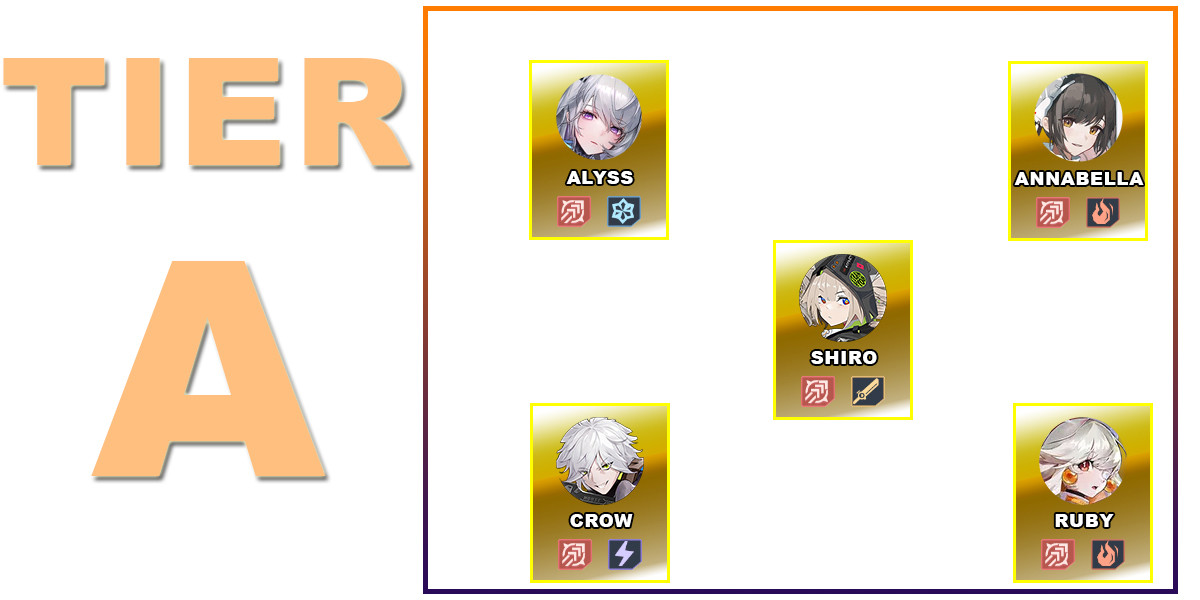 Alyss 1 or 3 stars can deal 857.7% of AOE damage when using Chilling Field Skill for 30 seconds. When switching to another Frost weapon discharge skill in the chilling field, deal hoarfrost damage equal to 125.8% of ATK plus and slow the target for 2 seconds (the slow effect is ineffective against bosses). Moreover, her Latent state dodges hold attack increase speed by 50% plus cc immune, when the latent state end deal 305.1% damage and freeze targets for 2 seconds.

Weapon: Unyielding Wing
Role: DPS
Element: Ice Shell

Annabella 1 or 3 stars is a good main DPS if you are the Flame player. She has a high point of shield break with a really high damage deal Critical + Ignite debuff to the target with her Spamming Dodging attack in the red magazine.


Weapon: Clover Cross
Role: DPS
Element: Flame

Crow can still deal damage but not as much as before with his classic combo double jump + jet pack + dive bomb. Crow 5 stars is a good DPS when you attack the target from behind it deals good damage with a 100% critical rate attack so, he will be useful to defeat the boos. Also, his weapon charge deal a lot of damage with a single target.

Weapon: Thunderblades
Role: DPS
Element: Volt

Shiro is a good DPS when she gets her 3-stars advancement. Her skill & discharge is really useful in the fight her Skill will create an AOE reflection attack that can destroy the enemy shield in just one click and also give a fast discharge to other weapons.


Weapon: Chakram of the Seas
Role: DPS
Element: Grievous

Ruby is 1 or 3 stars is a good DPS she has a good normal attack that can lockdown the enemies burning them down and can combo with her Sparking Collider Skill to deal more damage to multiple targets. She got 1 special dodge attack that can use her Dolly to deal damage and make the enemies follow it for 1.5 seconds. So, you will have time to heal when you got low HP.

Weapon: Spark
Role: DPS
Element: Flame
Tier B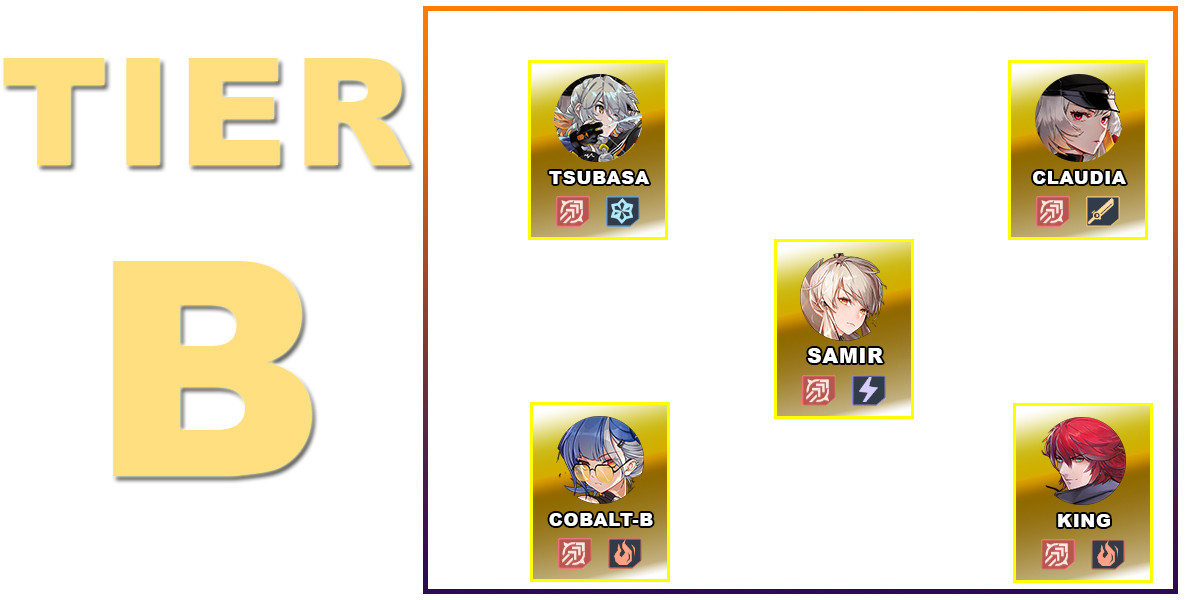 Samir using her as the main or sub dps might not be good, she gives us least damage with her attack but, You can use her to give you fast discharge for other weapons in your lineup. Moreover, her discharge give AOE circle and stun the enemy inside the area.

Weapon: Duel EM Stars
Role: DPS
Element: Volt

Tsubasa is a ranged character that is not good to be a main dps in the team. But you can use her to give your team to gain fast discharge skill. Her basic attack can frost the target for a quick second and her skill can deal damage through the enemy when they line up.

Weapon: Icewind Arrow
Role: DPS
Element: Ice Shell

King is not a good DPS he doesn't deal a lot of damage in the fight, but he is best for breaking the shield and can give AOE damage and ignite the target with his discharge.

Weapon: Scythe of the Crow
Role: DPS
Element: Flame

Cobalt-B She is good at shield break but to make her strong she can deal a lot of damage you need to spend more money to get about 3 stars or higher to make her stronger in the team.

Weapon: Flaming Revolver
Role: DPS
Element: Flame

Claudia is good only with single targets she can deal more physical attacks when she is in full stack and also reduce all damage taken by 50% if she hit the same target. Not so good in a group of team fight but she is good at fast charge weapon.

Weapon: Guren Blade
Role: DPS
Element: Grievous
End of Tower of Fantasy DPS Tier List 2023.