Find ZRG 20mm guide in Call of Duty: Mobile featuring best attachments, perks, stats, and skin blueprints here.
ZRG 20mm Overview
The ZRG release in Season 8 2022 and you can unlock ZRG 20mm in Season 8 Battle pass tier 21.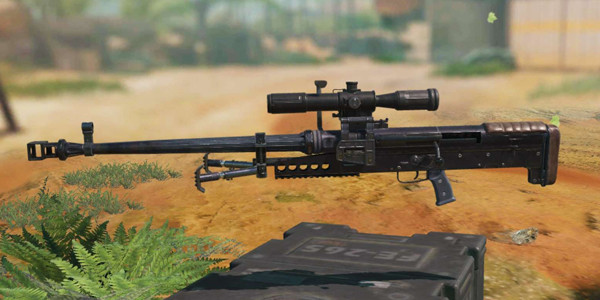 ZRG 20mm is a sniper rifle in COD Mobile, this gun deal high damage, has fast bullet travel speed, very accurate, and you can use it to eliminate target at any distance. The ZRG 20mm check all the boxes on being qualified to be the best sniper rifle in Battle Royale and Multiplayer for Season 8.
Best ZRG 20mm Loadout - Attachments Guide
When we build attachments for the ZRG 20mm we focus on increasing damage range to maximize that 1 shot kill potential up to 99 meters while still maintain good ADS speed and overall mobility.
Having that in mind, let us present to you the best ZRG 20mm loadout in COD Mobile:
Muzzle: OWC Light Suppressor.
Barrel: MIP Light Barrel (Short).
Stock: YKM Light Stock.
Laser: OWC Laser - Tactical.
Ammunition: Anti-Vehicle Mag.
One more thing that we forgot to mention above is that we also silenced the firing sound of the sniper with OWC Light Suppressor as well.
Image version: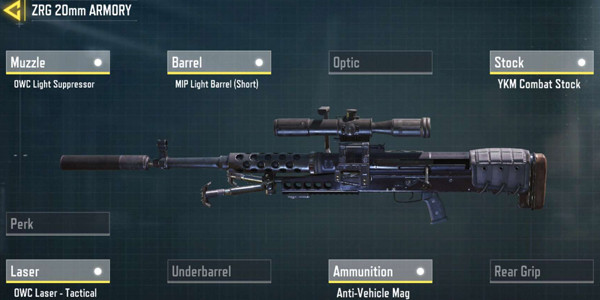 What do you think about this loadout? Does it fit your playstyle? Please let us know in our Discord.
ZRG 20mm Weapon Stats & Tier
Note: These stats are for Vanilla version of the ZRG 20mm, no attachments used.
| | |
| --- | --- |
| ZRG 20mm | Stats & Tier |
| Damage: | 95 |
| Fire Rate: | 27 |
| Accuracy: | 62 |
| Mobility: | 35 |
| Range: | 74 |
| Control: | 40 |
| Tier: | SS+ |
Best gun in Call of Duty Mobile
Here is an in-depth damage detail of this sniper:
The default damage of ZRG 20mm will start to drop after 55 meters range so keep that in mind that the damage will change once your enemy is further than 55 meters.
| | | |
| --- | --- | --- |
| Body Parts | 0-55 Meters | 55-300 Meters |
| Head & Neck | 190 | 160 |
| Upper Chest | 152 | 128 |
| Stomach | 123.5 | 104 |
| Upper Arm | 152 | 128 |
| Lower Arm | 152 | 128 |
| Legs | 95 | 80 |
However, with our loadout that we've recommended above you will be able to deal 190 damage up to 99 meters which is insanely powerful.
Best ZRG 20mm Perks
When it come to perk we build it to compensate those high hit flinch that we sacrifice when building our loadout, so here is the best ZRG 20mm perks:
| | |
| --- | --- |
| Perk | Description |
| Lightweight | Sprinting speed is increased by 5% and fall damage is greatly reduced. |
| Toughness | Flinch when being shot is reduced by 60%. |
| High Alert | Your vision pulses when enemies outside of your view see you. |
You can swap Lightweight for Iron Lunges if you don't want to move around much and only want to eliminate the enemies from far range. Toughness to gain back those hit flinch that we lost in our loadout and High Alert to give us more awareness.
ZRG 20mm Skins & Blueprints List
Weapon skin make the gun look more nicer, eye catchy, and Blueprints even change your weapon shape make a more unique look to that same gun. Here you can find all ZRG 20mm skin in Call of Duty Mobile:
ZRG 20mm - Eyes of the Sparrowhawk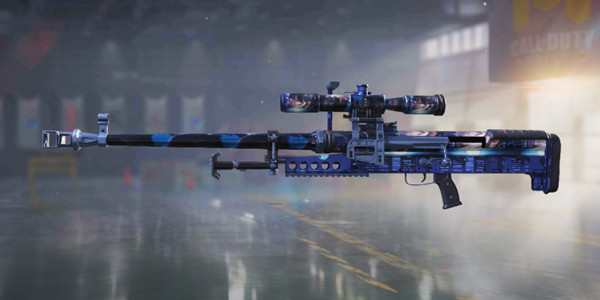 Name: Eyes of the Sparrowhawk
Rarity: Rare
How to get ZRG 20mm Eyes of the Sparrowhawk: Unlock this skin in Yokai Master Lucky Box.
ZRG 20mm - Impending Chaos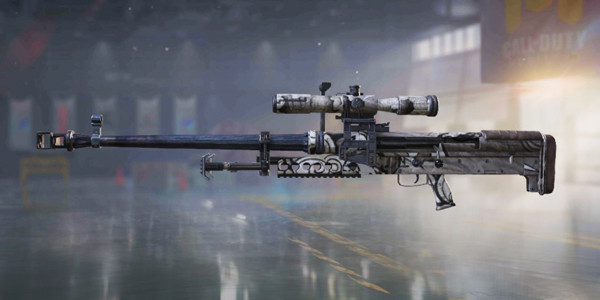 Name: Impending Chaos
Rarity: Uncommon
How to get ZRG 20mm Impending Chaos: Unlock this skin in Bone Dry Lucky Box.
ZRG 20mm - Jade Vibes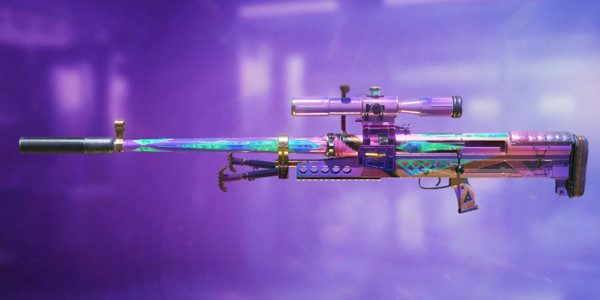 Name: Jade Vibes
Rarity: Epic
How to get ZRG 20mm Jade Vibes: Unlock this skin in Sound Obsession draw.
ZRG 20mm - Ticket to Hell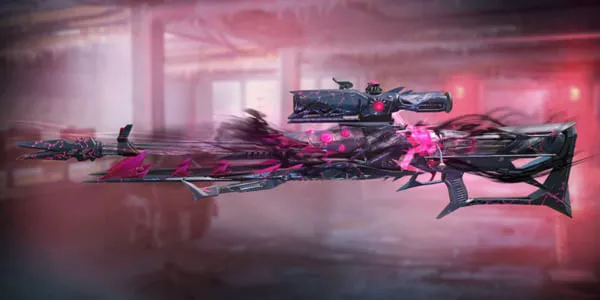 Skin name: Ticket to Hell
Rarity: Legendary
How to get ZRG 20mm Ticket to Hell: Unlock this skin in Devil's Doorway draw.
ZRG 20mm - Jade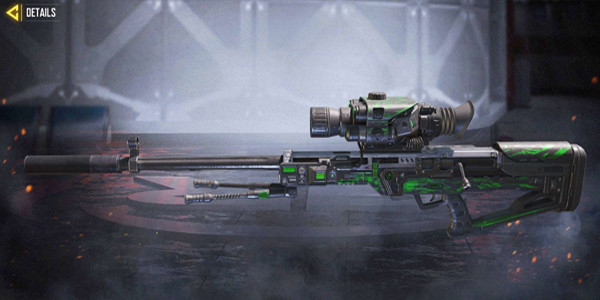 Skin name: Jade
Skin type: Blueprint (Epic)
How to get ZRG 20mm Jade: You can get this skin by reaching tier 50 in Season 8 Battle Pass tier 50 (premium only).
Other Sniper Rifles
All Weapon List