Rytec AMR is a semi-automatic sniper in Call of Duty Mobile. The gun base damage are: 160 damage headshot, 120 chest, and 104 waist, up to 40meters.
This mean that you can 1 shot kill enemy with Rytec AMR when aiming to the chest and higher.
Overall, Rytec AMR is a good sniper to use for passive playstyle because it is a slow mobility and ADS time weapon.
View the best Rytec AMR loadout build in gunsmith, perks, and skin down below.
Gunsmith Guide - The best Rytec AMR loadout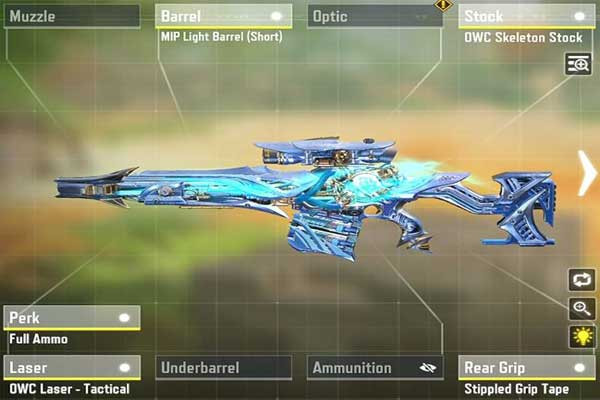 This is our recommendation on picking the best attachments for Rytec AMR loadout in COD Mobile:
Barrel: MIP Light Barrel (Short)
Stock: OWC Skeleton Stock
Laser: OWC Laser - Tactical
Rear Grip: Stippled Grip Tape
Perk: Full Ammo
The pros build this Rytec AMR class to speed up the ADS movement speed, ADS time, Sprint-to-fire delay, and start with more ammo.
Despite all the pros there are also some drawback such as Higher Hit-flinch, and recoil. However, we can fix some of that with our Perk build.
The best Perk to use with Rytec AMR
Here is our recommendation on picking the best perks when you're using Rytec AMR:
| | |
| --- | --- |
| Icon | Description |
| Lightweight | Increased sprinting speed by 10%. |
| Toughness | Reduces Hit flinch by 60%. |
| High Alert | Indicate where you got shot from, ADS mark enemies. |
This Rytec AMR perk class improve your sprinting speed, reduces aim-punch, and increase your awareness during the match.
Weapon Stats - Damage, Fire Rate, Accuracy, & Range
This is a fresh stats of the Rytec AMR:
| | |
| --- | --- |
| Rytec AMR | Stats & Tier |
| Damage: | 80 |
| Fire Rate: | 31 |
| Accuracy: | 62 |
| Mobility: | 24 |
| Range: | 90 |
| Controls: | 32 |
| Tier: | S |
How To Get Rytec AMR - Free & Paid
Rytec AMR is a brand new Sniper that just released in mid Season 6 "The Heat", and there are 2 ways that you can get your hand on this weapon.
You can unlock the free Rytec AMR by complete all the tasks in Sharpshooter Events.
To see the tasks list you need to go to Events > Seasonal > Sharpshooter.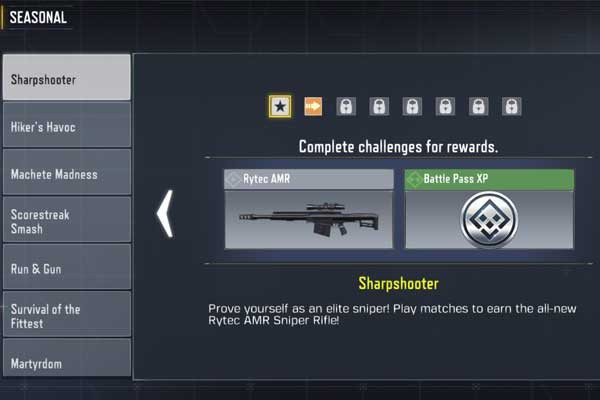 Although you can get the Paid version of Rytec AMR by playing in Abyssal State Mythic Drop.
Keep in mind that this Lucky Draw will require you using real currency in order to get a chance of getting the weapon.
Rytec AMR Skin List - Rarity, & How To Get
Skin provide extra artistic painted on your weapon, make it more refreshing when playing. Here are all the Rytec AMR skins in COD Mobile:
Rytec AMR - Revati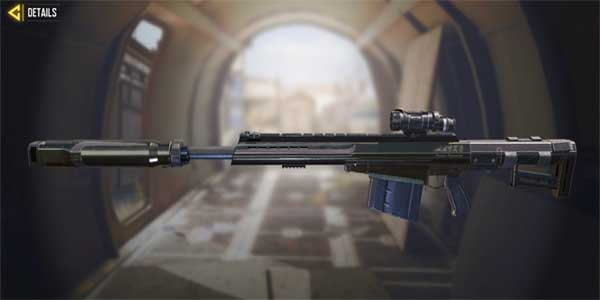 Name: Revati
Rarity: Epic
How to get Rytec AMR Revati: Unlock this skin by reaching Tier 10 of Premium Battle Pass Season 7.
Rytec AMR - Nautilus
Name: Nautilus
Rarity: Mythic
How to get Rytec AMR Nautilus: Unlock this skin in Abyssal State Mythic Drop.
Other Sniper Rifle
All Weapon List
End of Rytec AMR loadout Guide