Herta is a 4 stars character in Honkai: Star Rail. Find Herta skills and build in this article.
Character Overview: Herta
Herta is a female character of the Euridition path with Ice element. She is a great multi-target AoE damage dealer.
How to get Herta in Honkai: Star Rail
To get Herta you need to pull this character from any of these Warp banners (GACHA) using Star Rail pass or Special Pass:
Departure Warp
Butterfly on Swordtip
Brilliant Fixation
Stellar Warp
Herta Stats & Ascension Materials
Level 1 Stats

HP: 129
ATK: 79
DEF: 54
Speed: 100

Level 80 Stats

HP: 952
ATK: 582
DEF: 396
Speed: 100
Herta Ascension Materials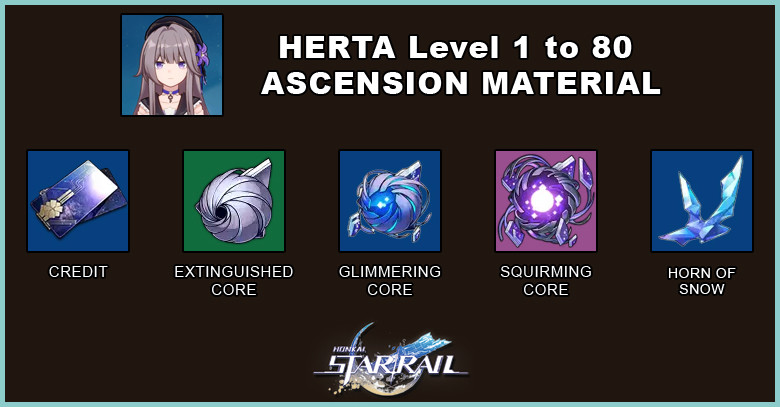 Here are all ascension materials that you need for leveling up Herta to level 80:
Herta Skills & Abilities Priority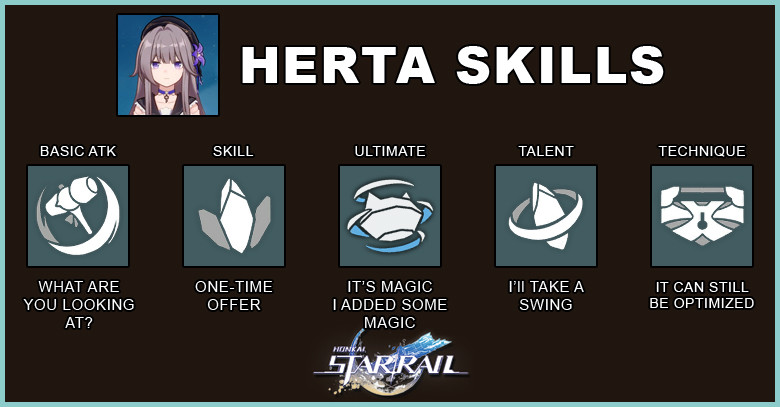 What Are You Looking At (Basic ATK) - Single Target
Deals Ice DMG equal to 50% of Herta's ATK to a single enemy.
One-Time Offer (AoE ATK) - Skill
Deals Ice DMG equal to 50% of Herta's ATK to all enemies.
If the enemy's HP percentage is 50% or higher, DMG dealt to this target increases by 20%.
It's Magic, I Added Some Magic (AoE ATK) - Ultimate
Deals Ice DMG equal to 120% of Herta's ATK to all enemies.
Fine, I'll Do It Myself (AoE ATK) - Talent
When an ally's attack cause an enemy's HP percentage to fall to 50% or lower, Herta will launch a follow-up attack, dealing Ice DMG equal to 25% of herta's ATK to all enemies.
It Can Still Be Optimized (Enhance) - Technique
After using her Technique, Herta's ATK increases by 40% for 3 turn(s) at the beginning of the next battle.
Herta Abilities Priority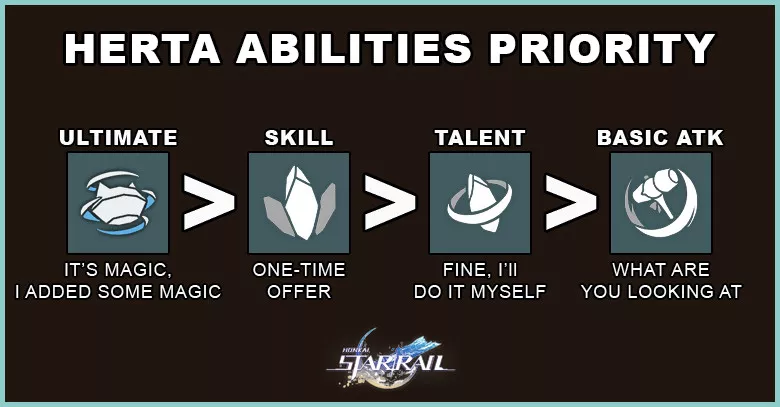 Herta's ultimate is very powerful hence you should priority upgrading it first, then you can priority skill and talent after ward.
Lastly, you can upgrade her basic atk, since it can add extra DMG, not as important as Ultimate and skill though.
Herta Trace
Ascension 2: Efficiency
When Skill is used, the DMG Boost on target enemies increases by an extra 25%.
Ascension 4: Puppet
The chance to resist Crowd Control debuffs increases by 35%.
Ascension 6: Icing
When ultimtae is used, deals 20% more DMG to Frozen enemies.
Best Light Cones for Herta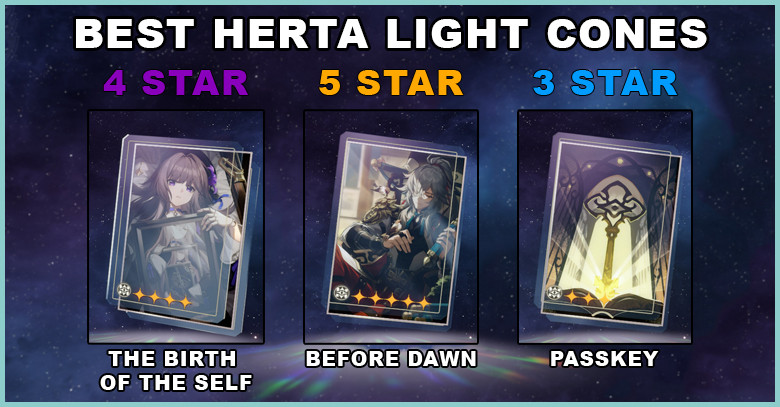 The best 5 star light cone for Herta is Before dawn, it helps increase CRIT DMG and ULTIMATE DMG.
For the 4 star light cone, you should use the Birth of the Self to get that increase follow-up ATK DMG.
3 Star light cone wise, we recommend you to use the Passkey, to get back energy after using the skill.
Best Relics for Herta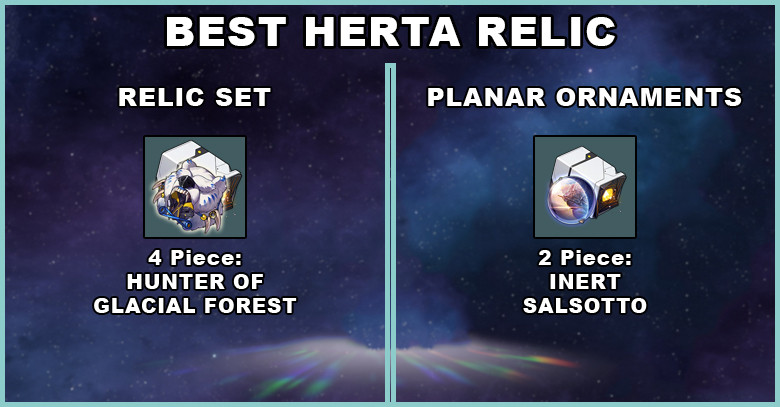 The best relic for Herta is the 4 Piece Hunter of Glacial Forest, this relic set boost your ICE DMG, CRIT DMG after you use Ultimate.
For the planar ornaments you should equip Inert Salsotto it increase Herta's CRIT RATE, and Ultimate and follow-up attack DMG.
Herta Eidolon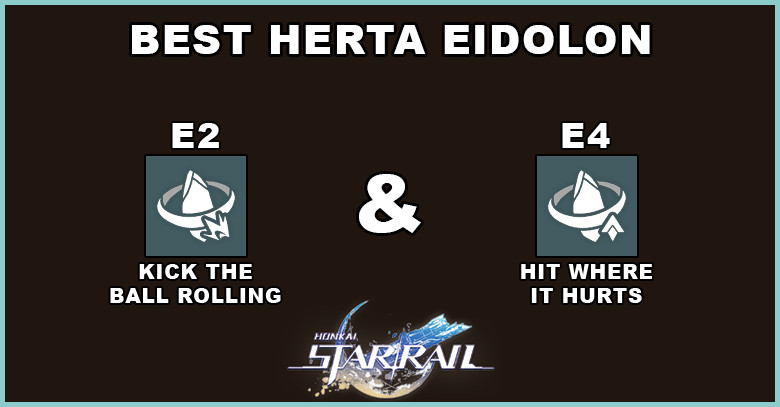 Eidolon 1: Kick You When You're Down
If the enemy's HP percentage is at 50% or less, Herta's Basic ATK deals additional Ice DMG equal to 40% of Herta's ATK.
Eidolon 2: Kick the Ball Rolling
Every time Talent is triggered, this character's CRIT Rate increases by 3%. This effect can stack up to 5 times(s).
Eidolon 3: That's the Kind of Girl I Am
Skill Lv. +2, up to a maximum of Lv. 15.
Basic ATK Lv. +1, up to a maximum of Lv. 10.
Eidolon 4: Hit Where It Hurts
When Talent is triggered, DMG increased by 10%.
Eidolon 5: Cuss Big or Cuss Nothing
Ultimate Lv. +2, up to a maximum of Lv. 15.
Talent Lv. +2, up to a maximum of Lv. 15.
Eidolon 6: No One Can Betray Me
After using Ultimate, this character's ATK increased by 25% for 1 turn(s).
End of Herta Build Guide