Luocha is a 5 stars character in Honkai: Star Rail. Find Luocha's skills and build in this article.
Character Overview: Luocha
Luocha is a male character of the Abundance path with a Imaginary element. He is a foreign trader who came from beyond the seas, he appears on the Xianzhou Luofu with a huge coffin. With his consummate medical skills, he always rescues people in times of danger.
How to get Luocha in Honkai: Star Rail
To get Luocha you need to pull this character from any of these Warp banners (GACHA) using Star Rail pass or Special Pass:
Departure Warp
Butterfly on Swordtip
Brilliant Fixation
Stellar Warp
Luocha Stats & Ascension Materials
Level 1 Stats

HP: 174
ATK: 103
DEF: 49.5
Speed: 101

Level 80 Stats

HP: 1281
ATK: 756.76
DEF: 363.83
Speed: 101
Luocha Ascension Materials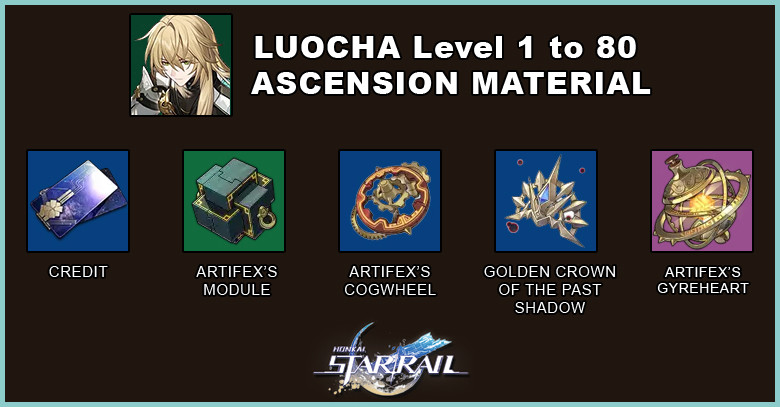 Here are all the ascension materials that you need for leveling up Luocha to level 80:
Luocha Skills & Abilities Priority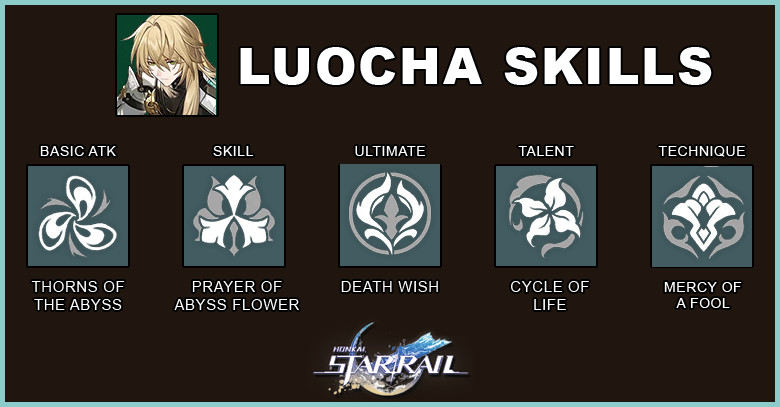 Thorns of the Abyss (Basic ATK) - Single Target
Energy Regeneration: 20
Weakness Break: 30
Deals Imaginary DMG equal to 130% of Luocha's ATK to a single enemy.
Prayer of Abyss Flower (Skill) - Restore
Energy Regeneration: 30
Weakness Break: 0
After using his Skill, Luocha immediately restores the target ally's HP equal to 70% of Luocha's ATK plus 1025. Meanwhile, Luocha gains 1 stack of Abyss Flower When any ally's HP percentage drops to 50% or lower, and effect equivalent to Luocha's Skill will immediately be triggered and applied to this ally for one time (without consuming Skill Points). This effect can be triggered again after 2 turns (s).
Death Wish (Ultimate) - AoE
Energy Regeneration: 5
Weakness Break: 60
Removes 1 buff(s) from all enemies and deals all enemies Imaginary DMG equal to 240% of Luocha's ATK. At the same time, Luocha gains 1 stack of Abyss Flower.
Cycle of Life (Talent) - Restore
Energy Regeneration: 0
Weakness Break: 0
When Abyss Flower reaches 2 stacks, Luocha consumes all stacks of Abyss Flower to deploy a Field against the enemy. When any enemy in the Field is ATK by an Ally, the attacking ally's HP is immediately restored by an amount equal to 21% of Luocha's ATK plus 308. The Field's effect lasts for 2 turns. When Luocha is knocked down, the Field will be dispelled.
Mercy of a Fool (Technique) - Restore
Energy Regeneration: 0
Weakness Break: 0
After the Technique is used, the Talent will be immediately triggered at the start of the next battle.
Luocha Abilities Priority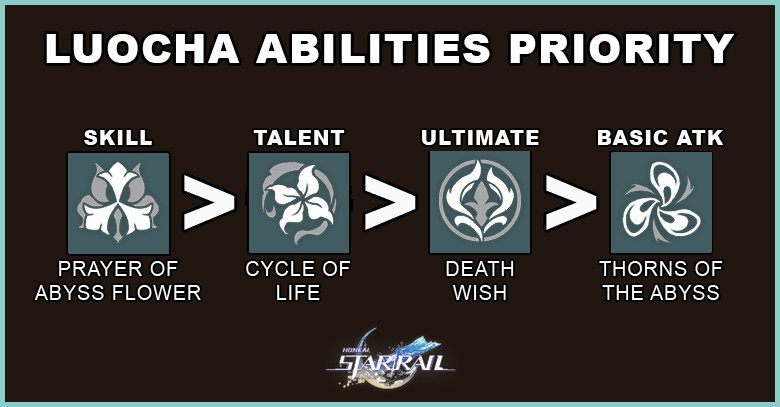 As a healer in the team, You should prioritize upgrading Luocha Skill first to Restore Ally HP more gains 1 stack of Abyss Flower.
Luocha's Talent should be your second priority because when Abyss Flower reaches 2, allies will get more healing after they attack.
Then, you can upgrade to Ultimate in order to Increase Imaginary DMG and remove 1 buff from enemies
Then you can max Luocha's Basic ATK, to deal better imaginary DMG to a single enemy.
Luocha Trace
Ascension 2: Cleansing Revival
When the Skill's effect is triggered, remove 1 debuff(s) from a target ally.
Ascension 4: Sanctified
When any enemy in the Field is attacked by an ally, all allies (except the attacker) restore HP equal to 7% of Luocha's ATK plus 93.
Ascension 6: Through the Valley
The chance to resist Crowd Control debuffs increases by 70%.
Best Light Cones for Luocha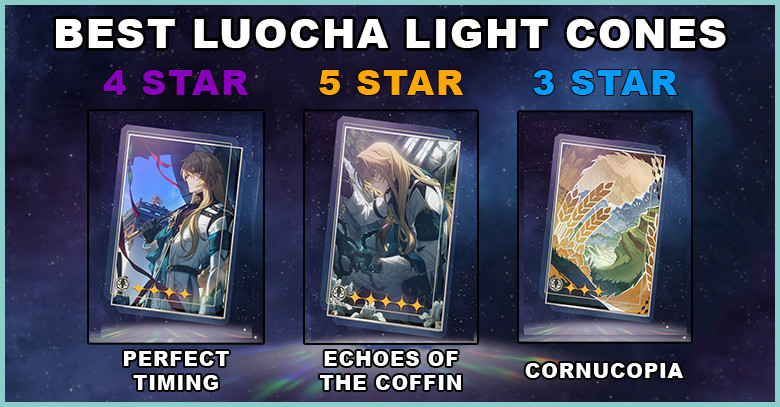 The best Luocha's 5-star light cone is Echoes of The Coffin, it's his signature light cone that solely focuses on empowering his ATK and regenerating energy which is useful for healer to cast more abilities. after cast ultimate all allies will gain 12 SPD for 1 turn.
We highly recommend using Perfect Timing 4-star light cone with Luocha to make his HP abilities output more outgoing healing and increase his Effect RES.
For the 3-star light cone, you should use Cornucopia, to increase healing output after using skill or ultimate.
Best Relics for Luocha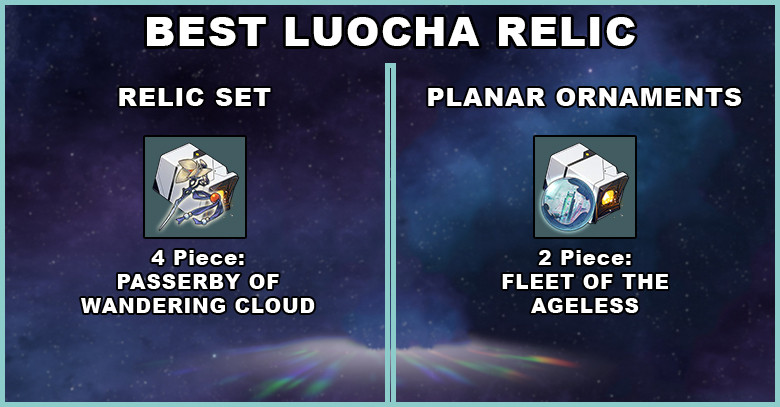 The best relic set for Luocha is the 4-piece Passerby of Wandering Cloud, Increases his healing abilities and regenerates 1 skill point at the start of the battle.
For Luocha's Planar ornaments, you should use the Fleet of The Ageless to increase his Max HP and buff all allies ATK when his SPD reach 120.
Best Luocha Team Build
Coming soon!
Luocha Eidolon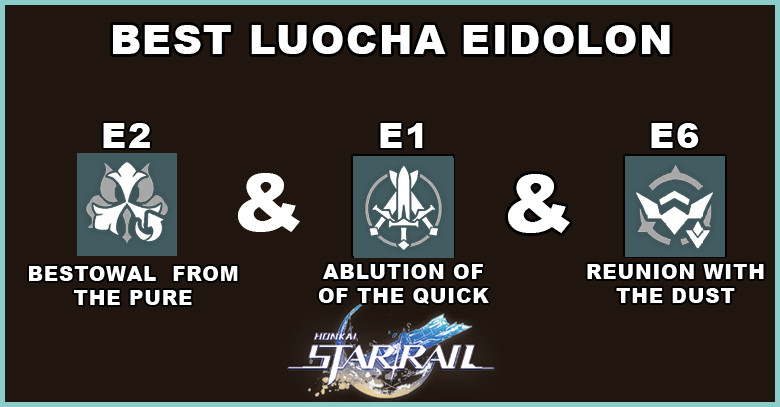 Eidolon Level 1: Ablution of the Quick
While the Field is active, ATK of all allies increases by 20%.
Eidolon Level 2: Bestowal From the Pure
When his Skill is triggered, if the target ally's HP is lower than 50%, Luocha's Outgoing healing increases by 30%. If the target ally's HP is at 50% or higher, the ally receives a Shield that can absorb DMG equal to 18% of Luocha's ATK plus 240, lasting for 2 turns.
Eidolon Level 3: Surveyal by the Fool
Skill Lv.+2, up to a maximum of Lv.15.
Basic ATK Lv.+1, up to a maximum of Lv.10.
Eidolon Level 4: Heavy Lies the Crown
When Luocha's Field is active, enemies become Weakened and deal 12% less DMG.
Eidolon Level 5: Cicatrix 'Neath the Pain
Ultimate Lv.+2, up to a maximum of Lv.15.
Talent Lv.+2, up to a maximum of Lv.15.
Eidolon Level 6: Reunion With the Dust
When Ultimate is used, there is a 100% fixed chance to reduce all enemies' All-Type RES by 20% for 2 turn(s).
End of Luocha Build Guide.
Characters Build List