Find Genshin Impact Bows weapon list here featuring Characters that can use bows, and more information here.
Bows Overview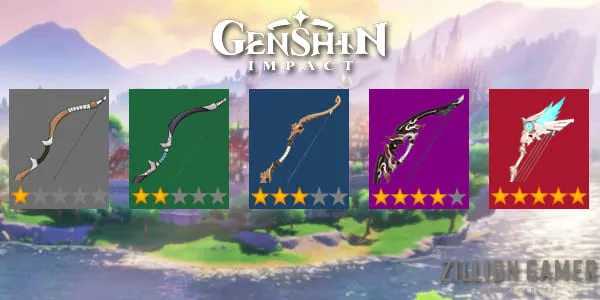 Bow is one of the five weapons in Genshin Impact that is use for long range attack and require precise aim to hit the monsters. There are 2 attacks types for Bows such as Normal attacks and Charged attacks.
Normal attacks
Bow normal attack is consists of 5 quick mid-range attacks.
Charged Attacks
Charged attacks require you to hold and charge the normal attacks to infuse the element's energy into the arrow which make it more precise, increases max range and damage of the shot.
Bows List
There are currently 25 Bows in Genshin Impact such as:
Characters that Use Bows
Currently there are 3 characters that use Bows such as:
Related Weapons List
Related Tier List