View The Viridescent Hunt Bow in Genshin Impact here! Know The Viridescent Hunt Bow stats, passive ranks, stats by level, and ascension.
The Viridescent Hunt Bow Overview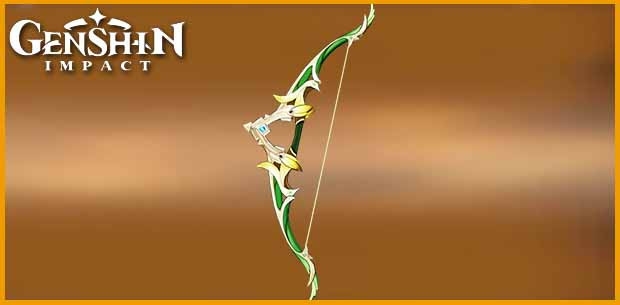 The Viridescent Hunt Bow is a pure green hunting bow. This once belonged to a certain hunter whose home was the forest.
Base ATK & Secondary Stat
Rarity: 4 Stars
Base ATK (Lv.1): 42
Sec.Stat Type: CRIT Rate
Sec.Stat (Lv.1): 6%
Passive Ranks, Name, Effect, & Mora Cost
Passive Name: Verdant Wind.
Effect: Upon hit, Normal and Aimed Shot attacks have a 50% chance to generate a Cyclone, which will continuously attract surrounding enemies, dealing *% of ATK as DMG to these enemies every 0.5s for 4s. This effect can only occur once every *s.
% of ATK as DMG
Occur Once

Refinement Mora Cost: 500,1000,2000,4000,0.
The Viridescent Hunt Stats: ATK & Bonus CRIT Rate
Lv.20 : 109 ATK | 10.6% Bonus CRIT Rate
Lv.40 : 205 | 15.45%.
Lv.50 : 266 | 17.87%.
Lv.60 : 327 | 20.3%.
Lv.70 : 388 | 22.72%.
Lv.80 : 449 | 25.14%.
Lv.90 : 509 | 27.56%.
The Viridescent Hunt Ascension
1st Ascension:

x3 Tile of Decarabains Tower
x3 Heavy Horn
x2 Firm Arrowhead

2nd Ascension:

x3 Debris of Decarabians City
x12 Heavy Horn
x8 Firm Arrowhead

3rd Ascension:

x6 Debris of Decarabians City
x6 Black Bronze Horn
x6 Sharp Arrowhead

4th Ascension:

x3 Fragment of Decarabains Epic
x12 Black Bronze Horn
x9 Sharp Arrowhead

5th Ascension:

x6 Fragment of Decarabains Epic
x9 Black Crystal Horn
x6 Weathered Arrowhead

6th Ascension:

x4 Piece of Decarabains Dream
x18 Black Crystal Horn
x12 Weathered Arrowhead
Mora Cost: 5,000, 15,000, 20,000, 30,000, 35,000, 45,000.
End of The Viridescent Hunt.