View Favonius Warbow in Genshin Impact here! Know Favonius Warbow base stats, passive ranks, stast by level, and ascension.
Favonius Warbow Overview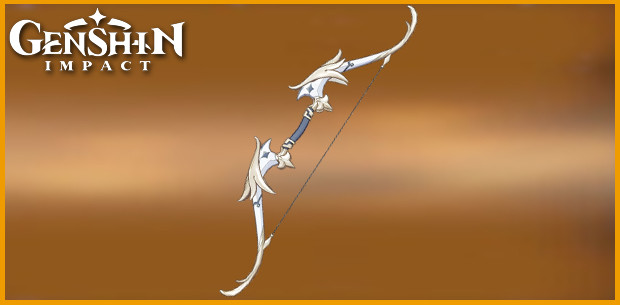 Favonius Warbow is a standard issue recurve bow of the Knights of Favonius. Only the best archers can unleash its full potential.
Base ATK & Secondary Stat
Rarity: 4 Stars
Base ATK (Lv.1): 41
Sec.Stat Type: Energy Recharge%
Sec.Stat (Lv.1): 13.3
Passive Ranks - Name, Effect, & Mora Cost
Passive Name: Windfall.
Effect: Crit hits have a *% chance to generate a small amount of Elemental Orb, which will regenerate 6 Energy for the character. Can only occur once every *s.
Chance to Generate:

Rank 1: 60%
Rank 2: 70%
Rank 3: 80%
Rank 4: 90%
Rank 5: 100%

Occur Once Every:

Rank 1: 12s
Rank 2: 10.5S
Rank 3: 9s
Rank 4: 7.5s
Rank 5: 6s
Refinement Mora Cost: 500, 1000, 2000, 4000, 0.
Favonius WarBow Stats: Base ATK & Energy Recharge%
Lv.20: 99 Base ATK | 23.6 Energy Recharge.
Lv.40: 184 | 34.3
Lv.50: 238 | 39.7
Lv.60: 293 | 45.1
Lv.70: 347 | 50.5
Lv.80: 401 | 55.9
Lv.90: 454 | 61.3
Favonius WarBow Ascension
1st Ascension:

x3 Fetters of the Dandelion Gladiator
x3 Chaos Device
x2 Whopperflower Nectar

2nd Ascension:

x3 Chains of the Dandelion Gladiator
x12 Chaos Device
x8 Whopperflower Nectar

3rd Ascension:

x6 Chains of the Dandelion Gladiator
x6 Chaos Circuit
x6 Shimmering Nectar

4th Ascension:

x3 Shackles of the Dandelion Gladiator
x12 Chaos Circuit
x9 Shimmering Nectar

5th Ascension:

x6 Shackles of the Dandelion Gladiator
x9 Chaos Core
x6 Energy Nectar

6th Ascension:

x4 Dream of the Dandelion Gladiator
x18 Chaos Core
x12 Energy Nectar
Mora Cost: 5000, 15000, 20000, 30000, 35000, 45000
End of Favonius Warbow.