In this article we go through the best Warzone 2 Vel 46 loadout attachments and tuning to improved this close range smg performance.
VEL 46 Overview
VEL 46 is automatically unlocked for all players from level 1, you can also find this gun in the ground loot of Warzone 2 Al Mazrah map.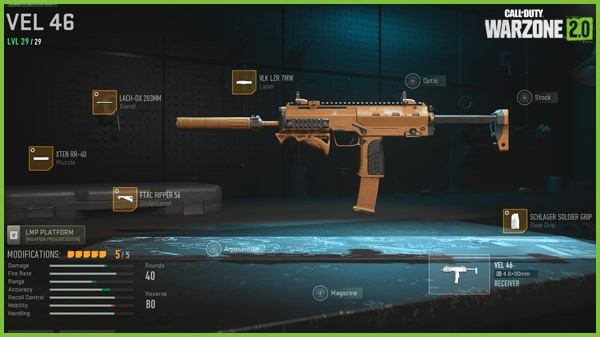 The Vel 46 is a good SMG to use for close quarter combat, this gun deal good damage with very fast fire rate and moderate recoil control.
The Vel 46 has a default 40 Rounds so you can shred down an enemy with purple plate in close range easily. However this gun is hard to use for mid range because of the bullet drop.
Best VEL 46 loadout in Warzone 2
Muzzle: XTEN RR-40
Barrel: LACH-DX 203MM
Laser: VLK LZR 7MW
Underbarrel: FTAC RIPPER 56
Rear Grip: SCHLAGER SOLDIER GRIP
This is the best Vel 46 loadout for Warzone 2, these attachments improved the gun damage range, and it make it more accurate in close range.
Starting with the XTEN RR-40, we use this muzzle attachment to suppress our firing sound and get extra damage range and bullet velocity.
For barrel we choose the LACH-DX 203MM, this barrel is great for the VEL 46 because it provide even more bullet velocity and damage range.
We equip the VLK LZR 7MW to increase the ADS speed and sprint to fire speed so you can move around a little bit better.
Underbarrel wise, we choose the FTAC RIPPER 56, this grip improve the VEL 46 aiming sway, and stabilize it's recoil.
Our last attachment for the VEL 46 is the SCHLAGER SOLDIER GRIP, this rear grip also improve our mobility such as Sprint to fire speed and ADS speed.
VEL 46 Attachments tuning
XTEN RR-40
Max Aim Down Sight Speed: -1.40 oz
Max Bullet Velocity: +1.00 in
LACH-DX 203MM
Max Recoil Steadiness: +0.50 lb
Max Damage Range: +0.40 in
FTAC RIPPER 56
Max Recoil Stabilization: +0.80 oz
Max Aiming Idle Stability: +0.40 in
SCHLAGER SOLDIER GRIP
Max Aim Down Sight Speed: -1.00 oz
Max Aiming Idle Stability: +0.45 in
For the tuning we tune the VEL 46 toward ADS Mobility and recoil control, so that you can be more accurate when moving around and helps you win more close range combat in Warzone 2.
In conclusion, the VEL 46 is a decent smg to use for close range combat in Warzone 2.0 and with our loadout you can be more precise and easy to move around in combat.
OTHER SMG LOADOUT: