The BAS-P is a brand new SMG in Modern Warfare 2 that is also available in Warzone 2. Find how this SMG perform in Al Mazrah map here with our recommend loadout.
BAS-P Overview
In order to unlock BAS-P smg you need to get it from Season 1 Battle Pass sector A6.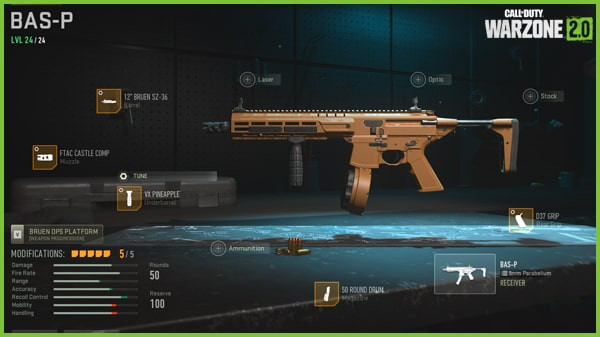 The BAS-P is a very strong smg that you should mainly utilize for close quarter combat which featured very fast fire rate and low recoil control.
Best BAS-P loadout in Warzone 2
Muzzle: FTAC CASTLE COMP
Barrel: 12" BRUEN SZ-36
Underbarrel: VX PINEAPPLE
Rear Grip: D37 GRIP
Magazine: 50 ROUND DRUM
Our loadout build prioritize the overall accuracy and recoil control which help the BAS-P become more reliable in Warzone 2.
Starting with the FTAC CASTLE COMP muzzle, we use this attachment to lowers both horizontal and vertical recoil of the BAS-P.
Barrel wise, we use the 12" BRUEN SZ-36 to get extra damage range and bullet velocity and improved recoil control.
The grip we equip is the VX PINEAPPLE underbarrel, this attachment improved the BAS-P recoil a ton.
For the rear grip we use the D37 GRIP this attachment also improve the overall BAS-P recoil control.
Our last attachment we choose the 50 ROUND DRUM, you can run out of ammo quick especially against purple plates enemies, so the 50 Round will help solve that problem.
BAS-P Attachments tuning
FTAC CASTLE COMP
Max Aim Down Sight Speed: -0.80 oz
Max Aiming Idle Stability: -0.35 in
12" BRUEN SZ-36
Max Recoil Steadiness: +0.50 lb
Max Aim Down Sight Speed: -0.40 in
VX PINEAPPLE
Max Hip Walking Speed: -0.80 oz
Max Aim Down Sight Speed: -0.40 in
D37 GRIP
Max Recoil Steadiness: +1.00 oz
Max Aiming Idle Stability: +0.45 in
This is our best BAS-P tuning for Warzone 2, you can see that we improved the overall mobility and the recoil steadiness so that you can be more accurate while moving.
In summary, the BAS-P smg can perform well in Warzone 2 but you need a high magazine to avoid having to reload in between teamfight.
OTHER SMGS LOADOUT: