The Minibak is great for close range combat in Warzone 2 with proper loadout and tuning it can 3 shots enemy in close range. Find the best Minibak loadout in Warzone 2 down below.
How to Unlock MINIBAK in Warzone 2
Minibak in an submachine gun in KASTOVIA platform in order to unlock this SMG you need to reach level 11 to unlock KASTOV 545 then you level up it to level 13 in order to unlock KASTOV-75U.
After you reaching level 18 on KASTOV-74U you will unlock the Minibak or you can pick up this weapon in Al Mazrah ground loot.
MINIBAK Overview
Minibak is the strong SMG in close range without attachment it deal decent damage it has the best recoil control, high mobility, and ADS speed.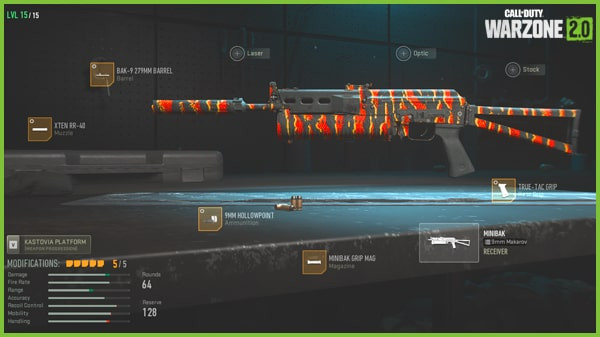 The Minibak is a good submachine gun that has very low recoil. We build our Minibak loadout to improve the overall damage, damage range, and accuracy which fit the Warzone 2.
This SMG is the best when it come to close range combat but not that good in mid range, find the best attachments for Minibak in Warzone 2 down below.
Best MINIBAK loadout in Warzone 2
Barrel

:

BAK-9 279MM BARREL

Muzzle

:

XTEN RR-40

Ammunition

:

9MM HOLLOWPOINT

Magazine

:

MINIBAK GRIP MAG

Rear Grip

:

TRUE-TAC GRIP
For out Barrel we equip BAK-9 279MM BARREL to increase recoil steadiness, and more range damage which make it decent when it come to mid range combat.
The second attachment for our Minibak is XTEN RR-50 Muzzle this help increase more range damage for our weapon and make it a bit easy to control in mid range gunfight.
We equip 9MM HOLLOWPOINT Ammunition so that when this round hitting on enemy it will help slow them down and disable sprint for a short time.
The Magazine is MINIBAK GRIP MAG this magazine help increase our accuracy and recoil control Minibak iron sight is already good but if you want to use OPTIC you should swap it with this magazine.
Our Last attachment choice is the TRUE-TAC GRIP Rear Grip to improve our recoil steadiness and more ADS speed.
This is the best Minibak loadout for Warzone 2 close range combat, our attachments make this gun even more accurate and lower the recoil in case you get into any mid range combat.
MINIBAK Attachments tuning
BAK-9 279MM BARREL
Recoil Steadiness: +0.26 lb
Damage Range: +0.40 in
XTEN RR-40
Recoil Smoothness: +1.40 oz
Bullet Velocity: +1.00 in
9MM HOLLOWPOINT
Damage Range: +0.70 g
Bullet Velocity: +9.00 gr
TRUE-TAC GRIP
Recoil Steadiness: +0.48 oz
Sprint to Fire Speed: -0.45 in
Since it already good in close range combat, we decide to tune it for more recoil steadiness and smoothness with max damage range and bullet velocity in case you run into mid range combat.
Overall, Minibak is very good gun for close range combat with no recoil control even it doesn't have any attachment our loadout will improved the range combat but it lose little recoil control and mobility.
OTHER SMGS LOADOUT