MX9 is the most consistent SMG that most players look past. We have created the best Warzone 2 MX9 loadout that will surprise you how good this gun is.
How to Unlock MX9 in Warzone 2
This SMG is locked inside a BRUEN BULLPUP platform, you need to complete level 13 of the STB 556 to unlock the MX9.
However, you can also find the MX9 on the ground loot in Al Mazrah Warzone 2 map as well.
MX9 Overview
The MX9 has very fast fire rate, and is very accurate in close range, however in Warzone 2 there will be plated enemies but don't worry, with how low recoil this gun is, you can still shred them easily.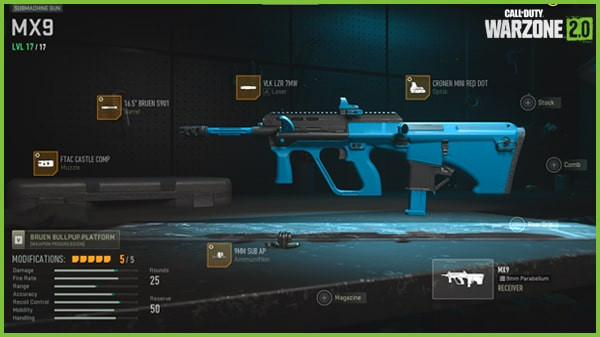 If you are looking for a SMG is superior in close range and also consistent for mid range, the MX9 might just be the right smg for you, and we also have the best MX9 loadout that you can build down below.
Best MX9 loadout in Warzone 2
Muzzle: FTAC CASTLE Comp
Barrel: 16.5" BRUEN S901
Laser: VLK LZR 7MW
Optic: CRONEN MINI Red Dot
Ammunition: 9MM SUB AP
This is the best MX9 loadout in Warzone 2 right now that you need to try out, it has low recoil control, very fast ttk, and it's the most consistent gun to use for close range combat.
We use the FTAC Castle comp on MX9 muzzle slot to eliminate all the horizontal recoil that this gun has and also reduce vertical recoil.
For the barrel we use the 16.5" BRUEN S901, this is the best barrel for MX9 in Warzone 2 because it helps make the gun more accurate in mid range.
For Laser, we choose the VLK LZR 7MW, this laser helps improve our ADS Speed, aiming stability, and Sprint to Fire speed, this laser is a must because it make the MX9 a beast in close range.
We use the CRONEN MINI Red Dot as our optic because this guy has bad iron sight, optic is personal preference so choose the one you like.
Our last attachment for the MX9 is the 9MM SUB AP ammunition, this is what make the MX9 the best and it secret is inside the tuning.
MX9 Attachments tuning
FTAC CASTLE COMP
Max Recoil Stabilization: +0.80 oz
Max Gun Kick Control: +0.35 in
16.5" BRUEN S901
Max Recoil Steadiness: +0.50 lb
Max Damage Range: +0.40 in
CRONEN MINI RED DOT
Max Aim Down Sight Speed: -3.00 oz
Far Eye Position: -2.25 in
9MM SUB AP
Max Damage: +0.70 g
Max Bullet Velocity: +9.00 gr
With our loadout and this tuning we've improve our MX9 recoil control, accuracy, and damage range, which is located in the 9MM SUB AP ammunition.
And after all the tuning, the MX9 still has very fast mobility which is why this is the best MX9 loadout in Warzone 2 that you must try out before it get nerfed.
OTHER SMG LOADOUT: