Lachmann Sub is one of the best submachine gun for close range combat. Find out the best Lachmann Sub loadout in Warzone 2 down below.
How to Unlock LACHMANN SUB in Warzone 2
Lachmann Sub is in Lachmann & Meer platform to unlock Lachmann Sub you need to level up 3 weapon in this platform first you need to level up Lachmann-762 to level 13.
Second gun is Lachmann-556 you need to reach level 12 on this gun first in order to unlock Lachmann Sub or you can pick up this weapon in Al Mazrah ground loot.
LACHMANN SUB Overview
In Warzone Lachmann Sub is one of the best close range SMG with high mobility and recoil control which is very easy to control compare to other SMGs.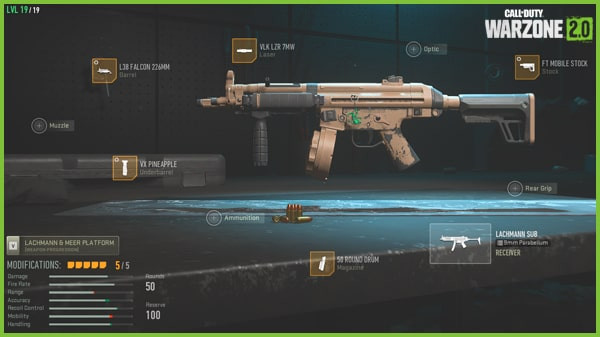 The Lachmann Sub has good daamge output with high mobility, fast fire rate, and moderate recoil control it also has the clearest iron sight amongst other SMGs so when we build loadout we don't need to waste an attachment slot for the optic.
Best LACHMANN SUB loadout in Warzone 2
Laser

:

VLK LZR 7MW

Barrel

:

L38 FALCON 226MM

Underbarrel

: V

X PINEAPPLE

Stock

:

FT MOBILE STOCK

Magazine

:

50 ROUND DRUM
Laser we choose VLK LZR 7MW because it increase ADS speed and make the gun more accurate but this Laser is visible to enemy when you ADS make it a bit hard to hold angle.
For our Barrel we equip L38 FALCON 226 MM to increase ADS speed and damage range which make the weapon decent when it come to mid range gunfight.
We choose VX PINEAPPLE to help increase recoil control, recoil steadiness, and it also help hip fire recoil control which make Lachmann Sub very easy to control.
We equip FT MOBILE STOCK to get extra movement speed and ADS speed which is very good for close range combat.
Our last attachment is 50 Round DRUM on Lachmann Sub it help a lot in the Trio or Quad it allow you to kill multiple enemy and it very good against purple plates enemies.
LACHMANN SUB Attachments tuning
L38 FALCON 226MM
Max Recoil Steadiness: -0.50 lb
Max Damage Range: -0.40 in
VX PINEAPPLE
Max Aim Down Sight Speed: -0.40 in
FT MOBILE STOCK
Max Aim Down Sight Speed: -4.00 oz
Max Aim Walking Speed: -2.40 in
With this tuning we make our Lachmann Sub has good recoil control and accurate which make it best for close range gunfight and decent in mid range.
In Conclusion, The Lachmann Sub is one of the best submachine for close range that you should have in your Warzone 2 Loadout because of it high accuracy, recoil control, and it can deal decent damage in mid range.
OTHER SMGS LOADOUT