The PDSW 528 is a smg that deal decent damage but it seems to perform well in Al Mazrah close quarter environment. Find Warzone 2 PDSW 528 loadout and tuning detail down below.
PDSW 528 Overview
This SMG is locked in TACTIQUE DEFENSE platform, to unlock the PDSW 528 you need to reach level 5.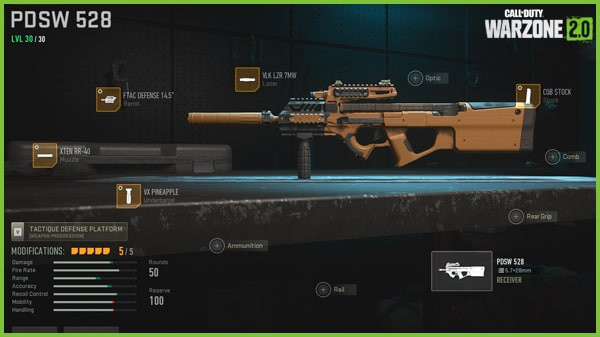 The PDSW 528 is a good smg for close quarter combat, this gun has high base magazine size so you can shredded through multiple enemies without having to reload.
However, the gun is a little hard to use for mid range combat so our loadout build will focus on improving the PDSW range fight.
Best PDSW 528 loadout in Warzone 2
Muzzle: XTEN RR-40
Barrel: FTAC DEFENSE 14.5"
Laser: VLK LZR 7MW
Stock: CQB Stock
Underbarrel: VX PINEAPPLE
This is by far the best Warzone 2 PDSW 528 loadout attachments, you will be able to your shoot at greater range, while still maintain low recoil control.
Starting with muzzle, we choose the XTEN RR-40 to get the sound suppression which is good for close range gunfight, and to get faster bullet velocity and damage range.
For the barrel, we choose the FTAC DEFENSE 14.5", this barrel added extra damage range and bullet velocity to the PDSW 528.
Laser wise, we choose the VLK LZR 7MW to increase our mobility such as ADS Speed, and Sprint to Fire speed.
We equip the CQB STOCK on the PDSW 528 to boost our Sprint speed and make Aim Down Sight speed even quicker.
Last attachment we choose the VX PINEAPPLE to get the recoil steadiness so that we can control our recoil at range gunfight.
PDSW 528 Attachments tuning
XTEN RR-40
Max Aim Down Sight Speed: -1.40 oz
Max Bullet Velocity: +1.00 in
FTAC DEFENSE 14.5"
Max Recoil Steadiness: +0.50 lb
Max Damage Range: +0.40 in
CQB STOCK
Max Aim Down Sight: -4.00 oz
Max Aiming Idle Stability: +2.40 in
VX PINEAPPLE
Max Hip Walking Speed: -0.80 oz
Max Aim Down Sight Speed: -0.40 in
For our PDSW 528 we lean toward improving the overall mobility which allows you to move around much faster while still having good accuracy and low recoil control.
In conclusion, The PDSW 528 fit perfectly for close quarter combat in Warzone 2 Al Mazrah map, thanks to it high magazine size you can take down multiple enemies easily.
BEST SMGS LOADOUT: