FSS Hurricane very good for close range gunfight with 50 rounds it can eliminate multiple enemy without need to reload the mag it one of the best SMG for Warzone 2.
Find the best FSS Hurricane loadout in Warzone 2 down below.
How to Unlock FSS Hurricane in Warzone 2
FSS Hurricane is a Submachine Gun in M4 Platform, In order to unlock this weapon you need to:
To unlock the FSS Hurricane you need to play level up M4 and FTAC Recon first reach level 14 on M4 to unlock FTAC Recon then level up FTAC Recon to level 16 to unlock FSS Hurricane or you can pick up this weapon in Al Mazrah ground loot.
FSS Hurricane Overview
The FSS Hurricane is a strong SMG best for close and mid range very good in Warzone 2.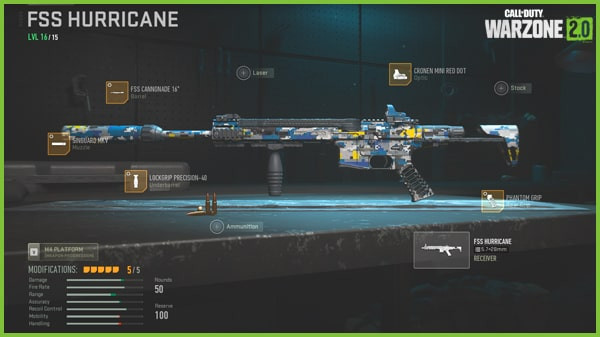 We build our FSS Hurricane loadout to improve the overall damage, damage range, recoil control, and accuracy which fit the Warzone 2 Al Mazrah environment and meta
Best FSS Hurricane loadout in Warzone 2
Muzzle: SINGUARD MKV
Barrel: FSS CANNONADE 16
Underbarrel:

LOCKGRIP PRECISION-40

Rear Grip

:

PHANTOM GRIP

Optic

: CRONEN Mini Red Dot
For the Muzzle we choose SINGUARD MKV for our FSS Hurricane it increase damage range, accuracy, and more recoil control which is very good for mid range.
We choose the FSS Cannonnade 16 barrel to increase it damage range, bullet velocity, and increase accuracy when hip fire.
For Unbarrel we use Lockgrip Precision-40 to stabilize the recoil, and accuracy which make FSS Hurricane is more easy to control for mid range gunfight.
We use the Phantom Grip rear grip this thing will help increase our ADS speed which is very good for close range gunfight.
This build make ADS a bit slow if you want more ADS speed you can change Optic to Laser FSS OLE-V LASER this will help increase ADS speed, Accuracy, and Mobility.
You can see that this is the best Warzone 2 FSS Hurricane loadout because we now reduces a lot of recoil and increase damage range with our attachments which make the gun more accurate in mid range combat.
FSS Hurricane Attachments tuning
FSS CANNONADE 16
Max Recoil Steadiness: +0.50 lb
Max Damage Range: +0.40 in
SINGUARD MKV
Max Recoil Smoothness: +0.80 oz
Max Bullet Velocity: +1.00 in
LOCKGRIP PRECISION-40
Max Recoil Control: +0.30 oz
Max Aim Down Sight Speed: -0.40 in
PHANTOM GRIP
Max Aim Down Sight Speed: -1.00 oz
Max Sprint to Fire Speed: -0.45 in
When tuning our FSS Hurricane we lean toward Recoil control, damage range, ADS speed, and increased bullet velocity so that the gun is practical for both close and mid range combat.
However, you will noticed that the ADS speed is a little bit slower than normal, so try to play a little passive with this build or you can just change Optic to Laser FSS OLE-V LASER to get more ADS speed.
In Conclusion, the FSS Hurricane is considered inside the Warzone 2 close and mid range meta guns, use our best loadout and tuning to get a stronger performance FSS Hurricane.
OTHER SMGS LOADOUT: