Find Genshin Impact Catalysts weapon list here featuring Characters that use Catalysts, and more information.
Table of Contents
Catalysts Overview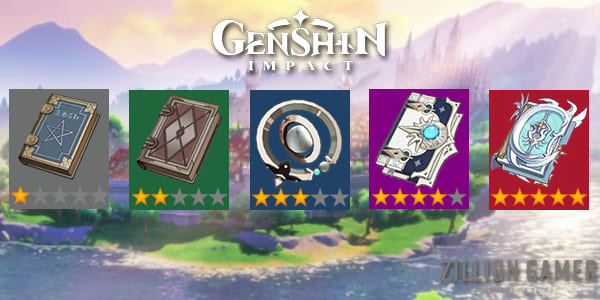 Catalysts is one of the five weapons in Genshin Impact that is use to performed an elemental damage with magical nature.
There are 2 attack types of Catalysts such as Normal attacks and Charged attacks.
Normal Attacks
Catalysts normal attacks is a single target or AoE attack and every attack applies the attacker's element to the target.
Charged Attacks
When using Catalysts charged attacks you will unleash a more powerful AoE attack centered around the target.
Catalysts List
There are 1 star to 5 star Catalysts in Genshin Impact such as:
Characters that Use Catalysts
Currently there are 6 characters that use Catalysts such as:
| | |
| --- | --- |
| Name | Element |
| Klee | Pyro |
| Mona | Hydro |
| Barbara | Hydro |
| Ningguang | Geo |
| Sucrose | Anemo |
Related Weapons List
Related Tier List