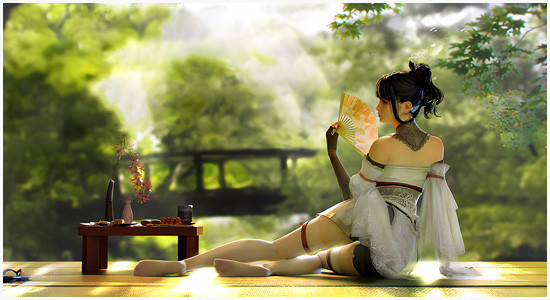 Kurumi is the best support character in Naraka Bladepoint, she can link herself to an ally and teleport to them knock back enemies. She is very good for players who like to play support.
Best Glyph for Kurumi
Glyphs is a talent board help increase Kurumi energy, rage, grappling speed, dodge energy cost, dagger dash, luck, rescue speed, and energy cap.
Here is our recommendation on building the best glyphs for Kurumi.
Glyph
Name
Origin

Spirit x 3

Savagery x 3

Lunar

Agility x 4

Tether x 2

Omni

Mind x 4

Warmth x 2

Solar

Miracle x 3

Genius x 3
Best Skills for Kurumi
Kurumi's skills are Binding Prayer, Reinforce, and Guard. You will need to reach Cultivation stage reward 1 to unlock Reinforce and Guard.
Our recommendation for the best skill for Kurumi is Reinforce.
Reinforce ( Cooldown: 15s )
Kurumi creates a link with a teamate, healing both continuously. Hold E to relases a Light Parasol as the cast target. Heals from the link decreases, but the attack of the object being linked increases by 20%. While linked, Kurumi cannot perform attack. makes her teleported to the target teammate and knock nearby enemies airborne by Kurumi can create link with Cairns of defeated teammates and revive them remotely. The link lasts for 30c and the distance is 30 m.
Best Ultimate for Kurumi
Kurumi's ultimate are Sacred Circle, Armor Enhance, and Rapid Healing. You will need to reach Cultivation stage reward 2 to unlock Armor Enhance and Rapid Healing.
Our recommendation for the best ultimate for Kurumi is Rapid Healing.
Rapid Healing
No longer places a healing circle, instead instantly restoring a certain amount of health and armor to all teammates.
Best SoulJades for Kurumi
Stat SoulJades can help Kumuri deal more damage to enemies or take less damage from enemies.
Our recommendation Stat SoulJades for Kumuri is:
| | |
| --- | --- |
| SoulJades | Description |
| Attack SoulJade | Increase Attack Damage. |
| Attack SoulJade | Increase Attack Damage. |
Best Special SoulJade for Kurumi
Each special SoulJade items affect your playstyle in various ways it depend on what special you can collect.
Our recommendation Special SoulJades for Kurumi is:
| | |
| --- | --- |
| SoulJades | Description |
| Desperation | Your attack grows as your Health falls. |
| Group Heal | Vitalia and Armor Powder can now heal your teammates. |
Other Characters Guide