Welcome to PUBG: New State Weapons List. Find all available weapon and learn how to use it effectively here.
In PUBG: New State Weapons is a different types of firearms that Player use for eliminating enemy.
Each Weapons function differently, some are powerful in close range while some are lethal for medium or long range. Some require many bullets to eliminate while some only require 1 shot.
The versatility of weapons in PUBG: New State are countless though you can only carries 2 weapons per game.
List of Weapons
Here are all Weapons in PUBG: New State:
Assault Rifles

AKM
M416
SCAR-L
M16AA4
MK47 Mutant
Beryl M762
AUG
Groza

Sniper Rifles

Kar98K
M24
AWM
DSR-1
DMRs
SKS
Mk14
SLR
VSS
Mini14
-
SMGs
Micro UZI
Vector
PP-19 Bizon
UMP45
Tommy Gun
-
LMGs
M249
DP-28
Shotguns
S12K
DBS
S686
S1897
Pistol
P92
P1911
P18C
Skorpion
R1895
Deagle
Best Weapons in PUBG New State
The top 10 best gun in PUBG New State are:
M416
Beryl M762
AKM
Mini 14
SLR
DSR-1
M24
Vector
DP-28
S1897
There are more than 30 PUBG: New State gun but only the best guns likes M416, AKM, Mini 14, SLR, DSR-1, M24 are very popular. Wonder why?
10. S1897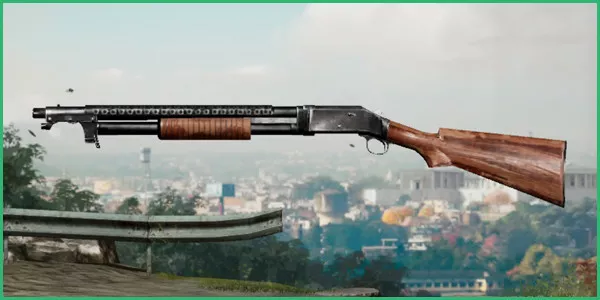 Ranking number 10 in our list is the S1897, this shotgun is powerful in close range which can 1 shot eliminate the enemy dealing up to 150 damage with fast rechamber time.
9. DP-28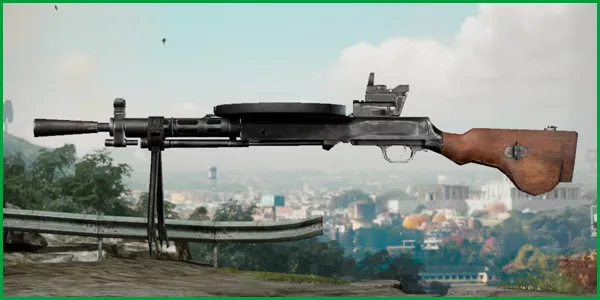 Ranking number 9 is the DP-28, this 7.62mm LMG deal good damage with medium fire rate make and low recoil when firing. The DP-28 is a good gun to use in close to medium range.
This weapon also has large built-in magazine which make full spraying at vehicle much easier than other guns.
8. Vector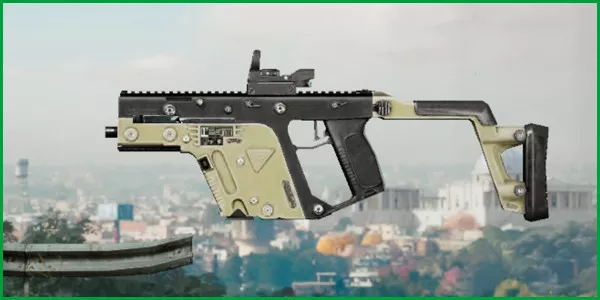 Ranking number 8 in the list is Vector, this SMG has extremely fast fire rate and good damage, fit perfectly for close range gunfight, aiming to the upper body can eliminate enemy very quick.
The Vector has very fast TTK (time-to-kill) because of the combination of it's fast fire rate and damage, the recoil is fairly easy to control as well.
7. M24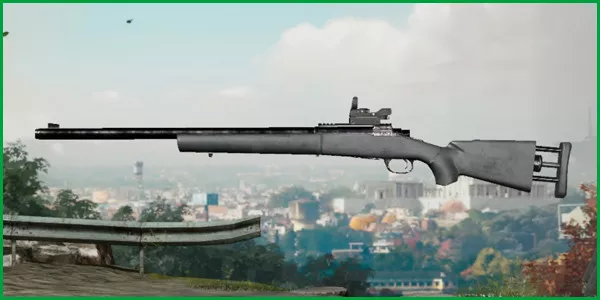 Ranking number 7 in the list is the M24, the 7.62mm sniper with extremely fast bullet travel speed and pack a very good damage especially when hitting the head which needed just 1 bullet to eliminate the enemy.
6. DSR-1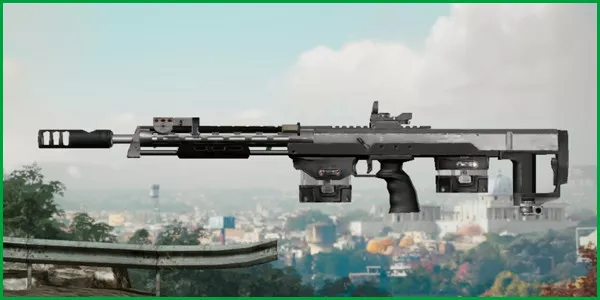 Ranking number 6 is the DSR-1, this sniper rifle also has extremely fast bullet travel speed and pack a very high damage for both body and headshot in any range.
The DSR-1 is so powerful that it can 1 shot the enemy that has 80% HP when the shot hit their body.
5. SLR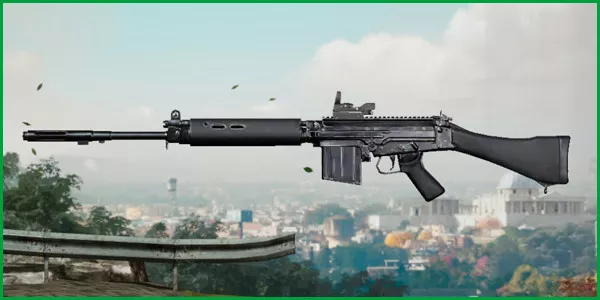 Coming into Top 5 we rank the SLR as fifth on our list, this 7.62mm DMR has very high damage output and good fire rate. The SLR though lacks bullet travel speed, fire rate, and high recoil which is not a beginner friendly DMR.
If you get use to the SLR recoil bounce, bullet drop, and bullet travel speed then the gun is very lethal because of it damage.
4. Mini 14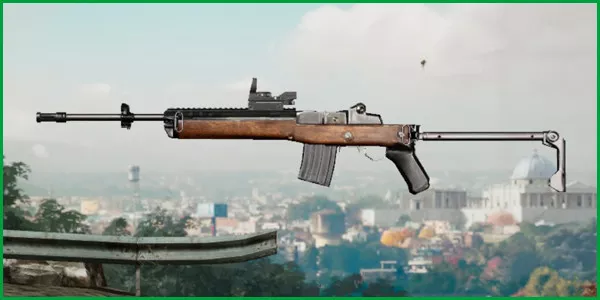 We rank Mini 14 fourth on our list, this 5.56mm semi-automatic DMR is a good weapon to use for fighting medium to long range enemy, this gun has good damage and fast bullet travel speed with fast fire rate.
The recoil bounce of Mini 14 is controllable and can be use for rapid fire the enemy, generally you need 4 to 5 shot with Mini 14 to eliminate an enemy.
3. AKM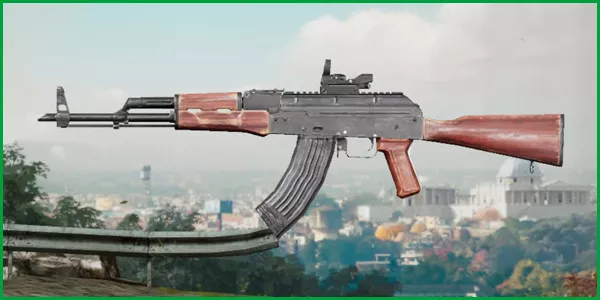 The third best gun in PUBG New State is the AKM, this 7.62mm assault rifle has very high damage and good fire rate, the recoil is also controllable. Overall the AKM is a very good to use for close to medium range.
You can melt the enemy very quick if you manage to get just 1 headshot with the AKM, but if all your shot hit their body the TTK drastically drop.
2. Beryl M762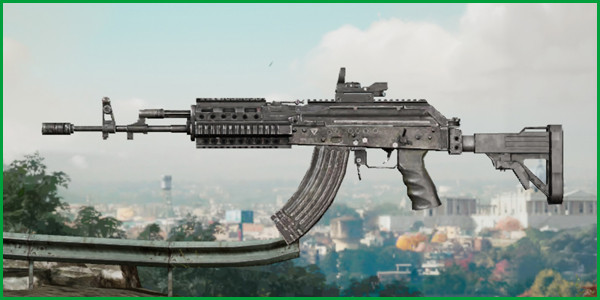 The second best gun in PUBG New State is the Beryl M762, this 7.62mm assault rifle has very high damage and fast fire rate though the recoil is what hold it on the second place, the recoil is a little bit hard to control especially at medium range.
But if you main the Beryl M762 for close range this gun is very good for you to use, it can eliminate the enemy very fast because of the combination between fast fire rate and high damage.
1. M416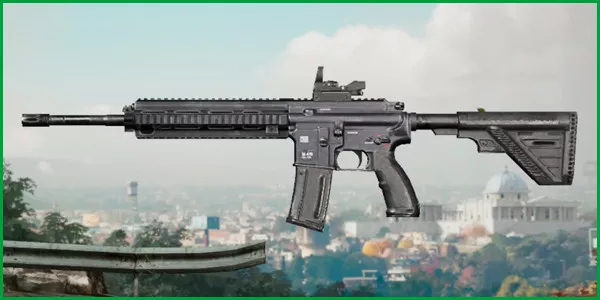 The best gun in PUBG New State is the M416, the superior 5.56mm assault rifle is the king in New State, this gun deal great damage with very fast fire rate and what make it best among others is the recoil, the recoil is easy to control and it can laser the enemy in close to medium range.
The M416 is also the most used gun in the PUBG Universe which mean PUBG PC, PUBG Mobile, and PUBG Console and now it is also crown as the best in PUBG New State.
PUBG New State Best Weapon Loadout
Find the best weapon loadout combination to use in PUBG New State here that will improve your gunfight skill from close to long range.
1. M416 + Mini 14
Our recommendation for the best weapons combo in PUBG New State is to go with M416 and Mini 14 together.
M416 use for close to mid range spray.
If the enemy is out of M4 spray range take out the Mini 14 and eliminate them.
Both M416 and Mini 14 deal great damage with low recoil control and also use the same 5.56mm ammo which will save you a good backpack space.
2. M416 + SLR
Our second recommendation is the pair M416 with SLR if you don't like the Mini 14 damage, because the SLR has higher damage it make your mid to long range gunfight even more lethal.
But like we said the SLR hashigh recoil and decent bullet drop so make sure you know how to use the gun first before trying out this combo otherwise you will lack medium to long range power.
Another note for this combo loadout is that M416 use 5.56mm and SLR use 7.62mm so you will need to be mindful of knowing which ammo you needed more.
3. Beryl + SLR
The third recommendation is the Beryl M762 combo with SLR, these 2 weapons use both 7.62mm ammo and it both deal very high damage for close, medium, and long range.
Note: This loadout is not for beginner because both weapons has very high recoil but if you master the recoil it will turn into the most lethal loadout that you can use.
4. AKM + Mini 14
The fourth recommendation loadout is AKM with Mini 14, this is s a good loadout that improve both of your close and mid range gunfight although it require a decent aim to master this loadout build.
Using the AKM as close range combat and Mini 14 when the enemy is out of your AK spray range.
5. M416 + DSR-1 or M24 or Kar98K
If you are not a fan of DMRs, you can use this loadout M4 + Sniper rifle, this loadout build to improve your close to mid range accuracy with M4 and Mid to long range eliminate with Sniper rifle.
Tip: You can switch between M416, AKM, or Beryl base on your personal preference.
Conclusion
In conclusion, PUBG New State Weapons is powerful which create fast time to kill and there are a high versatility of weapon choices that you can can choose for your loadout.