Being accurate at mid range is hard in Warzone 2, We have the best TAQ-56 loadout build and tune perfectly to helps improve your range accuracy.
How to Unlock TAQ-56 in Warzone 2
To unlock the TAQ-56 you need to play several games of Warzone 2 until you reach level 19 or you can pick up this weapon in Al Mazrah ground loot.
TAQ-56 Overview
The TAQ-56 is a high damage, low recoil assault rifle with precise accuracy for mid range combat.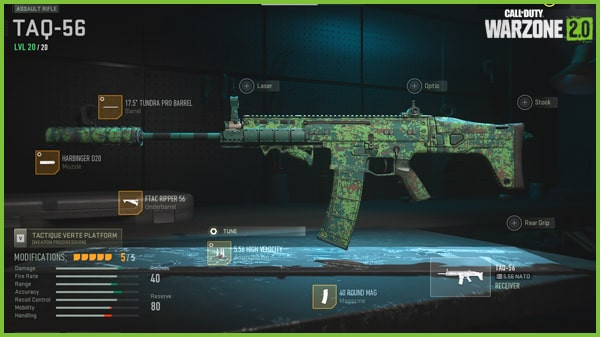 It also has the clearest iron sight amongst other ARs, so when we build a loadout for the TAQ-56 we don't need to waste an attachment slot for the optic.
Best TAQ-56 loadout in Warzone 2
Muzzle: HARBINGER D20
Barrel: 17.5" TUNDRA PRO Barrel
Underbarrel: FTAC RIPPER 56
Ammunition: 5.56 High Velocity
Magazine: 40 Round Mag
If you want to put Optic on the TAQ-56 you can remove the 40 Round Mag and put on the VLK 4.0 Optic or the SCHLAGER 3.4X.
Starting with Muzzle we use the HARBINGER D20 on TAQ-56 to get that sound suppression to keep you off the map when firing plus extra bullet velocity and damage range.
For the Barrel we equip the 17.5" TUNDRA PRO BARREL to increase the TAQ-56 damage range and bullet velocity even more.
The FTAC RIPPER 56 is a perfect underbarrel grip for the TAQ-56 because it stabilize the recoil and reduces sway when ADS.
Ammunition wise we use the 5.56 HIGH VELOCITY to make your TAQ-56 shots hit the target faster.
Last attachment is the 40 ROUND MAG we use this magazine because it add extra ammo the the TAQ-56 which can helps squad wipe more effectively with one mag.
This TAQ-56 loadout is build to maximize the accuracy which make it even stronger for mid range combat in Al Mazrah environment.
TAQ-56 Attachments tuning
HARBINGER D20
Max Aim Down Sight Speed: -1.40 oz
Max Aiming Idle Stability: -1.00 in
17.5" TUNDRA PRO BARREL
Max Recoil Steadiness: +0.50 lb
Max Damage Range: +0.40 in
FTAC RIPPER 56
Max Recoil Stabilization: +0.80 oz
Max Aiming Idle Stability: +0.40 in
5.56 HIGH VELOCITY
Max Damage Range: +0.70 g
Max Bullet Velocity: +9.00 gr
Tuning wise, for the TAQ-56 we focus on increasing the Damage range and bullet velocity from each attachments so that you can be even more precise in mid to long range combat.
In Short, the TAQ-56 is the most reliable assault rifle for mid range combat in Warzone 2 and with our loadout you can expect to be even more accurate with this gun.
BEST ASSAULT RIFLE LOADOUT