This Assault Rifle / SMG hybrid is one of the best gun for close to mid range. Find the best Kastov-74u loadout in Warzone 2 down below.
How to Unlock Kastov-74U in Warzone 2
The KASTOV-74U is an Assault Rifle in KASTOVIA Platform, In order to unlock this weapon you need to:
Reach level 11 on KASTOV 762
Reach level 13 on KASTOV 545
Once your Kastov 545 reach level 13 you will unlock the Kastov-74u. Or you can pick up from the ground loot in Al Mazrah Warzone 2 map.
KASTOV-74U Overview
In Warzone 2 KASTOV-74U is a great AR that you can utilize as Sniper support, or for close to mid range primary.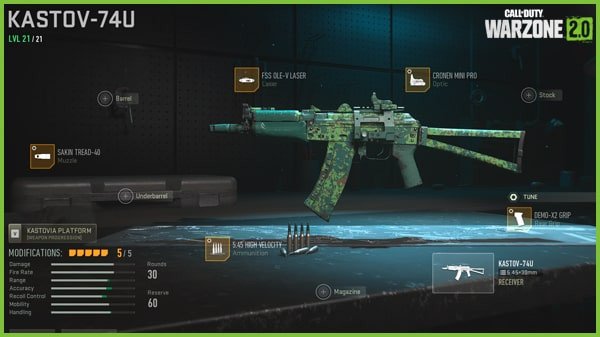 The KASTOV-74U also known as AKS-74U has very fast overall mobility, low recoil control, and good damage output, a perfect mix of run n gun and accuracy.
Best KASTOV-74U loadout in Warzone 2
Muzzle: SAKIN TREAD-40
Laser: FSS OLE-V Laser
Optic: CRONEN MINI Pro
Rear Grip: DEMO-X2 Grip
Ammunition: 5.45 High Velocity
This is the best KASTOV-74U loadout for Warzone 2 because we build it for more accuracy and improved recoil control, allows you to be more accurate in long range combat.
We pick the SAKIN TREAD-40 muzzle for the Kastov-74u because it helps a lot with stabilizing recoil and gun kick control.
We equip the FSS OLE-V Laser to get that quick ADS speeds, and improved aiming stability, plus make you ADS faster when sprinting.
CRONEN MINI Pro is a great optic for the Kastov-74u due to it iron sight can be hard to track mid range targets.
For the rear grip we pick the DEMO-X2 Grip this attachment helps improved our recoil control.
The 5.45 High Velocity helps increase the KASTOV-74U projectile velocity.
Basically with this loadout build you will notice that your Kastov-74u has very low recoil and is easier to hit the mid range target which fit naturally in Warzone 2 environment.
KASTOV-74U Attachments tuning
SAKIN TREAD-40
Max Recoil Stabilization: +0.80 oz
Max Gun Kick Control: +0.35 in
CRONEN MINI PRO
Max Aim Down Sight Speed: -3.00 oz
Far Eye Position: -2.25 in
DEMO-X2 GRIP
Max Recoil Steadiness: +1.00 oz
Max Aiming Idle Stability: +0.45 in
5.45 HIGH VELOCITY
Max Damage Range: +0.70 g
Max Bullet Velocity: +9.00 gr
With this tuning we try to keep our KASTOV-74U a balance between good recoil control and maintain the same mobility so you can be fast and accurate.
In Conclusion, The KASTOV-74U is an assault rifle that you should have in your Warzone 2 Loadout because of it great mobility plus high damage range.
OTHER ASSAULT RIFLE LOADOUT: