M13B is a brand new assault rifle Season 1 of Modern Warfare 2. Find M13B best loadout in Warzone 2 and how it perform in Al Mazrah here.
Table of Contents
M13B Overview
In order to unlock the M13B assault rifle, you need to play in DMZ mode and exfill with M13B inside your backpack.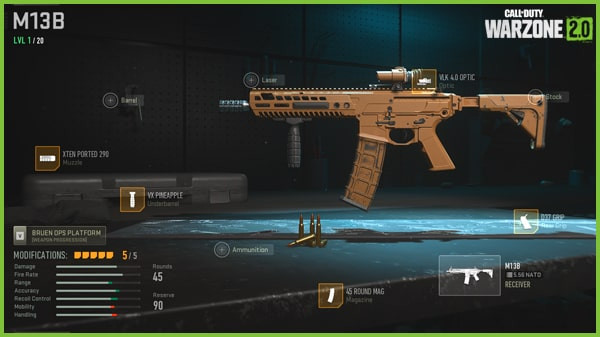 M13B is a good assault rifle that has low recoil control and fast fire rate to make up missing shots. Range wise, the M13B is great for close to mid range combat.
Best M13B loadout in Warzone 2
Muzzle: XTEN PORTED 290
Optic: VLK 4.0 OPTIC
Underbarrel: VX PINEAPPLE
REAR GRIP: D37 GRIP
Magazine: 45 ROUND MAG
This is the best M13B attachments for Warzone 2, because it reduced the recoil control, and added extra ammo to favor your long range combat.
The XTEN PORTED 290 reduces vertical recoil which help you be more accurate in mid range combat.
We use the VLK 4.0 OPTIC to improve your mid range visibility and help you hit your shot easier.
The VX PINEAPPLE grip helps improve the overall recoil of the M13B make the gun more steady when you fire.
For the rear grip we use the D37 GRIP to add even more recoil control on top which make the M13B become a zero recoil mid range beast.
The last attachment we decide to use the 45 ROUND MAG on the M13B because this gun has very fast fire rate so you can run out of ammo quick.
M13B Attachments tuning
XTEN PORTED 290
Max Recoil Stabilization: +0.80 oz
VLK 4.0 OPTIC
Far Eye Position: -1.35 in
VX PINEAPPLE
Max Aim Down Sight Speed: -0.40 in
Max Hip Walking Speed: -0.80 oz
D37 GRIP
Max Recoil Steadiness: +1.00 oz
This is our M13B tuning we focus on stabilize the recoil as well as make the gun more steady when firing mid range, we also tune for fast ADS speed as well to helps you win some close range gunfight.
In summary, The M13B is a good gun to use for mid range combat in Warzone 2 and with our M13B loadout we improves the recoil and mobility so that you can be more accurate with the gun.
OTHER ASSAULT RIFLE LOADOUT: