If you are looking for the best close range assault rifle to use in Warzone 2.0, the STB 556 might worth checking out.
In this article we go through how the STB 556 perform in close range and provide our best STB 556 loadout for Warzone 2 with tuning details.
STB 556 Overview
The STB 556 is the first gun inside the BRUEN PULLPUL Platform that will require you to reach level 41 to unlock the gun.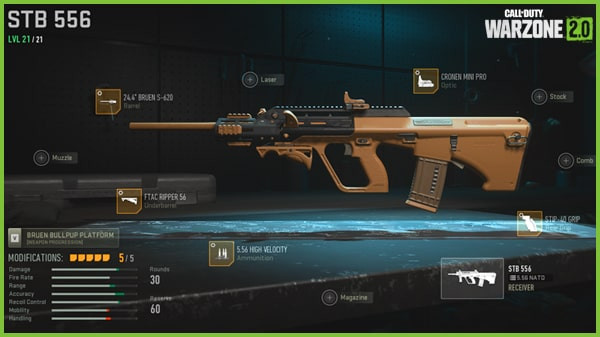 This assault rifle deal very high damage and has low recoil control for close range only, with great mobility the gun is very ideal for close quarter combat and it can win against some SMGs as well.
Best STB 556 loadout in Warzone 2
Barrel: 24.4" BRUEN S-620
Optic: CRONEN MINI PRO
Underbarrel: FTAC RIPPER 56
Rear Grip: STIP-40 GRIP
Ammunition: 5.56 HIGH VELOCITY
This is the best STB 556 loadout for Warzone 2 close range combat, our attachments make this gun even more accurate and lower the recoil in case you get into any mid range combat.
Starting with the barrel we choose the 24.4" BRUEN S-620 to get damage range and bullet velocity increased plus more recoil control.
We choose the CRONEN MINI PRO optic because this gun has pretty bad iron sight, you can swap this attachment slot with anything else if you want to.
We equip the FTAC RIPPER 56 to improve our aiming idle sway on the STB 556 and more recoil stabilization.
Our last attachment is the 5.56 HIGH VELOCITY round for increasing bullet velocity so that your shot can hit the enemy much faster than normal round.
TIPS: You can swap the Optic for 42 ROUND MAG if you like to have more ammo in your magazine.
STB 556 Attachments tuning
24.4" BRUEN S-620
Max Recoil Steadiness: +0.50 lb
Max Damage Range: +0.40 in
CRONEN MINI PRO
Max Aim Down Sight: -3.00 oz
Far Eye Position: -2.25 in
FTAC RIPPER 56
Max Recoil Stabilization: +0.80 oz
Max Aiming Idle Stability: +0.40 in
STIP-40 GRIP
Max Recoil Steadiness: +1.00 oz
Sprint to Fire Speed: -0.45 in
5.56 HIGH VELOCITY
Max Damage Range: +0.70 g
Max Bullet Velocity: +9.00 gr
Because the STB 556 is already a monster in close range combat, we decide to tune it for more recoil reduction with max damage range and bullet velocity in case you run into mid rangecombat, it can get the job done.
Overall, the STB 556 is a very good gun to use for close range in Warzone 2, even the base version is cracked and our loadout will improved the range combat.
OTHER ASSAULT RIFLE LOADOUT: