The KASTOV 545 is a decent gun to utilize for close range combat in Warzone 2, with proper loadout it can get the job done.
How to unlock KASTOV 545 in Warzone 2
This gun is locked inside KASTOVIA Platform, In order to unlock the KASTOV 545 you need to reach level 11 on the KASTOV 762 first.
If you haven't unlock the KASTOV 545 yet, you can find it on the ground loot of AL Mazrah.
KASTOV 545 Overview
In Warzone 2, KASTOV 545 is a gun that has good close range damage, decent fire rate with good accuracy.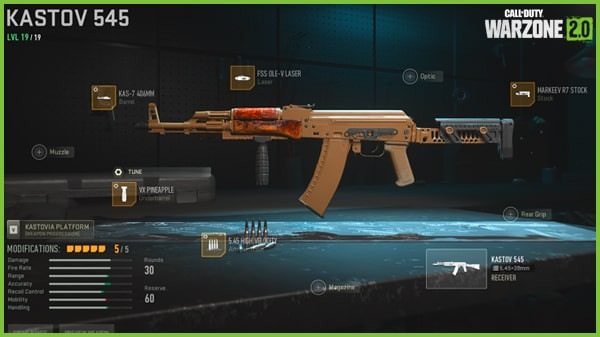 It is a decent gun that can help you win early game, because most of the fight you are up against 2 plates enemy, and it shredded armor down pretty quick.
Best KASTOV 545 loadout in Warzone 2
Barrel: KAS-7 406MM
Laser: FSS OLE-V LASER
Stock: MARKEEV R7 STOCK
Underbarrel: VX PINEAPPLE
Ammunition: 5.45 HIGH VELOCITY
If you like Optic you can swap the Underbarrel and put on the CRONEN MINI PRO or whatever optic you like since we utilize this gun for only close range fight anyway.
We start our KASTOV 545 loadout with the KAS-7 406MM barrel, this attachment is perfect for close range combat since it improved the recoil control and bullet velocity.
Laser wise, we use the FSS OLE-V Laser to helps the gun ADS faster which helps a lot in close range combat.
For the stock, we use the MARKEEV R7 STOCK to make the move a bit faster when holding the gun.
Underbarrel wise, it is optimal you can use the VX PINEAPPLE if you struggle with the recoil, if not just swap this attachment for any optic that you like.
Lastly, is the 5.45 HIGH VELOCITY ammunition, this attachment improved even more of the gun bullet velocity and damage range.
KASTOV 545 Attachments tuning
KAS-7 406 MM
Max Recoil Steadiness: +0.50 lb
Max Damage Range: +0.40 in
MARKEEV R7 STOCK
Max Aim Down Sight Speed: -4.00 oz
Max Aim Walking Speed: -2.40 in
5.45 HIGH VELOCITY
Max Damage Range: +0.70 g
Max Bullet Velocity: +9.00 gr
VX PINEAPPLE
Max Hip Walking Speed: -0.80 oz
Max Aim Down Sight Speed: -0.40 in
We tuned the each KASTOV 545 attachments to focus on improving the overall recoil control and mobility, so you can feel lighter and more accurate in close quarter combat.
In summary, the KASTOV 545 might not be the best close range gun in Warzone 2, but it's a reliable and easy to use AR.
OTHER ASSAULT RIFLE LOADOUT: