In Warzone 2 M4 is a good gun to use for close to mid range gunfight, with proper loadout build and tuning you can maximize this gun performance up a notch.
Table of Contents
M4 Overview
The M4 Platform has M4 as the main weapon which automatically unlocked for all players, so you can start leveling up to build a loadout from the jump.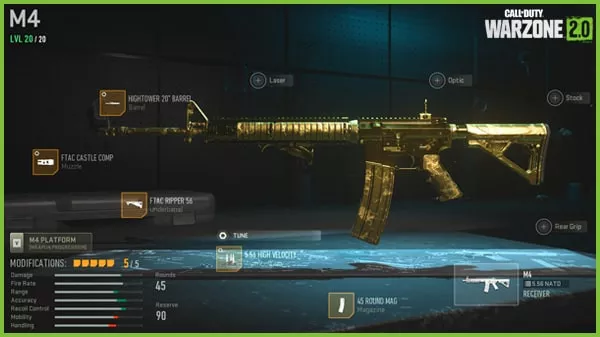 The M4 has good damage output, with fast fire rate, and moderate recoil control.
We build our M4 loadout to improve the overall recoil control, accuracy, and damage range which fit the Warzone 2 Al Mazrah environment and meta.
Best M4 loadout in Warzone 2
Muzzle: FTAC CASTLE COMP
Barrel: HIGHTOWER 20" BARREL
Underbarrel: FTAC RIPPER 56
Ammunition: 5.56 HIGH VELOCITY
Magazine: 45 ROUND MAG
If you want to use Optic you swap the 45 Round Mag with the SCHLAGER 3.4X or the VLK 4.0 OPTIC.
We choose the FTAC CASTLE COMP muzzle for our M4 to reduces the high horizontal and vertical recoil.
For the barrel we pick the HIGHTOWER 20" BARREL, this attachment increase bullet velocity, damage range and also helps with our recoil control.
We equip the FTAC RIPPER 56 underbarrel to stabilize the recoil which make now make the M4 very easy to control for mid range gunfight.
Ammunition wise, we pick the 5.56 HIGH VELOCITY round, this thing helps with our bullet velocity and damage range.
Our last attachment is the 45 ROUND MAG, this will added extra 15 ammo into your magazine allowing you to go for multiple elimination without having to reload.
You can see that this is the best Warzone 2 M4 loadout because we now reduces a lot of recoil with our attachments which make the gun more accurate in mid range combat.
M4 Attachments tuning
FTAC CASTLE COMP
Max Recoil Stabilization: +0.80 oz
Max Gun Kick Control: 0.35 in
HIGHTOWER 20" BARREL
Max Recoil Steadiness: +0.50 lb
Max Damage Range: +0.40 in
5.56 HIGH VELOCITY
Max Damage Range: +0.70 g
Max Bullet Velocity: +9.00 gr
FTAC RIPPER 56
Max Recoil Stabilization: +0.80 oz
Max Aiming Idle Stability: +0.40 in
When tuning our M4 we lean toward Recoil control, damage range, and increased bullet velocity so that the gun is practical for both close and mid range combat.
However, you will noticed that the ADS speed is a little bit slower than normal, so try to play a little passive with this build.
In Conclusion, the M4 is considered inside the Warzone 2 mid range meta guns, use our best loadout and tuning to get a stronger performance M4.
OTHER ASSAULT RIFLE LOADOUT: