Key Takeaways
1. Warzone Mobile release date set to April 30th 2024 in App Store and Play Store.
2. This is the third delays of Warzone Mobile since announced.
3. Be patient, stay positive and don't 100% trust the release date on App Store or Play Store.
Bad news, If you still think that Warzone Mobile is coming out on November 1st, 2023, recheck your App Store or Play Store.
The Release Date was in CODNext But It wasn't clear
During the CODNext event when BeefMami asked the Head of Mobile Call of Duty Chris Plummer about Warzone Mobile release date world wide. We got the answer which is that the game will release around the world in Spring 2024.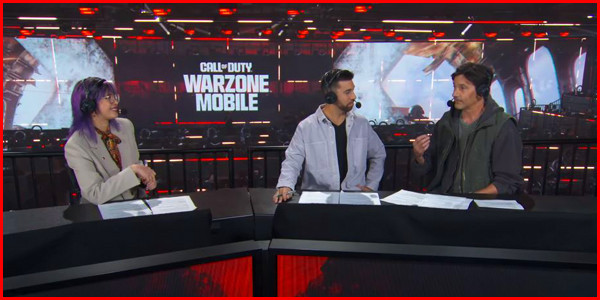 Image credit: Call of Duty Youtube
However, it wasn't clear what the exact release date of Warzone Mobile was going to come out yet. Most players usually check their App Store or Play Store for a release date.
Note: It shown as expected, not official, not 100% confirmed by the developer.
Recent Changes to Release Date in App Store and Play Store
Now if you are going into the Play Store or App Store you will see the Expected release date of Warzone Mobile set to April 30th, 2024.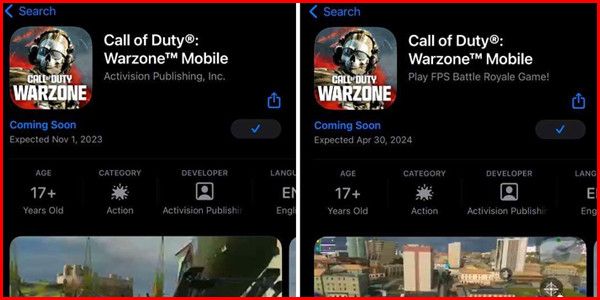 Image credit:WZM Leakers on Duty
Can you trust this date? Not really, this date changes every time. Here are a history of Warzone Mobile expected release date:
1. May 15, 2023.
2. November 1, 2023.
3. April 30, 2024.
As you can see, this is the third time Warzone Mobile release date has been delays inside the App Store and Play Store.
Warzone Mobile Release Date on April 30, 2024 - Is it real?
If we have learned anything about a release date from the App Store or Play Store, one thing is to not take it as official date. They can just push it to a later date.
However, if you put two and two together, from Chris Plummer announcing the Warzone Mobile release date in Spring 2024 to Warzone Mobile Play Store and App Store date change to April 30, 2024.
Spring Season is somewhere between March 20, 2024 to June 21, 2024.
App Store and Play Store Warzone Mobile Release Date set on April 30, 2024.
It's pretty much right on the spot if we think about it, but again, don't trust it 100% until we have the official release date from the developer themselves.
So What Now?
6 months from now if Warzone Mobile actually releases, you will be able to enjoy the game. Now you can stick to COD Mobile or try out other games like Arena Breakout for instance.
About the current state of Warzone Mobile
One word, Amazing. The current state of Warzone Mobile is amazing, we can enjoy full 60fps of gameplay even though the phone can get heated after several matches.
We are using ROG5 to test the game with the processor of Snapdragon 888, Warzone Mobile runs wonder in the latest patch.
In case you didn't know, there is a limited launch going on in Australia, Norway, Chile, and Sweden right now.
You can use VPN to download the game and try it out if you are not in the limited test region. It's won't get you banned since a lot of Streamer also do it as well.
Conclusion - Our Thoughts on This
In Short, Having faith in Warzone Mobile is hard, I feel like the delays kind of outshined how amazing the game performs. Especially after teasing it way too early to the community. The hype and the talk around Warzone Mobile kind of die down. Finger Crossed Warzone Mobile release on April 30th, 2024.