Vultures is a flying group minis in Warcraft Rumble with Beast role that is great for dealing damage against slow enemies. This mini cost 1 goldto deploy into the battle field.
Find Vultures best talents, stats, and traits here.
Best Vultures Talents
Get to know all talent details of Vultures here and find the best talent for this mini that you should use or upgrade here.
Ability List
Best Talent: Tendon Rip
Attacks Daze enemies for 3 seconds.
This is the best talent for Vultures, it can disabled the target for a short period of time which allows your main DPS to output the damage without receiving any.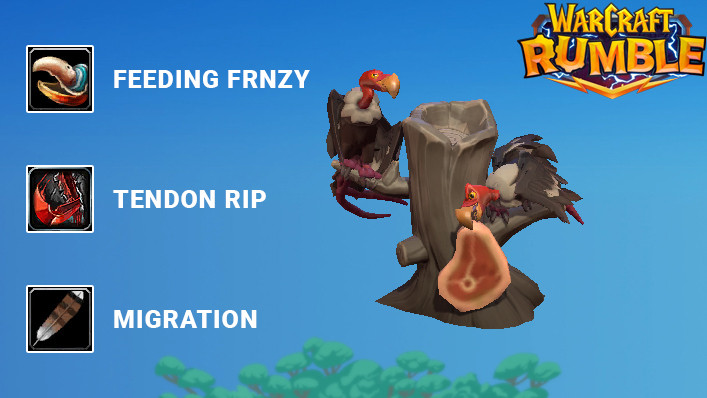 Feeding Frenzy
The flock gains Bloodlust for 5 seconds when spawning a new Vulture.
Bloodlust: Units gain +33% movement and attack speed.
Migration
All additional Vultures spawn at your base.
Stats
Note: This is a base level stats of Vultures.
| | |
| --- | --- |
| Health | 25 |
| Damage | 70 |
| DPS | 43.8 |
| Attack Speed | 1.6 |
| Speed | Fast |
Vultures is a cheap pair of flying scavengers. Two vultures are a nuisance, but each vulture victim adds to the flock!
Vultures are very weak against Area damage spell like Blizzard or Execute.
Traits
Cycle
2 cost or less for more Mini plays!
Fast
Fastest moving units.
Carrion
Multiplies from slain enemies.
Other Beast Minis