Murloc Tidehunters is a group minis in Warcraft Rumble with Beast role that deal ranged damage and move very fast. This mini cost 2 gold to deploy into the battle field.
Find Murloc Tidehunters best talents, stats, and traits here.
Best Murloc Tidehunters Talents
Get to know all talent details of Murloc Tidehunters and find the best talent for this mini that you should use or upgrade here.
Ability List
Best Talent: Safety Bubble
Deploy with a bubble that blocks the first attack.
This is the best talent for Murloc, because this mini is a very low health target that can get taken out easily, having this talent allows Murloc to extend outputting their damage a little longer.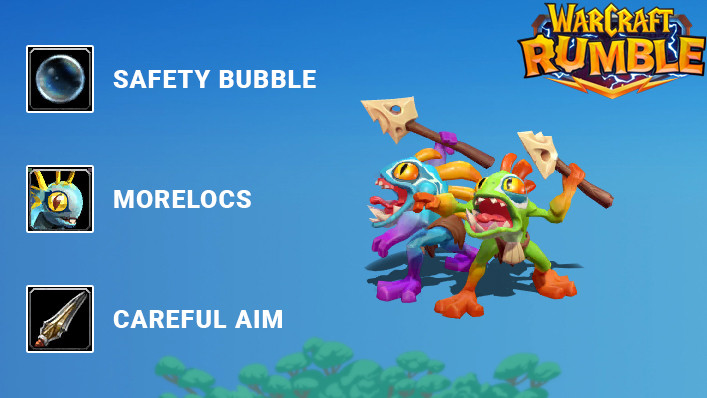 Morelocs
Deploy with +1 additional Murloc.
Careful Aim
Gain +2 range.
Stats
Note: This is a base level stats of Murloc Tidehunters.
| | |
| --- | --- |
| Health | 80 |
| Damage | 90 |
| DPS | 56.2 |
| Range | 6.5 |
| Attack Speed | 1.6 |
| Speed | Fast |
Murloc Tidehunters is a fast and cheap mini great for supporting Tanks and taking treasure chests but weak on their own.
To counter Murloc you need Area of effect damage spell like Blizzard or Execute.
Traits
Fast
Fastest moving units.
Cycle
2 cost or less for more Mini plays!
Other Beast Minis