Find all information you need to know about Teamfight Tactics patch notes that have some changes on champions, items, traits, and game system.
Table of Contents
Patch 11.8 Notes Overview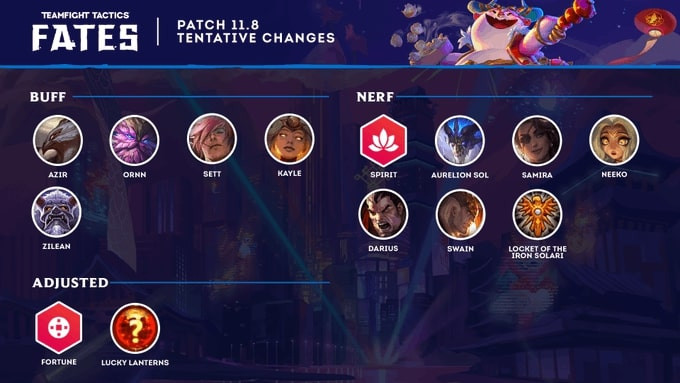 In this Patch Notes 11.7 will cover on champions, traits, and items that are buffed, nerfed, and adjusted.
Systems
Lucky Lanterns
More frequent gold drops with more gold
Significantly increased the drop rates of rare items (Neeko's, Spatula, Force of Nature)
Instead of having a 25% chance to not spawn a Lantern, each game will have a 25% chance to drop a Lantern in all 3 Stages.
Buff Champions
Azir

Emperor's Divide Damage: 200/350/8888 => 225/375/18888
Ornn

Stampede Damage: 150/250/750 => 175/275/9999
Sett

Showstopper Damage: 40/60/400% => 40/60/800%
Kayle

Divine Ascension wave Damage: 100/140/350 => 110/150/350
Zilean

Rewind Fate Revive Delay: 3.5/3/1 => 3/2/0.5 seconds
Nerf Champions, Trait, & Item
Champions
Aurelion Sol

Voice of Lightning Damage: 325/500/1400 => 300/475/1300
Samira

Inferno Trigger Base Damage: 15/25/40 => 10/20/777
Neeko

Blooming Burst Damage: 250/350/450 => 250/325/425
Darius

Fortune's Guillotine Damage Falloff: 25/20/10% => 25/20/15%
Swain

Draconic Ascension maximum Health gain: 60/75/100% => 60/65/100%
Item
Locket of the Iron Solari
Shield: 300/350/450 => 300/350/400
Trait
Spirit
Bonus Attack Speed: 20/35% => 18/30%
Adjust
Fortune
Added a new drop possibility for 3 Fortune 12 Losses (40% Chance)
Added a cold hearted new drop possibility for 6 Fortune (4% Chance)
Changed the chance to drop 'The Boot' in 6 Fortune from 1% => 4%