Last Update

:

Post By

: ratanak
Table of Contents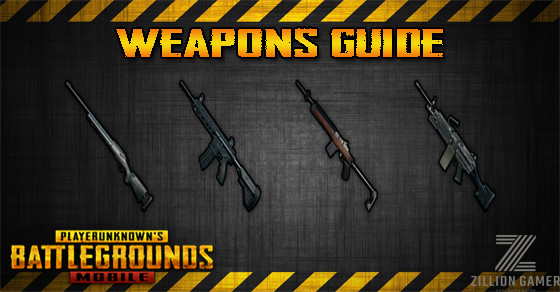 Weapons - The main item in PUBG MOBILE that deal damage to enemies. Weapons spawn inside Houses, Garages, Shacks, Air Drops, and more. You basically find Weapons in every loot grounds in PUBG MOBILE Map, but Weapons spawning is depend on RNG which is Random Number Generation, you can get a good weapons condition and a bad weapons condition it's random.
There are 35 Weapons divided into 7 different categories.
Down below is a list of all Weapons in each categories list.
Assault Rifles
Assault Rifles use 5.56mm and 7.62mm rounds.
Sniper Rifles
Sniper Rifles use .300magnum, 7.62mm, .45ACP rounds.
Auto Sniper Rifles
Auto Sniper Riflse use 7.62mm, 5.56mm, 9mm rounds.
Submachine Gun
Submachine Gun use .45ACP and 9mm rounds.
Light Machine Guns
Light Machine Guns use 5.56mm and 7.62mm rounds.
Shotguns
Shotguns use 12 Gague rounds.
Pistols
Pistols use .45ACP, 9mm, 12 Gague, 7.62mm.
This lists demonstrates the damages of each Weapons in each categories.
Assault Rifles
Sniper Rifles
Auto Sniper Rifles
Submachine Gun
Light Machine Guns
Shotguns
Pistols
Visit our other guide about PUBG MOBILE:
Map Guide: