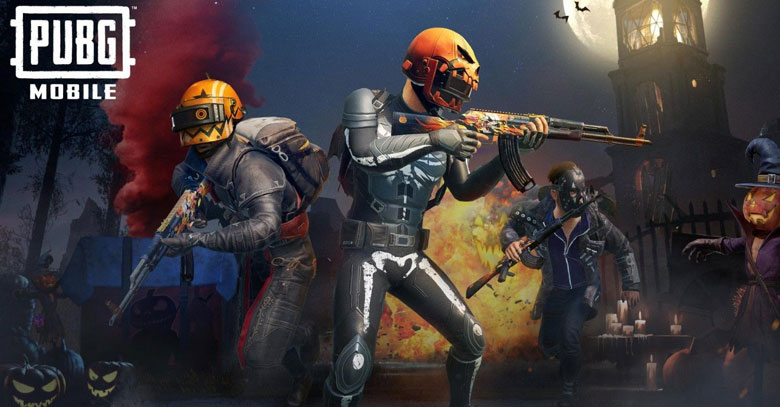 New Weather, Map Improvements, Festival Effects
Erangle Improvements

Added Night Mode to Erangel. The map will alternate between day and night randomly in Classic Mode.
Added Night Vision Googles.
Added new buildings in certain areas.
Added covers next to some rivers.
Added more trees in some empty areas.
A movie picture style has been added to settings. Once selected, the style will apply to all maps.
Halloween

In all maps, the spawn island has gone through a festival makeover.
Interact with other players on Spawn Island by picking pumpkins and candies.
Enemies killed by Hellfire - AKM will become scarecrows.
A spooky face appears when a grenade explodes.
During the Halloween event period, players have a 50% chance to activate night mode.
New Weapon, Vehicle & Related Improvements
Added the QBU DMR. It fires 5.56mm rounds and can be found in Sanhok (replacing Mini 14).
Added the Rony pick up truck. Only available in Sanhok.
Added a random music play feature in vehicles. This feature can be turned off in vehicle settings.
The engine sound effects of UAZ and Buggy have been remastered.
Added driver and passenger views (with improved vehicle interiors) in first person perspective.
The bullet spread accuracy bonus from hip fire is slightly reduced when crouching or staying down.
The bullet spread accracy bonus from hip fire is slightly increaseed when the player is stationary.
The vertical recoil and horizontal recoil of AKM have been reduced.
Reduced the Spread accuracy bonus of certain attachments.
Light Grips now increase recoil recovery and stability.
The recoil animation when firing looks more realistic now.
QBZ and QBU now have new megazine attachment models.
The reloading animation of some weapons in both 1st person and 4rd person perspectives have been improved.
UMP 9, Vector and SLR now have new 4x Scope crosshair designs.
Added an action that makes the character stand up while the motorcycle is airbone.
Added a Brake-button in vehicle driving mode 1 and 2.
The sound effects of the Dacia have been adjusted so it sounds the same as the original PUBG.
Vehicle lights have been turned.
Added an option where the system will first find teammates that speak the same language.
Matchmaking has been improved. Finding a match should be faster now and players should reach their appropriate tiers easier. Estimated time should now be more accurate.
Players can now watch other opponent players until the end of the match after being killed.
When spectating in room mode, players can turn on projectile and bullet trajectories.
Resolved lagging issues when players encounter other players from afar, or when they open the inventory to change equipment.
Added a feature to only download the different files when updating a map. If the game client has been updated to version 090, only 13MB of data need to be downloaded for Miramar (originally 300mb).
Resolved some game-crashing issues.
Reduced loading time when the game is launched.
Reduced memory usage in lobby.
Resolved blurry screen issues on some mobile phones.
Improved game update mechanism and resolved issues that may cause the update to fail.
Added the Share of Deals feature. Get your friends to help you bargain, then get the item at a huge discount or even for free!
Earn candies through a Halloween Lucky Draw to get Halloween-exclusive vehicle finishes.
Earn Trick Ticket Scraps, combine them into Trick Tickets for lucky draw.
Fixed some landscape and model issues where characters or views are stuck.
Fixed an issue where collision with teammates while staying down may cause teammates to fall and lose health.
Fixed an issue where UAZ may hit characters airbone.
Fixed an issue where the camera of the passengers in motorcycle sidecars shakes unexpectedly.
Fixed an issue that caused the item list to not display properly in the backpack under unstable network conditions.
Fixed an issue that caused the firearms to not display properly in weapon slot under unstable network conditions.
Fixed an issue that caused the character to stand up again after suddenly getting down from a sprint.
Fixed an issue where the character animation is not properly displayed in certain status.
Fixed other known battle and system issues.
Fixed an issue where vehicles with exploded tires can still be driven smoothly in 1st person perspective.